Provides certification to organic produce since 2002. Based at Aurangabad, Maharashtra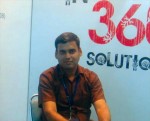 Ecocert India has started its operations in June 2002 in Aurangabad in Maharashtra state for the South Asian countries. Ecocert is an inspection and certification body for organic, fair trade and good agricultural practices (GAP). The founder of Ecocert India was late Dr. Alexander Daniel, who served the International Federation of Organic Agricultural Movements (IFOAM ) for more than ten years. Ecocert India has witnessed a remarkable growth since the beginning with its certification services in almost all the states in India and neighboring countries. The annual turnover of Ecocert India is Rs. 2.25 crores.
There is upsurge in domestic market. The erstwhile export-based organic production in India is looking forward with hope to its own market now. Previously, only selected commodities viz. tea, cotton, honey, basmati rice were being cultivated as organic products. However, nowadays every possible commodity in the category of cereals, pulses, oilseeds, spices, fresh fruits, vegetables, livestock products etc. is in demand as Indian consumers themselves are demanding for certified organic food. Also a notable growth can be seen in the production of organic inputs, organic cosmetics and organic textiles too. More and more entrepreneurs are turning towards organic production.
Ecocert India has certified over three hundred thousand hectares of land for 170 of its clients constituting Processors, Exporters, Farmers' Groups and Individual Farmers. The main objective of Ecocert is to promote the India Organic logo in the international markets and the Agmark India Organic logo in the Indian markets and give recognition to organic produce from India.
Dr. Amol Nirban is the Business Development Manager of the company. He is a B.Sc. (Agri) and M. Sc. (Agri) in extension education from Dr. B.S.K.K.V., Dapoli. He also did his doctoral studies in UAS, Dharwad in Agri. Extension Education.
Dr. Amol Nirban says "when it comes to benefitting farming community as a whole, it must be interesting to share here that Ecocert India is aggressively creating awareness among input industry stakeholders (e.g. manufacturers, traders etc.) for organic attestation. Today Indian farmers, when they opt for cultivating their farms organically, end up searching for good quality bio-fertilizers or organic pest control measures and in many cases get cheated by some spurious un-attested products in the market. Hence Ecocert India is encouraging attestation of organic inputs across the country in order to benefit the farmers by making available right inputs with guarantees''.
Our Correspondent
For more information, contact – ECOCERT India Pvt. Ltd Sector – 3, Hindustan Awas, Walmi – Waluj Road, Nakshatrawadi – 2. Aurangabad. Maharashtra. Phone: 09552533011 E: amol.nirban@ecocert.com Website – http://www.ecocert.in/
Source : Agriculture & Industry Survey