Reintroduces production of millets amongst farming community and develops proficient processing technology. Aims to make millets as staple food in India
"Most farmers are aware of millets crops and millets foods. The crop has been integral part of their life. Unfortunately they moved away from millets but now we need to revive millets for farmers as well as consumers. We are trying to create the demand and also better market price for farmers so that they begin and continue growing these crops while consumers can attain good health free from threat of fatal diseases. We are promoting all nine millet crops are grown in the country," shares Mr. Dinesh Kumar, Ashoka fellow, founder, earth360 Eco Ventures.
In all there are nine millet varieties namely Sorghum, Pearl, Finger, Foxtail, Little, Kodo, Proso, Barnyard and Brown top millets. Growing millets has multiple benefits. These are savior crops in drought and dryland farms for the farmers. It is healthy food and fodder for the livestock. These are not input intensive crops hence the production expense on growing these crops is much less than paddy and wheat. As millets are free from pest and diseases these crops can cultivated without agro chemicals easily. Consequently by growing millets farmers' income would improve leading to positive impact in their lives.
Farmers moved away from millet cultivation as demand was low because of change in the diet of consumer, policies favored other crops and promoted just paddy along with wheat, and lastly millet processing is difficult. Small millets like Foxtail, Little, Kodo, Proso, Barnyard and Brown top millets are similar to paddy in their grain structure. They all have an outer non-edible husk which has to be removed before cooking. "Millets being small grains have lot of challenges in processing. Unlike paddy, especially small millets are more diverse and have lot of variability thus processing is difficult. To resolve this issue, having an engineering background I decided to use the power of technology. In this process in the year 2010 earth360 Eco Ventures was established," he states.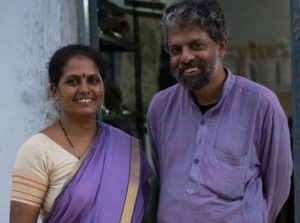 earth360 Eco Ventures, a social enterprise is committed to improve the millets value chain from end to end. "We are working with farm to plate concept and have been closely associated with various stakeholders in the value chain to address the challenges. We have developed the technology for the whole grain processing of millets. The entire process is streamlined for cleaning, grading, hulling and sorting of millets. We de-husk and process millet grains, without polishing them so that they are nutritionally wholesome and attractive to consume. Our technology can process all eight types of millets- irrespective of its shape and size," explains Mr. Dinesh Kumar. The products are sold under the brand name earth360 and White label. These are available in almost all major cities in India namely Bangalore, Chennai, Hyderabad, Pune, Delhi and other cities also. Presently annual production is 200 ton/year.
Mr. Dinesh Kumar has been working on improving the small millets processing techniques by constantly trying to improve current designs of the existing machines. "In our country very limited research has happened on the millets related to their processing, especially for the efficient processing systems at the community level. Our company is one of the first to evolve the whole grain processing of small millets," he elaborates.
Earth360 Eco Ventures is associated with farmers' movements and civil society organizations across the country although its direct interaction is more with farmers groups in Andhra Pradesh, Karnataka and Tamil Nadu. "We work with over 1000 farmers directly having 1-5 acre landholding. Now we are also engaged in some new programs for the millets promotion. And most important we are receiving very positive response from the buyers. We take lot of care in processing and make sure that the quality is not compromised," asserts Mr. Dinesh Kumar.
By and large consumers are familiar with Finger (ragi), Sorghum (jowar) and Pearl (bajra) millets. Gradually other small millets are also gaining popularity as these are being considered as health foods precisely foxtail millet is most known. "We aim to make millets as staple food in the country thus we shall be able to create vibrant local millet economies and farmers shall be benefitted with improved income and consumers with good health," he highlights. To attain this goal role of women is extremely crucial. "Their culinary skill to prepare different varieties of millets based tasty dishes is very important to bring these foods back into our daily life. Today we need to teach new generation to cook and relish millet food varieties. It would be not be very difficult as in every household exists plethora of traditional knowledge around millets, we just need to bring it back in our everyday diet," he insists.
When asked millets priced higher than wheat and rice, Mr. Dinesh Kumar clarifies, "The millets consumption today is still limited and we have very high operational overhead cost to promote and market them. The lack of efficient processing facilities also increases the selling price. Moreover, many shops in the cities are pricing it high as they are now treated as health foods. It will take some more time before millets can become common diets of all sections of the society like rice and wheat. Once we are able to increase production and demand prices would come down."
In future earth360 shall continue to develop efficient machines and simplify the process. "We want to develop simple and effective processing solutions to be made available for our rural communities as they it will boost the employment in villages thereby their livelihoods would improve," he shares.
In past 60 years, India has lost 50% of the area under millets cultivation while over 80% of the production area under small millets. "Millets had been our staple and even today India is largest producers and consumer of millets. We are only reconnecting back to these crops and foods we lived with before green revolution over powered these nutritious grains. We are glad millets are again gaining consumers' attention although after 70 years of India's Independence! However, even after 70 years of independence as a society we have not done justice to farmers. The younger generation has lost pride in farming. Without youth moving back to villages, reconnecting with farming and growing of foods, we will be deepening the crisis which is now reaching point of no return. The despair among farmers is seen in the increasing numbers of farmers' suicides. We are talking of millets as Smart Foods but whether this new found interest in millets will result in genuine concern to build a sustainable and responsible food system? It is a question that we need to answer," Mr. Dinesh Kumar signs off with the concerned note!
Mr. Dinesh Kumar completed Engineering in Electronics and Communication in 1992 from University of Mysore. He hails from farming community and since his student days he had been actively engaged in activities concerning social issues. Deeply interested in sustainable lifestyles along with few friends he decided to move back to the villages to work with the land and grow food. It gave him the opportunity to reconnect with farming and farmers. Understanding the challenges faced by farmers and crisis that was setting in 30 years back, made him work closely with the farmers. Now he is plays an active role in promoting millet production and distribution. He is closely working with universities, research and development institutions to increase availability of seeds and support for millet farmers.
Contact details:
earth360 Eco Ventures (P) Limited
3-196 APIIC Industrial Park, Kadiri – 515591, Andhra Pradesh, India
Phone: +91-8494-221265
Email: mail@earth360.in
Web: http://www.earth360.in/