Interview – Dr.H Shivanna, Vice Chancellor, University of Agricultural Sciences, Bangalore.
Wide ranging conversation on the university's achievements so far and the challenges ahead.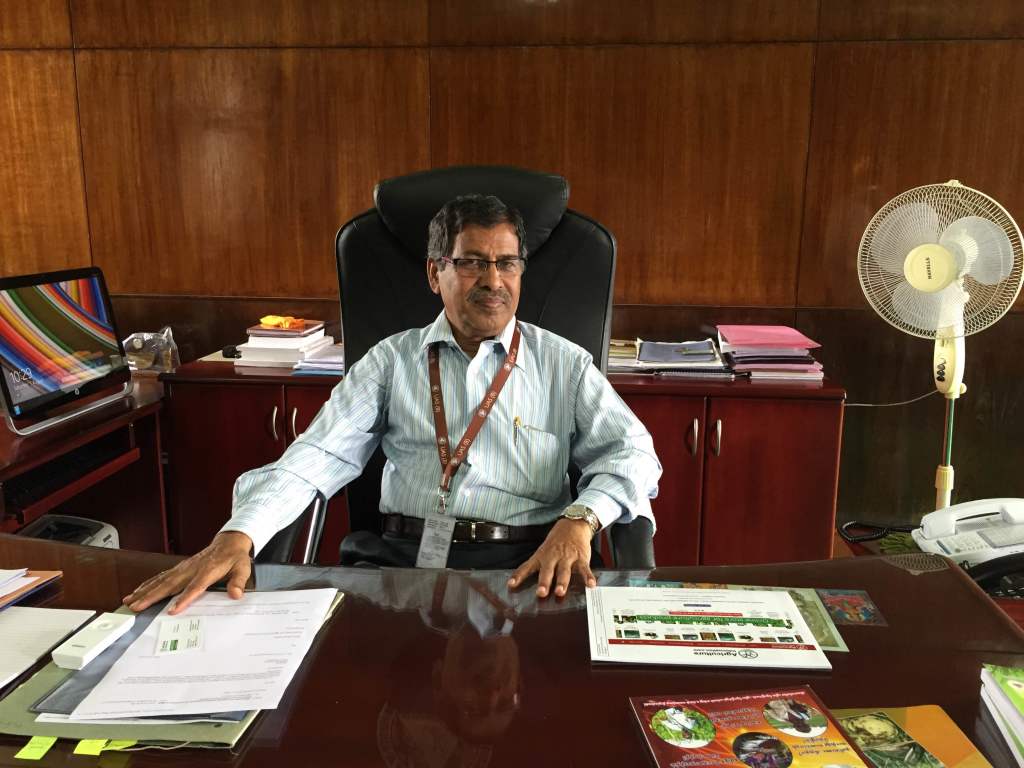 Dr. H Shivanna, Vice Chancellor, joined UAS as an undergraduate student in 1972. From a humble student to a top position of the same university is no mean achievement!
---
What are the main achievements  in UAS  in the short while you have been the VC?
Yes, it has been just six months.  During this year our students have performed well in the Junior Research Fellow  exam.  For the first time a Common Test for Admission to PG courses for Masters degree in four State Agricultural Universities was organized successfully.  Also, Krishi Vigyan Kendra, Hadonahalli, Bangalore Rural has been adjudged as best KVK at national level by ICAR, New Delhi, for the year 2014.  The award was presented by Hon'ble Prime Minister of lndia on 25th July 2015 during the foundation day celebrations of ICAR held at Patna.  These are some of the highlights of our achievements recently.
 Are there any unique features of UAS  that set it apart from other agriculture universities in lndia?
Definitely.   
University has evolved dynamic academic programmes. Presently University offers six Bachelors, 22 Master's and 14 Doctoral degree programmes. We have introduced a new system where Master's degree students to have to present and defend their research findings to their peer and faculty. This is a unique feature we have introduced this year. Apart from this, automation of student's progress from entry to graduation has been under taken.
UAS Bangalore is the most sought after destination for students from Africa, Middle East, South and South East Asia to pursue their Higher Education. It is also most sought after destination after IARl to pursue agricultural education within the country.
Our student competence in terms of securing national competitive fellowships for postgraduate studies, admissions to universities abroad, clearing the ARS and civil service examinations has been excellent over the years.
The University has attracted several national and international collaborations over the years to complement the education and research programmes of the University.
What are the ongoing research projects in UAS that you feel is worth talking about in the media?
Over the past five decades, UASB has developed several locally relevant production technologies that have substantially enhanced farm productivity in the State and beyond. 
Our University has released 180 varieties in different crops which are tailored to diverse agro-ecological conditions of the state. Forty varieties of finger millet developed by the University have contributed immensely to the food security of the region.  
The University has the distinction of being the first institution in the country to develop high yielding hybrids in sunflower and hybrid rice. Country's first Aerobic rice varieties were developed at UASB.
A basket of sustainable farming technologies developed by the scientists have transformed the landscape of the rain fed agriculture in Southern India by ensuring livelihood of farming community.
Recently University has given emphasis on using renewable energy especially solar energy in agriculture and production of electricity from bio waste.
We have established Research Institute on Organic Farming (RIOF). There is also comprehensive drought tolerant crop Research to comprehensively address the interrelated activities of drought research.
There is also research going on now aimed towards capacity building in taxonomy of Insects and Mites. This serves as the nodal centre for research on systematic, provide identification service, training and technical guidance, develop print and web-based content, conduct taxonomic studies (traditional and molecular), maintain and strengthen the repository.
I should also mention the Model Bio-fuel Park at the Agricultural Research Station, Madenur, Hassan has been established to improve Bio-fuel production without interfering with food production by use of marginal lands.
What employment opportunities are available for UAS students? Is the university helping them with job placement?
So far up to 2012 and 2013 we have only produced around 30,000 agriculture  graduates in the university. This is a very low number compared to the other engineering and medical colleges in our country.  Most of our graduates are finding a place in the public and private sector companies. We do not have an unemployment situation for agriculture graduates. Infact for the past three, four years, we are getting highly meritorious students for are B.Sc agri, many of them with even more than 90% in PU examinations.
Is there any reason for this trend?
Of course, they all know that our syllabus is so well developed.  Now after doing our courses they can get into any field. It's very vast syllabus we have developed in the university. This is true across the country not only in UAS Bangalore. The syllabus in agriculture across the country is 80% almost similar. Only 20%-25%  is based on the local needs.  We don't have much problem for students to get a job after completing their studies here. Many of them join different organizations like government banks, private companies, financial institutions etc. Around 2%-3%  get involved of their own activity.
UASB has placement cell since 2004-05. The main objective of the cell is to provide career guidance and job opportunities to the students and graduates of the University. The cell facilitates various organizations to hold campus interviews to recruit graduates. The sub campuses of the University also has placement cell.
Many reputed national, international companies and banks organize campus recruitment drive to absorb our graduates.
Is it true that more students are now opting for agriculture university courses since it enables them to do well in civil services examinations ? So basically these are not students who will put their university education in the agriculture sector?
That may be true. Giving education is our major mandate. Later on we cannot prevent them to go and do what they want!
How much importance is given to agriculture extension activities at UAS?

The University plays a vital role in transfer of technology to farmers and prioritizing problems that require technological interventions. Farm Science Centres (KVKs), Extension Education Units, Farm Information Centre, Kissan Call centre, Bakery Training Unit, Staff Training Unit and Farmers' Training Institute of the University have been nationally acclaimed for their role in outreach activities.
The Rural Bio- Resource Complex (RBRC) Model implemented in Bangalore Rural District demonstrated 11 per cent growth in agriculture and three-fold increase in income of farmers. The programme was also successful in retaining rural youth in the farming sector. The model was replicated by the Govt. of Karnataka covering 125,000 families across the state.  
University has also launched Agri-Portal for the benefit of farming community.  Called IPM Portal – UASB  provides an unique android mobile app which can be used by different stake holders to interact with the experts by sharing queries concerned to insect pests and diseases affecting different crop plants. Users can send the queries in the form of voice or text messages or photographs and get the advices instantly. Get complete details of crops from production to protection.
What are the challenges that still remain in making UAS a leading agriculture related teaching and research institution?
We have many challenges ahead of us.  University has to provide greater attention to equip colleges with state-of-art infrastructure.  We need to attract highly enlightened, motivated and qualified faculty. 
Now that more and more good students are getting into these courses, we need to provide more exposure to our faculty in frontier areas to ensure quality in imparting agricultural education. 
We need to enhance faculty competence on developing technologies, evolving institutional arrangements to face challenges and harness opportunities in agriculture and allied disciplines.
It is our endeavor to transform UASB as world class agricultural university. Much has been achieved in the past and still there is a long way ahead to accomplish this task.
What are the goals you like to achieve?
I want to give more emphasis to improve faculty competency through periodical upgradation by creating opportunity to get adequate exposure in frontier areas in respective disciplines. I want to give emphasis on enhancing productivity of water (more output per unit of water). Importance will be given to reduction in post harvest losses and value addition, use of renewable energy in agriculture, mechanization of small farms. I also want to give a great push to community-driven and farmer-led extension activities. 
About Karnataka agriculture
What are the top three problems  in Karnataka agriculture today?
Karnataka State being predominantly rainfed, development of dry land areas are to be given utmost importance. It is important to recognize the untapped potential of the dry land regions and design suitable strategies and policies for stimulating sustainable development of dry land areas. 
Of late the area under Maize is increasing in the State. Supply may far exceed the demand which may put farmers in jeopardy. It is essential to educate farmers to diversify their cropping pattern to enable them to get remunerative prices to their produce.
Linking farmers to market has to be given at most priority.
Your response on the recent reports of farmer suicides
Observations are many.  We have to take up concentrated efforts to address this problem. Individual university alone or the government alone cannot solve the problem –  everybody has to put their hands together to solve this crisis otherwise it is really, very, very disastrous situation.  Concerted efforts have to be made to arrest this trend.
Your response on the sugar cane farmer dues problems
Farmers are landing in debt crisis largely because of the delayed cane payments, even after 18 months. This has made them default on loans and borrow from private money lenders to keep going. We need to  ensure proper utilization of institutional credit. Commercial Banks must appoint Agricultural Officers which was in vogue earlier, presently their number has reduced, to interact with farmers.

We must also encourage farmers to grow alternate crops which are short duration and remunerative.
Banks must avoid providing onetime credit especially for long gestation period crops like sugarcane to reduce misutilization and stagger the flow of credit based on agricultural operations to be undertaken.
Tell us briefly about yourself? What inspired you to take up agriculture research career.
I joined this university in 1972 as a BSc Horticulture student.  At that time I never imagined or anticipated that around 40 years later I will one day rise to the level of Vice Chancellor!  
After my BSc, I went to Dharwad to start working in agriculture research.  There were eminent professors like Dr. V Gowda and Dr. Parmeshwarappa and team who encouraged me a lot and helped me to equip myself as a scientist.  How much they encouraged me is really remarkable. It is only because of their encouragement  that I have been able to come up to this level.   
I worked there in Dharwad for nearly 16 years.  Then I got the professor post at a fairly early age of 39.  I was a professor at one of the colleges in Shimoga for 11 years.  Afterwards I came to the Bangalore main campus. Here I worked in several roles including director of research and dean before becoming the Vice Chancellor. 
This interview was conducted by Kartik Isvarmurti – Managing Editor, AgricultureInformation.com
Contact details
Dr. H. Shivanna
Vice Chancellor
University of Agricultural Sciences
GKVK, Bangaluru – 560065
Karnataka
Email: vc@uasbangalore.edu.in
08023332442
✆08023330153 Ext 265
www.uasbangalore.edu.in