Promotes paddy cum fish integrated farming system
"Fish culture holds key to future," shares Dr. T N Devaraja, Program Coordinator, KVK, Davanagere, Karnataka. IFS (Integrated Farming System) of Paddy cum Fish (PCF) farming is encouraged for waterlogged, saline and alkaline soil. In this method trenches are created depending on the land contour and topography where fish is reared. Rearing of fish is also economically viable as in words of Dr. Devaraja, "Fish can earn 3-4 rupees for every one rupee of expenditure (1:3/4)."
It takes about 3-5 years to prepare a land for paddy cum fish farming. A minimum of 2 guntas (2 cents) of plot is required. In PCF farming system the area available inside the trenches is used for paddy cultivation, trenches for fishes and bunds can be utilized to grow vegetables, leafy greens, fodders etc. "Any paddy variety can be used for cultivation but fishes like carps, cat fish and live bearing ornamental fishes would be ideal," he shares. "Paddy first, then fill water in trench and release fish fingerlings. Vegetables on bunds can be sown any time later. Well, veggies are not a must."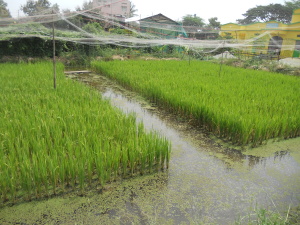 The advantages of PCF method includes savings on labor cost towards weeding and supplementary feeding, efficiency of resource use, additional income by growing vegetable crops on bunds, control of filamentous algae, microcistis, stem borers which may otherwise compete for the nutrients and fish feeds on the aquatic intermediate host such as malaria causing mosquito larvae, thereby controlling waterborne diseases of human beings.
"Nibbling by fish fingerlings while moving around the paddy lanes might drift up the weeds and not allow them to establish in great number," Dr. Devaraja shares. In a farmland of 2.5 acres a farmer can approximately harvest 50 quintal of paddy and 10-15 quintals of fish using PCF.

Selection of fish species depends mainly on the depth and duration of water in the paddy field and also the nature of paddy varieties used. "Species ratio may be 20% surface feeders, preferably catla, 30% column feeder like rohu and 40% bottom feeders like mrigal, common carp can be used," exemplifies Dr Devaraja. "Depending on the variety, if ornamental it can be harvested in 4-5 months or if food fish then continued for two cycles of paddy."
PCF plot can be peripheral, central and lateral or diagonal depending on the location. In peripheral type the paddy growing area is at the middle with moderate elevation and ground sloping on all sides into peripheral trenches to facilitate easy drainage. In central type paddy growing area is on the fringes with slopes towards the middle and in lateral type trenches are prepared on one or both lateral sides of a moderately sloping paddy field.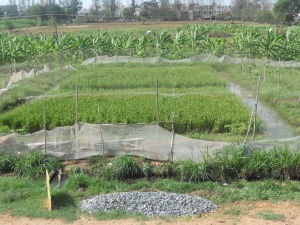 Fish feed consist of rice bran and groundnut oil cake in the ratio 1:1 at 5% body weight of fishes. "Small quantity of azolla can be incorporated. It should not cover more than 15-20% of water spread area," he adds. "Mohua oil cake may be applied at 250 ppm to eradicate the predatory and weed fishes." To overcome pesticide problem integrated pest management (IPN) system may be introduced and organic pesticides may be used. "During the Kharif (June-October) crop period, pesticides should be avoided," he clarifies.
"We are encouraging farmers to take up fish culture in their farm lands, even in smaller areas. Especially, farmers with canal irrigation, rain water harvest, river, stream, and tank water," he shares. "We have farmers in our district are making net benefit of 6 lakh rupees in one year in one ha area."
In addition, integrating fish culture with other main stream agriculture practices is a sustainable system. It can be combined with dairy, sheep-goatery, piggery, poultry, rabbitry, duckery, silkworm rearing, and any agri-horticulture crop. Stored water in pond near a borewell can always act as a groundwater recharging unit. If rainwater can be harvested into this pond, it is much more beneficial. This harvesting of water will bring down pressure on groundwater lifting and energy requirements.
Dr. T N Devaraja has done post-graduation in fishery microbiology and Ph.D. in aquatic microbiology. He had been involved in KVK system for the past ten years working as program coordinator in Associate Professor cadre.
Contact details-
Dr. Devaraja T. N.
ICAR-Taralabalu Krishi Vigyan Kendra,
Kadalivana, LIC Colony Layout,
Davanagere- 577 004, Karnataka
Mob: 94498 56876
Email: dvgtkvk@yahoo.com , tngdevaraja@gmail.com