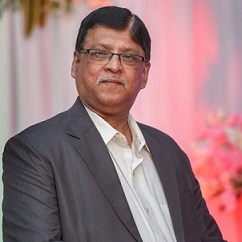 Dr. Chandra Kiran Sant  is the Dairy Advisor at Livestock Management Centre in Mumbai, Maharashtra. He is also associated with
1) Gomati Cooperative Milk Producers Union, Tripura as Expert Dairy Development for improving the milk quality & quantity as well as oversee installation of 40000 LPD Dairy Processing Plant.
2) Trainer (for Dairy Farming) in Indian Dairy Association – West Zone: covering Maharashtra, Gujarat, Goa, Madhya Pradesh, Daman and D. Nagar Haveli since 2010.
3) Technical Advisor ( Dairy ) in Paragaon Enterprise Industries in Vadodara,(Gujarat) since 1992 ; a Company engaged in manufacture of cattle feed plants & equipments
4) Salutri Remedies in Himatnagar (Gujarat) as Dairy Advisor ( Technical ) since 2010.
5) Dairy cooperatives for farmer training program on "Dairy Cattle Nutrition & Farm Management along with Productivity Enhancement without increasing costs.
To know more view https://bit.ly/3dAjWqq