Please tell us about yourself.
I am Dr. Basavaraju Puttalingaiah, hailing from Karnataka. I am an M.Sc. in Botany, M.Phil. in Seed Technology and Ph.D. in Plant Biotechnology from the University of Copenhagen, Denmark. I have had exposure in 22 different countries across Europe, specializing in agriculture. At the moment, I am looking at 3 different aspects of agriculture, horticulture and agro forestation.
1. In agriculture, I am providing services to the farmers throughout Karnataka and also to other states of India. In those places where farmers have to do agriculture, i.e. do farming as a business, farmers cannot achieve anything without proper monetary planning or maintenance of accounts. If done, they will be doing farming to fulfill just their daily needs. If the case continues for another two decades, we cannot become a developed country in the near future. Wherever I go and whoever consults me, and whenever I get the opportunity to discuss issues with farmers, I advise that whether they are farmers with 1, 50, or 100 acres of land, they have to conduct agriculture like any other business, where they have to keep accounts for every transaction. Without accounts they cannot build profits. This is where farmers go wrong too.
2. In horticulture I give consultation, as well as buy back. I head a company called House Plus Organics where we employ chemical free farming. It is purely an organic farming concept, where consumer grows their own selected vegetables and fruit crops with their own control. My company is specialized in Mini farms, Rooftop farms and monthly organic groceries.
3. In the integrated approach of Agro-forestry, trees and non-tree crops or animals are cultivated on the same piece of land. Crops can be grown together at the same time, in rotation, or in separate plots when materials from one are used to benefit another. This system has many advantages. It holds the soil, increases fertility, provides shade, construction materials, food and fuel.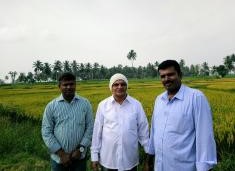 How long have you been doing these services?
I completed my Ph.D. in 2007, following which I worked for a seed industry called Nuziveedu Seeds and Biotech Pvt Ltd. at Hyderabad until 2011.
In 2011, I started this company called Bhoomigen Seeds And Biotech Pvt. Ltd. and Home Plus Organics.
At House Plus Organics, what type of audience is your target group?
My target customers are people living in apartments, i.e., those people who do not have roofs. We supply to their doorstep as per their demand. They can let us know what they need through our website. We have fixed days for each area that we cater to.
Do you supply them with fresh produce?
Yes, we supply fresh vegetables, fruits and grains.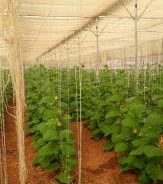 Where do you grow your produce?
We grow our produce strictly maintaining organic rules. The grains are grown near Hubli, Dharwad, in Karnataka; whereas the vegetables and fruits are grown near Chamarajanagar and Mallavelli area, South Karnataka. We also cultivate leafy vegetables.
You provide your farmers guidance on how to cultivate, and have an agreement to buy back their produce. Then you make arrangements to bring the 'bought back' produce into the city and sell it directly to your customers. Is that correct?
Yes!
How big is this operation in terms of the logistics you need to have in place?
It took me almost three years to set this up. I had to identify the land which was best suited, which has not been explored, which means I needed a land which was not introduced to chemical fertilizers and pesticides for the last 10 or 5 years. I went for agreement only after getting such things tested.
Don't take this as a generalised statement but we are bound to get cheated if we don't personally conduct our tests. When the market price is high, we can get cheated easily if we are not careful. Some farmers tend to drop out of your contract when the market price is on a rise. So we have a strong agreement in place to avoid such breaches.
You have been doing this whole thing from 2011 onwards?
Since 2011 I am running a seed company, and along with that I started House Plus Organics around three years back. In the first two and a half years, I travelled around Karnataka and identified genuine growers, and built my platform along with my staff.
It has been six months since we have been distributing products. We have been gradually progressing to a point where we can get to the end user. Now, from next month, we are going to build a hi-tech processing unit whereby we can process, pack and deliver.
Right now we don't process before delivery of the produce. By processed, I mean cleaning, packing and delivery.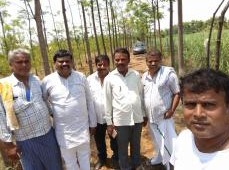 Is the seed business doing well?
Since the last two years, the other directors of the company have been asking me to slow down because of a lot of disturbances. In rain and other weather conditions they advise me to cease seed operations. The turnover also has come down by 3/4th. The drought conditions led us to not even achieving a minimal target of one crore.
Can you elaborate about your education in the Netherlands? Where are you originally from?
I am from Mandya district of Karnataka. My father is a farmer and we are four brothers – my first brother is an advocate in the High Court, my second brother is an advocate in Mandya District, I am the third, and my fourth brother is a scientist at Dr Reddy's Lab, Hyderabad. My parents are uneducated farmers.
We too have around 10 acres of land in our village. We have some trees of coconut and areca nut in our land. My basic schooling was in my village itself. My graduation was from Mysore University, and so was my M.Sc. and M.Phil.
I got a Denmark Fellowship in 2003, and so I moved to Denmark for doing my Ph.D. I was there for 3 years and 9 months. I got selected for that based on my achievements. Before that, after my M.Phil., I worked for the Indian Council of Agricultural Research as a researcher for 3 years before moving to Denmark.
How was your experience in Denmark?
It was a superb experience. Whether it is farming, poultry or dairy, their quality is beyond match. Their facilities are mind blowing. That is why they always get the World's Happiest Country award. It was a good experience. I even got offered a position after my Ph.D.
I belong to the Vokkaliga community, and our community is known for the difficulty in the process of finding a suitable wedding match. I wasn't married at that time. My parents expected me to be in India to look out for suitable brides, and so I got back. It took more than a year to find a bride. During that time, they hired somebody else.
In the meantime, since I hated being jobless, I took to a project in Hyderabad. It came with a good salary package. This was in October of 2007. I worked with them until Jan 2011, post which I was with the seed company.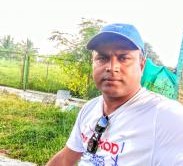 Your partners started the seed company?
Yes, that company was founded by the three of us – my brother who is an advocate, one engineer, and I. I had to run the show and the others were sleeping partners. My brother took care of the legal aspects etc.
What was your driving force to be an entrepreneur?
Since the time I did my Masters in Botany, I have been a corporate's people. A lot of corporates used to send their seeds to be tested in our lab, and so I was very much at home with respect to conversing with the people in the industry. Also, I gained exposure to the European countries where I got to work with people from almost 54 different countries.
I think the people we interact with and talk to have a lot to do with what we do. Doing research and being confined within the four walls somehow doesn't appeal to me. Also, it is not enough that one researches; whatever one researches should be pragmatic enough to be of help on the field, and it must reach the field. Only then that research is of any value. I don't see that happening.
Is it a very challenging thing? You must have had to deal with peoples' thoughts about job security in the research line?
I took huge risks. I started in 2011 and lost almost one and a half crore in 2012 and 2013. I assume anyone else in my position would have joined the industry, and would have sought a job. But, I, gratefully had the support of my family, especially my brother.
I had 260 dealers with me in Karnataka. I thought to myself that I had everything, why can't I just change myself? I had to stop the credit system, and also stop aiming at 2-3 crore business, and just stick to 1 crore business locally.
I learned from my mistakes and transformed with this kind of understanding. I started realising profits. At the same time, the business made me think and venture into the new trend – organic farming. In 2015, I ventured into organic farming.
How do you stand apart in this crowd where every person talks organic today? What is your USP?
My intention and motto is – I need to get from level zero which is the farmer level to the top level which is the end user level. From growers to end user, every step has to be monitored. And I have to monitor it, not anyone else. I don't trust anything to anybody blindly – not even my colleagues.
We are planning to develop a sensor system in collaboration with CSTARI. The goal is to check each produce randomly, before we finally take it from the farmer. This way we can check if our product has any residue issue. It has to be checked like using a PH strip.
Things are under discussion and are working on creating a censor. We need the censor to give us results within a minute. The sensor is responsible for alerting us of any residue on the product – such as pesticide or fertilizer residue.
It is a quality check. We can stop ourselves from purchasing the ones with the residue. We have an agreement in writing with farmers. He cannot argue about that. Farmers can switch to targeting the yield. At such times, they might resort to using urea etc.
For farmers it is all about survival.
We have told farmers orally, and we have it in the written agreement as well. At the end, before we pick the produce, we check in the presence of farmers. If residue is detected upon checking, they can always alter their production methodologies, and revert. This is a unique method we are looking forward to adopt. This is still in discussion stages, and may take about a year before we implement it. In the meantime, we keenly observe the products at every stage.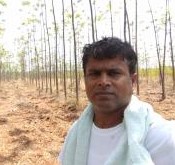 Are you open to providing consultation to any readers who may want to contact you?
I'll be happy to help if someone genuinely interested comes to me. I am not talking about people who would come to me just for a discussion. If there are people who are genuinely interested, I am open to consultation, no matter where they are, even if that means dealing with people, for instance, from Delhi. The only criterion is – they must be genuine people.
That is the way and the only way you build large hydroponic farms, successfully.
What kind of service will you be able to provide them?
If they want to venture into producing grains, or vegetables and fruits, I can advise them. I can also do consultations if they want to venture into the organic path. If they have 20-30 acre of land, I can give them a full package of small process unit at their land. They need not sublet it to me. I will purchase the product from their land too. I can help out genuinely interested people, anywhere in the country.
From a farmer's point of view is organic anything big? What would motivate farmers to go organic?
The main point is, if farmers keep using chemicals – pesticides, fertilizers, etc. on their farm, they won't be able to cultivate anything at all after a while. The soil looses all its property!
Each farmer, to grow paddy, has to spend at least forty to forty-five thousand rupees, and then he gets a turnover of around 60,000/-. That is almost Rs 15000/- of profit. With this background my motto is to go back to the old system. Their problem is that their yield will deteriorate. I promise them that may be first year or second they may see a decrease in yield. But, when the third year, they would gain the same yield as before without hurting the soil. No compromise!
Also, for instance, the tomato. People give Rs. 7 for contract farming but we offer Rs 12. That is almost 50% high. My main word to farmers is for them to be with me, and at the end of the year, they can make a profit of Rs 1.5 lakh.
If they cheat us, we will remove them from our network.
Dr. P. Basavaraju M.Sc., M.Phil., Ph.D (Denmark).
CEO
House Plus Organics
#25, Asha Kirana Layout, Janabharathi layout 1st block, Kengeri Satellite Town, Bangalore-560060.
Contact: +91 8970567099
web.: www.houseplusorganics.com
email: CEO@houseplusorganics.com