47 year old Dnyaneshwar, with a 10 standard education and committed spirit decided to see success with farming. And what a success story that turned out to be! Read about Dnyaneshwar Bodke, poly house farming, the Abhinav Farmers' Club, and so many factors that speak up for 'if there is a will, there is a way!'. Excerpts from a recent conversation.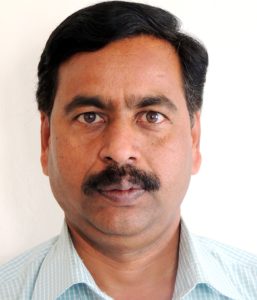 I hail from the Mulshi taluk, Pune and I had 5 acres of land on which traditionally rice used to be cultivated. The revenue that that generated couldn't feed my entire family. So, I stopped the whole cultivation and worked in a company for 10 years after completing my standard 10.
I wasn't very happy with my job because it was not very fulfilling. That is when I read about manufacturing poly houses and how it helped farmers. I read the success stories and I decided to get into farming. I told my father that I am leaving my regular job. He warned that if I left my job and only did farming, I would never get married. So, he advised that I get married first before leaving the job. I did as he suggested – got married and then left my job.
I took a 2-day training at the Marketing Board Training Center in a 500 sq. meter poly house. The two-day course was a theoretical one and so, I didn't understand much of it. Then, I checked with the authorities and worked in that poly house for a year. I didn't earn anything, in cash, during this phase but earned me knowledge worth crores. I knew everything about poly houses and the technology within a year.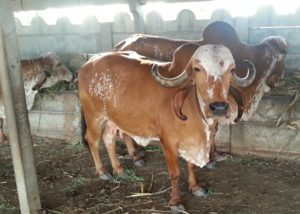 In the year 2000, I set up my own poly house and cultivated carnation flowers. I sought a bank loan to start my venture. But, it wasn't easy getting a loan because the value of my land was not a lot. I ran around in circles for a loan and got one sanctioned in 6 months. After I got my loan, I got my entire family to work on the farm every day. People cultivating flowers used to sell their produce in the Pune markets. I got the address of a landlord in Delhi and I started selling flowers in the Delhi's Hanuman market. He then called me and asked me not to sell my flowers to anyone else but to him.
From that I understood how important marketing is. If the farmers of our country market their products first, it is guaranteed that they will make money. The problem is we think of marketing too late in the cycle. Also, they employ middle men to market their produce, which is again a money drain. I realized that I do not need these middle men. I marketed it myself. That way the 10 lakh loan I took could be repaid in a year's time.
Then, the newspapers and TV started talking about my success story. People came to know that the family works on the farm, not much water or electricity is required, etc. More people got interested in this type of farming. 4-5 young boys came to me saying they are interested in working me. When they approached for loans, they got it within 8 days – the same loan which I took 6 months to get. The bank manager was positively influenced when I repaid the loan so quickly.
Farmers should understand the necessity for repaying loans. If we repay, banks will be able to help us more. Nowadays, farmers think of misusing the loan facility. This becomes a problem for other farmers as well. The farmers, who began working with me, also repaid their loan amount in 2 years' time.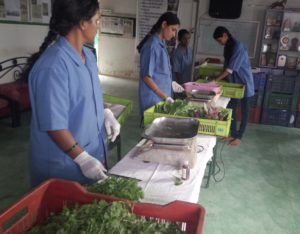 Gradually, I realized that I ended up spending more time on others' farms than on mine. People used to take me away in the morning and I got back home only at night. This started affecting the quality of my flowers. My family and I started getting tensed about this. That is when the bank manager suggested that I start a group of farmers so that everybody's crop gets the necessary attention and responsibilities get divided clearly.
So, with the help of the National Bank of Agricultural and Rural Development (NABARD), 17 of us farmers got together and formed a group called the Abhinav Farmers Club. All 17 of us started working together and all of us started making good money. When the money started flowing in, we all bought cars, sent our children to good schools, etc. Our group continued to grow.
My responsibilities began growing too much. So, help was a requisite. Also, operation costs go down when we do things as a group. That way we started saving a lot as a group. As a group we stood to gain a lot. If we had to go check out something, we could all go in one vehicle. So, overall we gained a lot together. That group grew to a 305 member group. Our group also earned a lot of traction on TV channels and newspapers.
Seeing us, many farmers in Maharashtra started floriculture. Because of this all rates related to floriculture like, drip irrigation rates, water soluble fertilizer rates, labour rates etc. started rising. A floriculture park came up in Pune, in which many big shots were involved – they started shooting up rates and salaries. There was a lot of commission involved in all this.
The Rs. 2.50 per stem of flower that we got fell to 0.83 p. This led to a downfall in our income, which led to fights within the group. The 305 member group soon fell back to being a 17 member group and people restarted working in silos. People join with you only until they benefit from you, right? Nobody wants to share in losses.
Then we all met up and decided to stop floriculture activities and decided to cultivate exotic vegetable, like zucchini, Chinese cabbage, celery, etc. in our poly houses and started supplying these products to big hotels and suppliers. At that time, our production cost was Rs. 10-12 per kg and we started earning Rs. 70- Rs. 80. The benefit here was, floriculture demand could go down at times, but demand for vegetables would hardly ever fall until humans are alive on this Earth.
We started earning Rs. 700-800 daily in cash. Things started shaping up well. We didn't use any chemicals for the vegetable production. With all the cancer stories around, I had decided that I wouldn't opt for anything other than organic production. There were only 10-12 people with me this time. The demand for organic vegetables are also very high. So, it benefits both parties.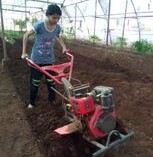 But, in hotels, the demand for organic vegetables is less. It is not more than 2-4kgs – the rate is high but demand is less. What happened is people started producing vegetables on 10-20 acres of land. As a result those prices also began to fall. When the demand and supply is high the rate is bound to fall.
In our country, we are only taught how to yield a high produce. Nobody teaches us how to market our products. People who instigate high production grow rich and the farmers who produce the products stay poor.
So, my group only produced as per demand. Gradually we closed on the exotic vegetables production as well. We have shared, round poly houses, in which we control the temperature. So, we are able to supply 10-20 kg vegetables to malls, daily. Our farms only consume about 2000 litres of water daily, husbands and wives work on the farm daily for an hour in the morning.
We do Indian vegetation on 3,000 sq. meter poly houses – hanging crops like bottle gourd, tomatoes, cucumber, etc. in 1000 sq. meter; in another 100 sq. meter, there is cabbage, ladies finger, brinjal, etc. and leafy vegetables in the last plot. Farmers get a min of Rs. 30/- per kg along with Rs 1000/- for the exotic vegetables.
Then, we have one native cow on our farm. This cow provides us with 10-12 liters of milk a day. While two liters were saved for the household, the rest was sold for Rs 50/liter in the locality. Cow dung is used as manure and also to produce biogas, which is later used for cooking. Even the slurry from the plant is used to fertilize the plot.
Gomutra (cow urine) is sold for Rs 10 a bottle. The cow urine keeps away a lot of diseases from our homes. People have been consuming 2 spoons of cow's urine along with water and in the last 16 years, none of us farmers have fallen ill. So, we sell cow's urine as well.
Today each farmer is earning Rs 2000-Rs. 2500/- from 1.5 acres of land. Three days a week – Tuesdays, Thursday and Sunday – we do home delivery of these products too to Delhi, Mumbai, Calcutta, Bangalore etc. The customers can order our vegetables over an app and we deliver the products.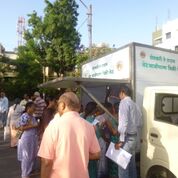 The next day, the amount is distributed in cash or directly credited into their account. Around 1,15,000 farmers are tied with this now and around 2 lakh women are employed with the packing services. To avoid the issues of lack of labour for delivery, Abhinav Farmers Group also connected with women self-help groups who packed, graded and delivered the produce in 126 vans. With daily wages ranging from Rs 300-800, a day, these women are now self-sufficient and even sending their children to English-medium schools. This system guarantees that no farmer will stay hungry.
In short, people need to take care of their production costs and have to eliminate middle men and sell directly to the customers. We have to unify to ensure that we cultivate chemical-free food for ourselves.
My daughter is an agricultural graduate, she is trained from Mumbai and she is doing marketing for us all over India. My son, along with 1000 other engineers, makes our machinery for us.
People think farmers' children will not get educated because we do not have money. But money should be earned. Nobody gets it for free. I personally feel that nobody should get money for free – it is just not right.
Government gives free money to people who do not work and the people who pay them regularly doesn't get any kind of benefit. There are so many incentives they can gave people who are paying them on time. I believe government should be spending on providing electricity, good transportation services, roads etc. not on subsidies. By tactful organic farming we can improve the living conditions and grant longer lives to the citizens of the country.
Mr.Dnyaneshwar Bodke
At Post Maan (Bodkewadi)
Near Hinjawadi
Phase 1,Taluka Mulshi
Pune- 411057
Mob – 9422005569 / 8796505577
abhinavfarmersclub@gmail.com.