"The main aim of the organization is to bring change in the life of farmers by helping them switch to organic farming practices. Farmers also want to leave chemicals as it is bad for their health and soil but are scared to attempt leaving chemicals because of low yield and less price. To bring the farmers out of this fear this organization has been formed," highlights Mr. Channabasappa Rudrappa Budihal, President, Dharwad, Haveri & Gadag Districts Regional Cooperative Organic Farmers' Association Federation. The organization was established in 2015 at Gadag, Karnataka.
As of date, 3000 members are part of the organization. To become the member the individual farmer pays the fee of Rs. one thousand/year while the farmers' group has to pay Rs. 10 thousand/year.
The farmers must be resident of Dharwad, Haveri and Gadag district and must be involved directly in the farming activity. Part time or hobby farmers are not eligible. Majority of them are organic farmers while rest in the conversion process. Every farmer receives help on resolving the production related problems and their farm produced is sold through the organization. Other than assistance on production and marketing, the organization also encourages farmers to value-add their farm produces hence, "We are setting up the machinery required for processing such as oil extractor, dry flour machine etc. Farmers belonging to our organization have access to the machinery," he adds.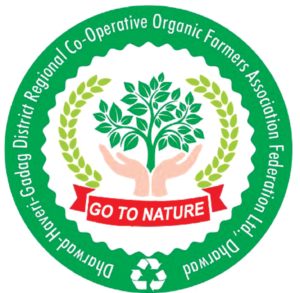 When asked about the process of buying farmers' produce, Mr. Channabasappa explains, "We make surprise visit to farmers' farm and inspect it thoroughly. The farmer is cross-questioned on different farming parameters. Once the group of members (responsible for the farm inspection) are convinced that the farmers' practices are absolutely chemical free, his name is forwarded to be discussed in the board meeting. After all the confirmation we then start buying his produce with immediate cash payment or 15 days post dated cheque. We buy only organic produce. There is one condition clearly mentioned to all the members that if their farm produce shows some residue during a laboratory check then the produce shall be rejected. Any further transactions shall not be made. As people buy us based on trust we have to follow this meticulous procedure." The products of farmers in conversion process are not bought by the organization till they become 100% organic farmers but are linked to other buyers who would purchase their products.
The farmers who are in conversion process are given the knowledge share in best possible way. They are given the formulations to prepare different bio-pesticides based on desi cow urine and buttermilk. They are also given all help to take government subsidy for setting up the infrastructure such as constructing the vermicompost tank, drip systems etc.
Speaking about the price fixed for agricultural commodities to be purchased from the farmers-members, he clarifies with an example, "Right now we have green gram season. At APMC, the rate is Rs. 4800-5000/quintal but we purchase at Rs. 5200-5300 as it is organic. In addition we will not do any cheating on weighing scale! We bill it for a quintal, buy it at Rs. 5300 and pay the farmer either in cash or cheque. Our pricing ensures to pay Rs. 300-500 more than APMC market. In this way farmers are saved from the exploitation from the agents on price and weight." The price is subject to change with respect of demand and supply ratio but it definitely is more than APMC market. The organization deals in many products such as green ram, Bengal gram, groundnuts, sunflower, safflower seeds, chilies etc. "In general we take all products grown organically."
Sometimes, the organization also gives seeds to the farmers on buy back guarantee, "We give them heirloom seeds to grow. We make them understand that farmers following organic farming are eligible for buyback policy. The seeds are given free of cost if it is cultivated in one of our members' farmland but if we bought it from somewhere then they have to pay money for the seeds," he shares.
The produce bought is sold in retail to direct consumers. There are 200+ loyal customers. The products are sent through post.
Sharing future plans Mr. Channabasappa concludes, "We want increase production and sale of good quality products and gain the trust from the farmers as well as customers. We are able to buy from organic farmers giving 10-15%more than market rate and we want continue the same. We all are working together to turn every farmer in these district organic and hopefully this dream shall be realized soon."
Contact Details:
Dharwad, Haveri & Gadag Districts Regional Cooperative Organic Farmers' Association Federation Limited
Mr. Channabasappa Rudrappa Budihal, President
Jantli Shiruru, Mudalgi Taluk, Gadag District – 582113, Karnataka
Phone: 09480127714