Rears and breeds Red Sindhi cows exclusively near Dehradun, Uttarakhand. Sells milk, milk based products and bio-solutions
"Milk of desi Indian cows is supreme and nutritious. I wanted to invest my time and energy to produce healthy food therefore I opted for rearing native breeds of our country. Amongst all the native milking breeds I selected Red Sindhi cows because of its high fat content milk and micro-nutrients rich dung and urine. Further this cow is disease resistant and extremely easy to manage," asserts Mr. Dev Prakash Bahuguna. He has five pure breed Red Sindhi cows and 13 acre farmland.
Mr. Bahuguna is lawyer turned farmer from the year 1982. His farming operations comprises of dairy, horticulture and bio-solutions. He takes care of his farm along with his wife Mrs. Usha Bahuguna and daughter Ms. Vaishali Bahuguna. They are based at Haripur village, 40 km from Dehradun, Uttarakhand. He is amongst the few dairy farmers in India who vouch for preserving the Indian desi breeds and take pride in taking care of the cattle. He is keen on quality than the quantity therefore even when his cows yield an average of 10-12 liter/day in the one lactation cycle he is contended. "It is sufficient because the milk quality is best. The fat content is as high as 4-5%. The taste is also very good. This A2 milk is nutrient and medicinally rich. We take care of our cows well and treat them as family members thus our cows have lead us on the road of prosperity," he adds.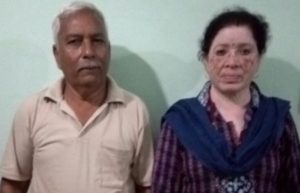 Physical Characteristics
Identifying pure breed cows is the most challenging task, "Indeed it is tough but it has some distinctive physical characteristics through which pure Red Sindhi cows and bulls can be recognized. First its colour is deep reddish brown. Head of this breed is smaller than the body. It has cylindrical shaped body. The tail is long and white or black towards the end," he shares. Length of the ear is moderate and it hangs down. Horns are black in color, thick at the base, emerge laterally and curved upward. The forehead is wide. It has big and hanging umbilicus.
Cow produces calf at the age of 3 years for first time. Usually in one lactation cycle cow yields milk for 208 days. Dry period is 138 days and service period is 485 days. The bulls are strong and hardy. "Red Sindhi breed cow and bull are resistant to disease and can tolerant high temperature. It is very docile so can be managed by anyone," he adds.
Fodder
This breed cattle is reared mainly on semi-intensive system of management that implies grazing from morning to afternoon and thereafter stall feeding. However at Mr. Bahuguna's farm cows are always stall fed. "We feed them farm grown green fodder all 12 months. It is grown organically.  We also give in-house prepared concentrate for the entire year," he shares. The concentrate is prepared with farm grown wheat, Bengal gram, maize, soyabean and mustard cake (called sarsu ki khali in Hindi). In this concentrate 3% iodized rock salt powder is also mixed. "Other than fodder salt must be included in diet of every cow. It requires 20-30 gram salt every day. So we mix it in the concentrate."
During monsoon pearl millet (bajra) and maize fodder while in winter lucerne grass is preferred. Vegetables are given if in surplus. "We mostly give turnip and carrot," he says. During summers after making butter from milk the left behind buttermilk is given to the cows so as to lower its body temperature. In winters cows are fed with wheat porridge made from broken wheat, cottonseed cake and jaggery. "Wheat porridge keeps them warms and provides protection from cold and cough."
Post delivery to cleanse the stomach and reduce the body heat the cows are fed with the home-medicine. It is prepared from fenugreek (methi), Bishop weed (ajwain) and cottonseed cake (Binola Khal). "All three ingredients, 250 grams each is cooked in 500 gram jaggery. It is given for 15 days from the delivery date. It heals and cleanses the internal body of the cow," he reveals.
Mr. Bahuguna says, "Cow will yield poison-free milk only when it is fed poison-free fodder. Therefore from 1990 we completely switched to cow based farming in our farmlands. We extensively use the excreta of our own cows to make the bio-solutions. The same is used in our fields as well as sold to other farmers practicing organic farming," he says.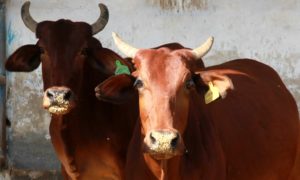 Breeding
Natural breeding and artificial insemination both is suitable for Red Sindhi cows. In natural breeding bulls will observe their cows until the cows are prime for breeding. The bull will breed once and then leave the cow alone. Even under harsh climates or conditions, or with poor feed, cows will continue to cycle and produce healthy calves. Generally, they calve very easily.
"I do not have a bull so we take artificial insemination for our cows. We are now doing embryo transfer and hopeful to get best results. If I get a male calf then I shall raise it in my farm and develop it as healthy bull and if it is female calf then it too will be raised as always. It is been long I didn't had a bull so now I want to have a bull in my herd," he states.
General Care 
Red Sindhi cattle don't demand too much care but are fond of cleanliness. "We give a good bath to our cows in summer while scrub them well during rains and winters. We keep our dairy farm neat and clean so that it feels good. We also do not vaccinate our herd because it seldom falls sick. Besides our cows are stall fed so they do not catch infection," he claims. Grazing cows are more prone to Foot-and-Mouth (FMD) disease and that require medical treatment but Red Sindhi cow is generally disease resistant.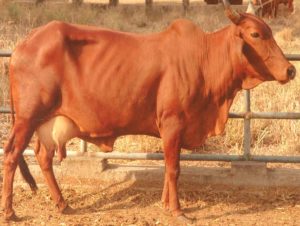 Milking
Milking is done twice a day 4.30am and 4.30pm. "We clean the teats well before milking. Milk is sold to nearby locals," he shares. The milk is sold at Rs. 50/liter while ghee is sold at Rs. 1200/kg. "We make 4kg ghee from 100 liter milk."
Bio-Solutions
Dung and urine of Red Sindhi cow has maximum content of micro-nutrients that increase the population of micro-organisms in the soil that in turn replenish the soil nutrients and improve fertility. "We have developed our own formula of making bio pesticides, insecticides and fungicides from urine of our pure breed cows and manures/fertilizers from its dung. The urine has high properties of attacking the harmful pests and safeguards the crops from diseases. Thus results of bio-plant protection solutions are fantastic and the demand is so high that we are not able to fulfill it. Similarly the dung is excellent for the farmland soil so we are able to sell these farming inputs easily," he highlights.
"We add various herbs and medicinally rich weeds in these bio-plant protection solutions. After many trials and experiments we have developed it," he reveals. The formula of all bio-solutions is kept secret. It will be shared only if royalty is paid.  Much renowned company like Patanjali is asking for the secret formula but Mr. Bahuguna declined the offer as he wants high amount of royalty for developing these bio-solutions.
In time to come Mr. Bahuguna wants to increase the herd size to 20 through embryo transfer.  When asked about the general notion of loss incurred in maintaining the farm of pure indigenous dairy breeds, he responds, "It is absolutely wrong! Desi breeds will never incur loss to the farmers. It will always take less from farmer and give more. Revenue generation from these breeds is not only limited to its milk but also for dung and urine. Red Sindhi cows are treasure of my farm. After quitting chemical based farming the production cost has reduced remarkably because I am using bio-solutions. We sell milk and milk based value added products. We earn from sales of bio-solutions too. In addition we primarily grow Basmati rice which is 100% exported at premium price as it is organic. Taking all these selling aspects into consideration it is obvious our pure breed Red Sindhi cows are foundation of our farm. It is lucrative to rear indigenous breeds of cows in every way!"
Mr. Bahuguna is lawyer turned farmer and he convinced his wife too to quit her job as lecturer in a Government and become farmer. "It is bliss to be agripreneurs! I studied law but after completing education while practicing law I could not relate with the profession! Thereby I left it and moved towards agriculture because it was my ancestral occupation and I was inclined towards being close to the nature. In agriculture dairy farming drew my attention as it gives everyday income contrary to horticulture where the revenue is generated only once in 3-4 months," he shares. In order to become a proficient dairy farmer Mr. Bahuguna undertook six months training in each Dairy Management, Medical Treatment and First-Aid and Artificial Insemination and Semen Proccessing from NDRI Karnal, Haryana. On his return from Karnal in 1982 he started Red Sindhi dairy farm. Today he is contended with his decision to become a farmers and rear indigenous desi breed cows.
He concludes, "Early the farmer understands the better it is that in our country it is best to rear desi cows. The milk produced is A2 milk that is healthy and protects us from all diseases. Do not run behind the quantity as superior quality would surpass the difference!  Maintaining our Indian breed cows and bulls is also comparatively easy and economical than the foreign origin dairy animals. We must believe in our farming legacy and stick to our roots because that would be only sustainable in the long run!"
Contact details:
Mr. Dev Prakash Bahuguna
Haripur Village, PO Herbertpur, Dehradun district, Uttarakhand
Phone: 09756688677