Grows strawberry on his ancestral farm at Rajasthan to introduce new crops to farmers and arrange for peaceful retirement life
"Farmers in my Birantiya Kailan village, Pali district, Rajasthan never heard about strawberry as they were used to growing only traditional crops like bajra, maize etc. I wanted them to grow new crops as per the market demand and earn good revenues. They were not ready to step out of their traditional crops and made fun of me for growing strawberry but as the farming progressed they believed in the change and now are ready to try new crops. The temperature and climatic conditions required for strawberry plants to grow were in alliance with atmosphere at my farm as well as there is reasonably good demand of strawberries in nearby cities so I decided to grow it," says Mr. Deepak Nayak, owner of 50 acre ancestral agricultural farmland yet the first-time farmer. So far he had been an entrepreneur developing websites and always gave his farmland on lease to other farmers on a condition that they never use urea or harmful pesticides.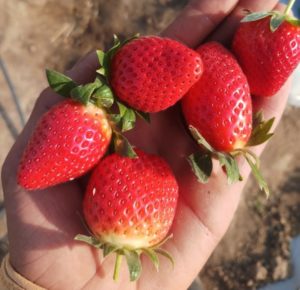 "City life is chaotic and polluted. I had been living most of my life in city till now but in childhood every year we spent few days on the farm. Based on the childhood memories I decided to live on the farm post retirement but with some productive engagement in agriculture. In order to have fulfilling retirement plan it became mandatory to put it into action now so I started the experimental farming on one acre," Mr. Nayak describes the drive behind venturing into farming. He learnt intricacies of strawberry cultivation on youtube and studied the documents sourced from US as strawberry farming in open cultivation is relatively uncommon in Rajasthan.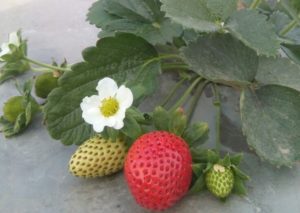 He invested Rs. 4-5 lakh/acre for growing strawberry in one acre as experiment. It includes cost of land preparation, drip irrigation, saplings etc. Production cost was less because most of the agri inputs were prepared in-house. "I have good number of neem trees on my farm. So with the leaves and cow dung we prepared the compost for land preparation, powder made from neem fruits mixed with cow urine was sprayed as preventive measure to protect the plants from pest/diseases infestation and so on. More than 70% agri inputs were prepared on the farm," affirms Mr. Nayak. To make agri-inputs is laborious task but also rewarding, "Commonly weight of one strawberry is between 20-25 grams but many of my farm produced strawberries are 52-53 gram/piece. Also it tastes sweet. It is because we used minimum chemical inputs. Next season I shall go for 100% chemical free farming."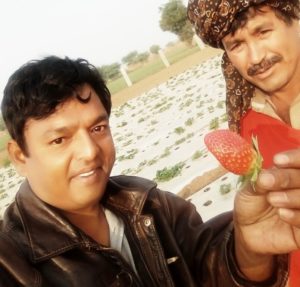 Strawberry plants require cold temperature but Rajasthan has hot climate. To control the temperature Mr. Nayak uses water spraying and plastic mulching techniques. When asked plastic mulching harmful for the soil, he clarifies, "The plastic mulching sheet has a silver coating that reflects the sun emissions back and doesn't harms the soil or the plants. It helps the soil to retain the moisture and enhances the growth of the plants. In addition, I use instruments in the farm to get the regular update on the temperature. If the temperature exceeds the upper limit then water is sprayed to bring down the heat."
Strawberry cultivation has its own set of challenges such as the saplings are extremely delicate. "During the initial stage of transplantation it is mandatory to nourish the soil and saplings with right amount of humus at the right time. Any fall out at this stage could lead to the mortality of the plant. So farmer needs to be careful and cautious throughout the production process."
Harvesting begins in December and continues till March. The entire produce is sold at Rs. 200-250/kg to wholesalers in nearby cities like Ajmer. "I visited the wholesale market before harvesting and finalized the deal. Later through the vans the produce is sent to the wholesalers. I visit them once in a week to collect the payments. So far I didn't have any payment defaults as the demand is high and they want consistent supply." Strawberries are packed in plastic punnets which are then packed in the tray. In one tray eight punnets are packed. "Punnets are bought from Mumbai and corrugated trays from Delhi."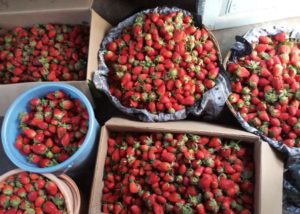 In the next season Mr. Nayak wants to increase the farming area of strawberry and prepare his own plants from the best quality mother plant. Also he wants to set up a small dairy unit of indigenous cows once the fodder cultivation is streamlined. In addition he is working on setting up the poly house for growing exotic vegetables. Seeing his success other farmers in the village are now open for multi-cropping instead of mono-cropping. "I am elated and contended to see the change in the mindset of farmers in my village. I shall help them in best possible way," he asserts.
He concludes, "Farming is not a joke! It is certainly the profession that demands hard labour and 100% commitment. Engaged in the process of growing strawberry myself I can know position the farmers after the almighty. It is not easy to be a farmer. We all should respect him as it takes enormous efforts to grow food and farmer who grows food must be deeply respected!"
Contact details:
Mr. Deepak Nayak
Village Birantiya Kallan, District Pali, Rajasthan
Phone: +91 7976047123
Email: officialdeepaknayak@gmail.com