With increased use of technology and introduction of new dairy products, more and more entrepreneurs are entering the dairy industry. We spoke to two diverse Indian dairy farms – Bathinda, Punjab based Punjab Dairy Farms, and Bangalore based Om Dairy and Live Stock Farm – to learn more about how they manage their day-to-day operations. They also share their experiences and views of the dairy business in India
Punjab Dairy Farm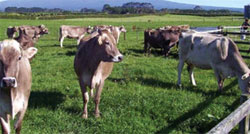 Punjab Dairy Farm was established in 2010. Mr. Munish Goyal and Mr. Sanjeev Bansal are the founders of the company. "Our main goal was to fulfill the consumer's demand with fresh and natural milk produced by the best breeds of cows, Holiston Frisson. I also strongly believe that the milk produced in rural areas shall be consumed in that particular region instead of transiting to metro cities by using the preservation methods. This is for the first time that a dairy farmer is directly getting into retail and offering fresh cow's milk but not pasteurized milk to its consumer at their door steps," says Mr. Goyal.
Initial Research
The company's research focused on organically produced milk. "During our research we found that there was a huge gap between demand and production. Thereafter the biggest research was on the animal's breed, their purity, and their availability," informs Mr. Goyal.
They faced lot of challenges due to lack of good guidance, lack of educated and experienced veterinary doctors, poor infrastructure facility, and also green fodder for animals.
Procurement of Milk
The company produces milk on its own. "We own 900+ cattle. As far as raw material ingredients are concerned, everything comes from our in-house production and management, starting from feed mill till growing of green fodder," says Mr. Goyal.
Quality Parameters
Mr. Goyal speaks about the speciality of their milk:
· Dairy Farm : With increased use of technology and introduction of new dairy products, more and more entrepreneurs are entering the dairy industry. We spoke to two diverse Indian dairy farms – Bathinda, Punjab based Punjab Dairy Farms, and Bangalore based Om Dairy and Live Stock Farm – to learn more about how they manage their day-to-day operations. They also share their experiences and views of the dairy business in India.
Oxytocin free: Oxytocin injection is generally used to boost milk production in animals, which affects the health and disturbs our hormones system.
· Mastitis-free: Mastitis is a disease generally found in milking animals. When the animals are afflicted by this disease, the milk should not be obtained, as the infected milk cannot be consumed. "We take care of it before obtaining the milk from an animal," says Mr. Goyal.
· Fully Equipped & Modern Technology: The company uses European milking parlor that suctions the milk from large number of cows in very short span of time. It is the easiest method to get the milk suctioned from animals, and this avoids human touch and maintains the hygiene. Further the suctioned milk from cows is passed to bulk milk chiller by an automatic means. BMC maintains the required temperature for natural preserving of milk i.e. 4 degree celsius. This is helpful to keep the natural taste of the milk alive for an end-consumer. Automatic self-cleaning mode/system in-built feature of the parlor after the milking takes place and the whole suctioning and supplying system gets cleaned in an automatic manner with help of in-built feature of the parlor which gives an appropriate and prefect cleaning to the system via giving it 5 rounds of hot water, normal water and specially designed detergents.
The stored milk in the BMC gets further transit to milk supply van, which is fully equipped with features like insulated milk storage tank which retains the same temperature of the milk and digital milk releasing system on the van will deliver the milk quantity as per requirements of the consumer. This avoids cash exchange and pilferage and it's a free delivery digitally controlled as an ATM machine.
Competition
When asked about competition, Mr. Goyal says, "As of now that there is no such competition, as no one supplies farm fresh milk at the consumer's doorstep with such ultra modern technology. Our only competition is local vendors who sell milk. We usually produce 10000 liters in a day and sell 100% of the quantity to direct consumer."
He adds, "We know it is a little difficult to win the confidence of the consumer, but here we strongly believe in the quality measures, and will keep maintaining this with honesty and dedication to achieve the cause."
Market Share
The company sells milk only in Punjab. "The prospects of growth are very good if it starts working on Israel's format. Haryana is doing well by adopting a similar format," says Mr. Goyal. In future the company is planning to manufacture dairy products like curd, butter milk, and cheese. Punjab Dairy took technological consultancy for the Delaval.
Major Challenges
Mr. Goyal maintains the initial phase of setting up the dairy farm with financial constraints was challenging for the company. "It was very tough to establish a large dairy farm in one go with financial burden and losses during the establishment and then to recover it for running this further. Deep pocket was involved to cope with this. Finally now it is smooth and well functional," he says. Mr. Goyal is a graduate and a special degree holder from the Punjab Dairy Development and Research Center.
For more information, contact : Mr. Munish Kumar, Co-owner  Punjab Dairy Farms,  Ph : 09888420000/ 0172-5013630 Email: ajay.kumar@tycoongroup.in / ajaykumar.visionary@gmail.com
Om Dairy & Live Stock Farm
Om Dairy & Live Stock Farm was set up in 2009. Mr. Ravishankar Mahdev and Mr. Yogish are the founders of the company. "I have grown up in a farm and have a lot of interest in animal husbandry and this interest has motivated me to get into commercial dairy farming. I set up the dairy farm with my friend Mr. Yogish, who is very passionate about animals and had started a dairy farm in a very small scale. We both have joined together to establish a fully functional commercial dairy farm. Before venturing 100%, I took my friend Mr. Yogish to many farms across Bangalore and South Karnataka to get the basic info about the present day dairy farms," says Mr. Mahdev. He has done B.Sc.
Best Breeds of Cow
Mr. Mahdev maintains it is easy to maintain desi breeds of cows but have low productivity. "It is always easy to maintain desi breeds like Malnad Gidda, Hallikar, and Jersy to name a few as they have better immunity compared to crossbred HF cows, but the milk yield of desi cows is very poor compared to crossbred HF cows," he says, adding, "Crossbred jersy or HF cows are best suited for Indian condition as they have well adapted to the local conditions."
He further informs, "Desi cows will give about 5-7 liters of milk per day. To achieve good quantity and quality of milk, one need to understand the basics of dairying such as, proper housing and comfort for the animal, adequate water to be available, energy and protein rich fodder supported by a good quality Concentrate feed is a must for any animal to produce high quality and quantity of milk. Apart from these, highest care has to be taken for mastitis control which is very crucial for any dairy farm to progress as any cow infected with mastitis will not only loose one or other teat but the quality of milk will come down drastically. You must allow enough time for the animal to ruminate so that maximum percentage of food intake can be converted to milk."
Advising on factors to take into consideration while buying cows and buffalos, Mr. Mahdev says, "When you buy a cow or buffalo, the basic thing to do is to check the breed of the animal and the stage of lactation. It is always advisable to take a vet along while purchasing a cow or buffalo as he can check the animal completely for proper functioning of teats (udder inspection is a must if it is milking cow) hoof checking, over all body score. Generally the farm owners depend on brokers who get cows or buffalos as per the price range and breed.  As these animals are sold in any shop or showroom, everyone has to believe that a pregnant cow will give birth to healthy female calf and will give at least 20 lpd of milk."
Major Challenges
According to Mr. Mahdev the major challenges in this industry are labor and fodder. "Karnataka has not received enough rains in this season which results in less fodder availability as well as very less ground water. Apart from these two, I don't think, there are many problems in this field. Every dairy farmer should have enough land to cultivate his own fodder ably supported by honest workers who are keen on learning the art of animal care as well as time management," he says.
Use of Technology
Technology has made work simple and increased productivity in dairy industry admits Mr. Mahdev. "For example, milking machines and milking parlors have been successfully installed in many dairy farms wherein every animal is milked by the machine wherein highest possible quality of milk is being collected. Apart from this, many farms have chaff cutters for chaffing the forage (fodder for animals) which results in zero wastage of fodder which will increase your profits. In conventional method of feeding the animals with fresh cut forage will result in at least 35-40% wastage of fodder," he says.
Future Growth Potential
Speaking about the changes he foresees in the next five years taking place in Indian dairy industry which would be playing key role in attaining growth and prosperity, Mr. Mahdev says, "I feel the major change what we can see in the next five years is that, there will be many new players in this segment and good news is that, most of them will be well educated. Once educated people take active part in dairy industry, we can definitely see major changes in terms of genetics of the cows by import of high quality semen or livestock and reproducing off springs which can give at least 30-35 liters of milk/day on an average and the cost of automated milking parlors will come down as there will be more demand for such machines.
Even we can expect introduction of software in dairy segment wherein each and every cow will have an ear tag (at present ear tag is being used in all dairy farms for numbering purpose only) with a chip which will give the accurate milk yield of the cow and any problem with udder such as mastitis and the required quantity of feed as per the yield of the cow."
He is positive about the future growth potential of the dairy industry. "I feel there is huge potential as far as dairy is concerned as milk is cheapest form of calcium available today. Anybody and everybody like milk. Only problem with the industry in our state is that the KMF is not very aggressive is marketing when compared to MNC's as they are happy selling milk in the form of milk only and now they have started converting milk into a few byproducts which they should have done earlier. Unless the milk is converted into many dairy products, their earnings will not go up which results in fewer prices to the dairy farmers who supply milk to KMF through their societies. Hope they give more support and encouragement to the dairy industry in our state which will prompt many to enter this field in future," he adds.
He further advices, "First thing is that anyone who wants to enter dairy farming should have love and care for animals. Dairy farming is very interesting but very challenging also.
Before starting a dairy farm, please visit as many farms as possible to see the management and routine practices. Grow fodder first and get the cows next. Getting cows is the easiest of the entire process of dairy farming since if you pay about Rs. 60-70 K you can buy cows but fodder is not available in the market. My sincere advice to newcomers is that, first to have adequate stock of fodder and then bring the livestock. Plan a well-ventilated housing for animals with support staff for day to day maintenance of the animals."
For more information, contact :
Mr. Ravishankar Mahdev, Partner,
Om Dairy & Live Stock Farm, M/s Ayush Associates, #114, 1st Floor, Pantharapalya, Nayandanahalli, Off. Mysore Road, BANGLAORE-560 039 Mob: 9880741434  Email: ayush1ravi@yahoo.co.in / omdairylivestockfarm@gmail.com
Our Correspondent
Source : Agriculture & Industry Survey