Ayurveda practicing doctor grows medicinal herbs and rears desi cows to meet the medicine requirement for treating patients
"Patients suffering from various lifestyle and chronic diseases are given best possible treatment at our residential medical facility. Our treatment is distinctive because we cure illness with nutrition in form of food and herbal medicines grown organically. Treating patients through ayurveda is very important to us therefore we grow medicinal plants and herbs required for preparing these medicines in our farm ourselves. Further, all the patients are put on strict vegetarian diet plan comprising of fruits, vegetables, dairy items and grains. All these are also produced in our own farm," shares Dr. Rajesh Bayari, physician cum farmer. He practices ayurvedic medicine and manages the farm along with his wife Dr. Anulekha Bayari. They run 20 bed hospital within the farm premises. Chithrakoota Ayurveda is located in Aloor village, Kundapur taluk, Karnataka.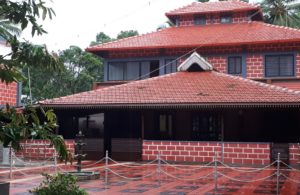 Chithrakoota Ayurveda, 15 acre organic farm has rich plantation of arecanut, coconut and cashewnut. There are about 200+ varieties of medicinal plants grown in the farm. Few to name are Nagashekara, Ginger, Turmeric, Agnimantha, Pinari, Ranna, Arjuna, Punarnava, Bruthika, Kiratha, Nellikai, Tulsi, Neelgundi, Peepli, Panchapatre and Madhiphala. 60% medicine ingredients are cultivated at the farm while rest 40% is collected from the forest near to the village. "The planting material for these medicinal crops is best in quality hence the production is good. It is sourced either from the forest or through some genuine nursery owners," says Dr. Bayari. Seasonal fruits, medicinal variety of rice, pulses and vegetables are also grown through native seeds. "We strongly believe that if our patients eat healthy food then only healing is faster thus we take umpteen efforts in managing our farm rightfully. We also rear 20 native breed cows. The milk obtained from these cows is given to the in-patients as well as processed into ghee. Desi cow ghee as well as cow urine are amongst the prime ingredients required of preparing ayurvedic medicines."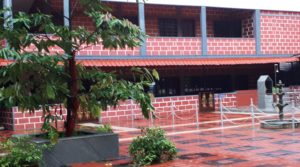 The farm was established by Dr. Bayari's farther, Mr. Mahabala Bayari a well-known organic farmer of the region. "He has been engaged in chemical free farming since 1990. He is my inspiration to work for the people and environment therefore soon after completing graduation in Ayurvedic Medicine and Surgery from Sri Aroor Laxminarayana Rao Memorial Ayurvedic Medical College in Koppa, Chikmagalur district in 2009 I returned to my village and started the practice in 2010. Moreover, ayurveda is nothing but treatment through herbs and plants extract hence during my medicine curriculum I had one complete subject on medicinal plants that I found most interesting and aspired to grow the same in my farm myself for preparing the medicines required for the treatment. With the support of my father and wife I am able to cultivate these medicinal plants in our farm since 2010," he describes the drive behind farming.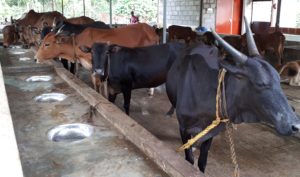 All the crops and trees in the farm are desi varieties because Bayari family considers staying local is in the favour of farmer, soil, environment and consumer. "The medicines produced and used in our hospital are half the price of what is available in the market. As our farming practices and processes are local to our region we are able to provides superior quality food and medicines at less (reasonable) price," he highlights.
Crop production of medicinal plants and herbs is planned based on the need. "I grow what I require for treatments or collect it from forest. Usually the shelf life of these herbs is 2+ years so we store it suitably after every harvest. Once the herbs are about to exhaust we grow it again. With experience of close to 8 years, I know which herb I need and in how much quantity hence based on the requirement I plan the production calendar of these medicinal crops. Initial two years it was tough to plan the crop production schedule but now the operations are very much streamlined," he elucidates. Most of the medicinal crops are grown as intercrops with main crops.
Cattles in the farm are 4 Malnad Gidda, 1 Hallikar, 7 Gir cows and rest are Sahiwal. Breeding is done through natural mating. "We have Sahiwal bull and soon going to purchase Gir bull. Other local breed bulls are available in the village or nearby places. We grow fodder for our cows in-house as well as allow them for natural grazing. All the fodder crops grown in our farm are local varieties. We do not sell milk of our cows as entire milk produced is used at home, hospital and processing into ghee," he elaborates. Cow dung is used in farming.
Farm is naturally maintained with cow based manure. In addition, post harvesting the medicinal plants the residue is decomposed to make the manure. With this practice the soil is naturally nourished and has strength to fight the pest and disease attack.
During monsoon the occupancy in hospital is less while rest of the months it is fully booked. Patients from more than 25 countries are visiting the hospital, "It is all through word of mouth publicity. Our in-house prepared medicines from plant extracts and urine of indigenous cows has given best results to our patients. Also the balanced food diet we give them plays an important role in quick healing," he informs.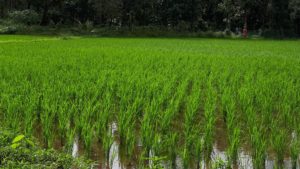 He recommends farmers to grow peepli, ashwangandha, chitramulla and shatavari medicinal plants as these have good demand in the market. However, prior to cultivation, "Farmers must check if his farmland soil is suitable for growing the particular medicinal crops and secondly they must secure the market," he highlights.
Dr. Bayari, a committed doctor cum farmer only aims to heal the people and the environment, "I am doing farming to treat my patients well. The quality of my medicinal plants and herbs is excellent and I can earn huge profits by selling it commercially to any pharma company but I will not sell it to others. What we grow is exclusively for our patients," he concludes.
Contact details:
Chithrakoota Ayurveda
Dr Rajesh Bayari, Physician
Aloor Village,Kundapur Taluk, Udupi District, Karnataka – 576 233, India
Phone ✆ +91 9480011578
Email: contact@chithrakoota.com , chithrakoota08@gmail.com
Web: http://www.chithrakoota.com/