Secunderabad, Andhra Pradesh based NGO facilitates farmer families to grow organic cotton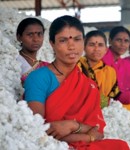 Established in 2004, Chetna Organic helps smallholder farmer families, dependent on rainfed agriculture, make their farming more profitable and sustainable. Chetna mainly operates in Andhra Pradesh, Maharashtra and Odisha.
NGO Model of Functioning :
The Company mainly functions like a cooperative. Specifically, it is a Producer Company established in 2009, Chetna Organic Agriculture Producer Company Ltd (COAPCL) is a farmer owned Company, professionally managed and backed by venture philanthropy so as to empower farmers by engaging them to build an ethical supply chain. The enterprise is driven by its triple bottom-line objectives, which believes in principles of ecological (viz. Organic), Social (viz. Fair Trade) and Corporate (by making nominal, non-exploitative profits) sustainability.
"We have built societies for them, so we have our own cooperative societies. We have 9 registered cooperative societies, plus 4 are under registration, so in total we have 13 cooperative societies in these 3 states. These cooperative societies promote the apex level producer company which was formed in 2009. Before 2009, the project was run under the NGO, COFA. From 2009, it started working as a commercial entity for business," says Mr. Almalik Rajpari, manager-corporate finance & markets.
Funding :
Most of the funding comes from nonbanking financial institutions. "The producers are small and marginal farmers. They cannot put in their money to fund the company. We mostly get funding from NABARD Financial Services Ltd. under their group lending programme. Financiers including banks are more oriented to group lending ,the self-help groups. guaranteed by the producer company. Farmer does not repay the loan the producer company does against the procurement of the cotton. This is how funding works with the producer company. The procured cotton is then marketed by the Producer Company," maintains Mr. Rajpari.
Cotton Production :
The Producer Company is into marketing organic cotton. "We have our own technical staff for organic and fair-trade certification, institutional building experts and external third-party certifiers as well. We certify each and every farmer," says Mr. Rajpari. A mere 0.5% of the total cotton that is grown in India is classified as organic cotton.
Lasting spell of rains affected cotton production last year. "Generally rain stops by September. But last year it was rained till November first week. So, the moisture level in cotton was higher which has affected the quality of cotton. It might not have affected the production of cotton, but the quality of cotton has gone down," he adds.
Commenting on BT cotton, Mr. Rajpari says, "In our area of operations, e.g. in Odisha, we find no incremental yields of Bt. Bt unfortunately is quite rampant and we are engaging actively in advocacy against Bt and GMO produce. Not only do we work on cotton but also on food crops such as rice, pulses, millets etc. The organic standard is applicable to land and not the produce. Hence, it is imperative that the cotton grown in rotation with these crops is also non-Bt and GMO free."
Challenges :
The company faces stiff competition from other farmers who produce Bt cotton. "Our farmers are supported with training on organic produce rigorously. They appreciate the significance of organic; they don't feel the need to transition to Bt because the economics of Bt does not work out in the rainfed areas. The investment cost is low with the seed cost a third compared to Bt, investments in time are less (with challenges of labor) and infrastructure for watering etc. is not available. Further, the biofertilizers and biopesticides are much cheaper to produce.
Cultivation costs come down drastically because they do not have to buy any chemical pesticides or fertilizers. Natural fertilizers like cow dung, or using cow urine as a disinfectant is in natural synergy with the farming practices. Finally, the organic farmers are given an "organic" premium by the buyers. The return on investment is much higher for the farmers.
Our intervention makes them less prone to bankruptcy that drives them to suicides," says Mr. Rajpari. The organic cotton is undergoing a huge challenge since there are many ingenuine suppliers who are engaged in certificate trading; however, our partner brands who are interested in traceability, transparency and ethical business have been a steady source of support.
Marketing :
"Once the company procures the cotton from the farmers, the 100% farmer owned company sells it to established buyers predominantly part of value chains in Europe, U.S.A., Japan and Australia. "Organic and fair-trade is still an international game. The domestic market has not awaken to organic produce. There is not a sufficient traction in Indian brands about being fair to farmers and a consumer demand for fair-trade emanating as a response to farmers plight and exploitation from middle-men is yet to see market based solutions. We have our dedicated buyers, and have long-term MoU for securing their cotton requirements," informs Mr. Rajpari.
The company procures about 20,000 quintals per year of organic cotton approximately. A Post Graduate in Management, Mr. Rajpari has worked with Kotak Mahindra Bank in agribusiness sector, before joining Chetna Organic Agriculture Producer Company Ltd. (COAPCL)
Our Correspondent
For more information, contact :
Chetna Organic Agriculture Producer Company Ltd. (COAPCL), 12-13-677/66, Plot No 187, Sree Sai Durga Niwas, Adj Ashish Enclave, Street No 1, Tarnaka, Secunderabad – 500017; Andhra Pradesh, Contact No.: +91-40-64639944
Email – almalik@chetnaorganic.org.in Website – www.chetnaorganic.org.in
Source : Agriculture & Industry Survey