Pursues dream of farming post retirement by developing fruit farm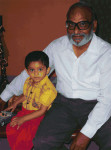 Mr. Sharad Talwalkar established Chaitanya Mala, a fruit farm in 2007 after he got retired in 2006 serving in finance industry. Along with mango, coconut, guava, sapota, litchi and banana trees, crops such as lemongrass, ginger, jowar (sorghum), millet and wheat etc are also grown at this 5 acres farm located at Satara in Maharashtra state.
All fruit trees are in infant stage. "Some trees are yielding fruits but in very small quantity. Hence right now the produce is sold in local markets. Secondly, I am following organic method since the beginning and so not getting sufficient quantities as of now," shares Mr. Talwalkar. Three varieties of mango, namely Hapus, Payari and Malikarjun are grown which are expected to yield three times in a year.
Problems in Organic Farming :
Expertise in organic farming is not accessible to the farmers. "Sufficient production in organic farming must be attained and for that expertise knowledge is required. Secondly marketing and price are other issues. People speak much about organic but are not prepared to pay more for the same," says Mr. Talwalkar. He adds, "unfortunately I am also under pressure to abandon organic. Some people state only organic or only chemical are extreme views. There should be balance between organic and chemical use."
Direct Marketing :
Reasonable price for the organic produce is also not received as it is sold to middleman. "I sold lemongrass to a local merchant who further sold it to a processor. I could have sold directly but have not still started direct marketing due to inadequate quantity produced at my farm," informs Mr. Talwalkar.
Future Plans :
Plans are to produce green fodder by hydroponic method in a way that it is affordable for small farmers.
Our Correspondent
Contact Details : Chaitanya Mala
3, Ramacha Got, Satara-415002, Maharashtra  Phone: 2162281717
Email: svtalwalkar@yahoo.com
Source : Agriculture & Industry Survey