Incotec India inducts new facility for betterment of seed industry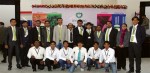 INCOTEC's new Centre of Excellence in Seed Technology was inaugurated on Jan 19, 2013. In this new Center of Excellence local partners will be trained to increase the knowledge of seed quality and seed technology.
The company was founded in 1968 and has been an independent company since 2002. INCOTEC's Coating and Seed Technology Companies provide products and services for seed coating, pelleting, seed enhancement and analytical services for genetic analysis and quality inspection. INCOTEC Group provides key solutions in the areas of vegetables, field crops, ornamental and analytical services.
Dr. Manish Patel is the executive director of INCOTEC India. Dr. Patel says, "The Centre will also facilitate training programs for stake holders within the seed industry. This new facility is designed to make services and products available to the Central Asian seed market".
INCOTEC supplies film coating and analytical services to the seed industry. It has introduced technologies such as upgrading, priming and encrusting and pelleting. These activities will be carried out in the new facility along with research labs and the blending units for INCOTEC India's DISCO film coats. The company also carries out research on challenges faced by the local seed varieties and focuses on providing sustainable solutions that will contribute to achieving a healthy plant.
INCOTEC India is a 100% subsidiary of INCOTEC Group, headquartered in the Netherlands. INCOTEC has facilities in the USA, Brazil, Italy, Sweden, France, South Africa, India, China, Japan and Australia.
Our Correspondent
For more information, contact : INCOTEC India, 47 Mahagujarat Industrial Estate,
opp Pharmalab, Sarkhej Bavla, Highway, A.t. Moraiya Ta.: Sanand
Ahmedabad 382 213, India Tel: +91 999 898 0829
Website: www.incotec.com. Email: manish.patel@incotec.com
Source : Agriculture & Industry Survey