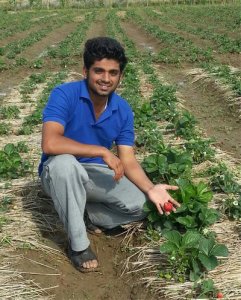 "A normal farmer who cultivates wheat and rice earns Rs.80 thousand to 1 lakh per year whereas strawberry farming in one acre land can fetch returns upto Rs.7 -8 lakhs/year."
2012 junior national boxing champion bids adieu to boxing to become strawberry farmer
"I have given 2 years of my life to boxing but it is my past now and strawberry farming is my present plus future," says nineteen-year old Chetan Verma from Gurudaspur, Punjab. He took the decision to quit his boxing career to take his father's strawberry farming business that was under loss to new heights. This particular berry was opted by father-son duo as it is more profitable compared to other crops. He shares,
"A normal farmer who cultivates wheat and rice earns Rs.80 thousand to 1 lakh per year whereas strawberry farming in one acre land can fetch returns upto Rs.7 -8 lakhs/year."
Being new to the industry he looked for help for strawberry cultivation at his local agriculture university but did not get any positive response. Later the determined lad took to social media to establish contacts with farmers in California. American farmers shared strawberry farming intricacies with Chetan wholeheartedly. Enriched with guidance he started growing strawberry on his 2 acres farm.
Presently he is using chemical based farming inputs that he claims to be safe for human consumption. "In a week, I spray 3-4 kinds of fertilizers precisely, one for plant growth, second for fruit size and third as fungicide. All these are very mild in chemical content and hence does not harm human in anyways," shares Chetan.
He also states that he is growing strawberries without using any hi-tech farming equipment and does not even use drip irrigation, and yet he makes profits by following simple farming methods. Strawberries are hand-picked from the farm after February till mid May.
Chetan Verma successfully sold strawberries and had earned satisfactory profits last year. He is once again growing strawberries this year but not to sell rather wants to take next step towards growth by manufacturing value-added strawberry based products specifically strawberry crush. He shares, "I will not sell strawberries, instead will convert them into crush. I am hopeful this will double the profits earned last year."
Chetan has registered Zoot India Company to sell the value-added processed products. He has again used internet, in particular, 'You Tube' videos to gain knowledge on strawberry processing techniques and methodology. The processing project shall need an investment of Rs. 3 Lakhs.
He has decided to give strawberry plants to other farmers and then would buy-back the strawberries from them to process them into crush.
The exuberant youth does not stop here as he dreams of setting up a large-scale strawberry crush and juice factory. He shares, "I dream to cultivate strawberry in thousands of acres and then produce crush and juice. I will buy strawberries from fellow farmers. In this way farmers who are going abroad for earning will not go anywhere as they would earn well here only."
To build the farmers' network he has founded Strawberry Cultivars Welfare Society. The society is functional from last 6 months and invites applications from farmers interested to be part of the society.
Chetan and his father also want to make kiwi crush after seeing the response to their strawberry processed products. He is confident of product sales. "My dad is marketing worm. He is having 15 years of marketing experience. I am good with production so we make the best team possible," signs off Chetan Verma.
Contact details-
Zoot India Company
71/10 Improvement trust colony , Jail road , Gurdaspur ( 143521 ), Punjab
Mobile – 7837734007
Email – cvzootindiacompany@gmail.com