In 10 years converts his barren Kadbanwadi village into farming zone with water conservation
Once a village with absolutely no water and green cover today has lush green farms producing bumper quantities of fresh vegetables, orchards exporting pomegranate to gulf countries, farmlands selling bags full of grains, blooming forest and thriving livestock. It is the reality! In 10 years Kadbanwadi village, Indapur taluka, Pune district, Maharashtra have been completely transformed due to the self-less efforts of one man, Mr. Bhajandas Vitthal Pawar. He has given a new lease of life to his village by constructing systems for water conservation. In 10 years (1994-2004) along with co-operation from villagers and financial aid from various government schemes Kadbanwadi became water-sufficient village with 100 farm ponds, 27 cement bunds, 110 earthen bunds and 3 percolation tanks. "We are consistently progressing towards growth and development of the village by expanding our water conservation systems and infrastructure," he highlights.
"My village is located in the water scarcity region of Maharashtra. We received rainfall as low as 400mm per year. Consequently farmers were relocating to cities doing odd jobs and could not give proper education to their children! I couldn't bear the continuous deterioration of my village. To revive agriculture and save the forest I had to bring water as the water is universal and has no replacement! Monsoon was beyond my control but I could save the water! Thus in the year 1994 along with a fellow villager I undertook training in water conservation at Anna Hazare's village Ralegan Siddhi under the Maharashtra Government's Adarsh Gaon Yojana. The aim was to make my village water-sustainable," he shares. Immediately after completing the training he laid the foundation of a trust in the village to construct water conservation systems. With joint efforts of all villagers in 300 hectare land varied water conservation systems (ponds, tanks, bunds) have been built ensuring to work in alliance with the village topography. "We could do it all through Adarsh Gaon Yojana and Water Shed Development scheme of Central Government."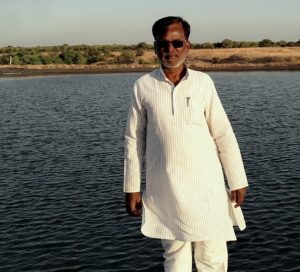 Once the water was secured, villagers aka farmers resumed farming in the year 2005. Earlier they were primarily growing sugarcane, sorghum (jowar) and pearl millet (bajra) but later diversified into fruits and vegetables as well. "We have to grow multiple crops for all 12 months for consistent flow of cash. We decided to grow pomegranate. Our village has 1600 hectare of farmland in which now we have pomegranate cultivation in 500+ hectares. We produce residue-free pomegranate having premium quality. It is sold in nearby cities, metros and exported to gulf countries. We have even exported small quantities of pomegranate to Europe. Recently we have also started growing custard apple," states Mr. Pawar. Sunflower and groundnut is also grown in the village.
Vegetables were other crops that farmers of Kadbanwadi village explored and got benefitted. "We get bumper crops in vegetable cultivation. These are sold in India as well as exported. It is mostly grown in open cultivation but due to climate change some of us have installed shade nets. Approximately 10 acre area has shade nets and poly house. The quality of coloured capsicum and European cucumber grown in our poly house is very good thus goes for exports," he affirms.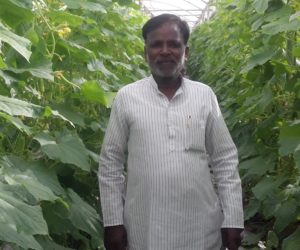 Kadbanwadi village has conserved water in best possible way and farmers continue to save and utilize it in most proficient way. All the farms in the village have drip irrigation to make best use of every drop of water. "We are using chemical inputs in minimum quantity and more of natural farming products so that our soil is fertile and water requirement for the crop is less," he says.
Mr. Pawar also treasures 522 hectare natural forestland in the village vicinity. "The forest has rich flora and fauna precisely deer. It is the main attraction of this forest. To safeguard the forest wealth we are constructing a huge bund and pond to increase the grassland area and provide facility of drinking water for the animals respectively. We have received Rs. 1 Crore for this program and to develop agri-tourism center in association with MTDC (Maharashtra Tourism Development Center)," he reveals.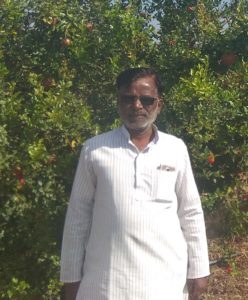 In time to come he wants to work vigorously in organic farming so that the village gets renowned for healthy and nutritious food production. By learning and implementing the latest technology on water conservation Mr. Pawar has brought fortune to his village. It was not easy for him! He worked for the welfare of Kadbanwadi village along with his government teaching job at Saraswati Vidyalaya, Ravangaon, 48 km away from his home. Every day in the morning and evening he used to interact with the villagers and lead the water conservation program. He got retired in 2012 and since then is engaged full time in the development of his village.
He concludes, "Earlier villagers were shepherds, used to work as labours in farms in other villages or work in cities on daily wages. However things have changed now! Many of them have become successful farmers and moved back to their home and farms. These days' people from other villages come to our village for working as labours. We are now providing employment to other villagers! We could change the prospects of our village because we all worked together. I feel my village is gifted and I want to take care of it!"
Contact details:
Mr. Bhajandas Vitthal Pawar
At/Po-Kadbanwadi Village, Shelgaon, Indapur Taluk, Pune District, Maharashtra – 413114
Phone: 09860283892, 08208313848 (Son-Viraj)
Email: pawarso.111@gmail.com