Nashik based manufacturer and supplier of bio-pesticides and biotech products for agricultural crops. Annual Turnover Rs. 15 Crore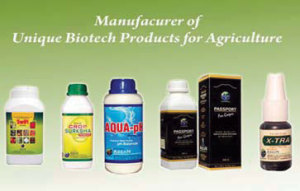 Asean Agritechnologies (India) was incorporated on 12th June, 2006. The firm is located in Nashik, Maharashtra state. Mr. Satyawan Bhimrao Kashid Patil is the founder and Chairman cum Managing Director of the company. Mr. Pranav Dave is the CEO (Marketing). It's a proprietorship firm active in the fields of research, manufacturing and marketing of bio-pesticides and biotech products for agricultural crops and organic farming.
The range includes biological pesticides, microbial pesticides, organic fungicides, plant biostimulants, multiple plant protection, micronutrient mixture, bio organic fertilizer, bio-fungicides, plant booster. The annual turnover of the firm for the year 2012-13 is Rs. 15 crore (approx).
Mr. Pranav Dave is a B.Sc (agri) and Postgraduate in Business Management. He opines "bio-pesticides are formulated by using latest technology.''
This fact is the standing testimony of quality of bio pesticides and biotech products, which has helped the firm Asean Agritechnologies in getting the permanent membership of ABLE (Association of Biotech Lead Enterprise) and recognition from the Government of Maharashtra.''
"Striving towards the betterment of environment and agricultural sector, we are marching ahead under the superior mentorship of Mr. Satyawan Kashid. His guidance and supervision has helped us in the growth and success of our company and got clients across the country,'' Mr. Pranav adds proudly.
The firm boasts that its products are 100 percent organic, highly effective apart from eco-friendly. To ensure damage free delivery the firm packs its consignments in qualitative bottles.
To a question about the future plans of the firm, Mr. Pranav replies "since chemical fertilizers are costly we are planning to promote biological products in the country which are cost effective." The firm's motto is — being an environment conscious organization the firm's finished bio-pesticides and biotech products are reckoned for its safety in usage, effectiveness and free from pesticide residues.
Our Correspondent
For further information contact- Asean Agritechnologies (India) No. 23 – A, Aashapura Society, Opposite Nishant Village, Near Bali Mandir, Panchavati
Nashik – 422003, Maharashtra. Mobile: 09373243044
Email: asean.ceomkt@gmail.com Web – www.aseanagritechnologies.com
Source : Agriculture & Industry Survey