Ashok Kumar Jonwal, Director, Pacific Herbs Agro Farms based at Nagpur is a stockhouse of knowledge when it comes to various types of farming activities. His firm offers consultation services for aromatic grass cultivation and also supplies all types of medicinal and aromatic herbs, planting material and seeds.
In a recent conversation Mr. Jonwal talked about why more than 90% of new aromatic grass cultivation projects currently fail in India. The main reasons for this high failure rate according to Mr. Jonwal are lack of awareness about cultivation, lack of awareness about markets .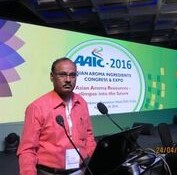 Currently, the main factors impacting production are:
1. Lack of awareness/understanding on what it takes to be successful in this venture: Attention to detail and nuances of aromatic farming must gain traction for a cost-effective optimum yield and to keep up to the standards and demand of the national and international market demands.
2. Eliminating small-scale farms: Arun Kumar sites examples of how he advises against plunging into aromatic farming with 3-4 acres of land. This, per his expertise, is a stepping stone to failure because it tips the balance when it comes to machinery purchase/maintenance, fuel charges and crop yield. For optimum yield, it is absolutely necessary that the plot size chosen for cultivation is at least as big as 15-20 acres. If cultivation is intended on multiple plots that add up to 15-20 acres, the plots should be within 1-3 km distance from each other. This ensures that all plots stays within the best harvest period and it ensures optimum utilization of the fuel charges and transportation costs, which has a direct impact on your ROI.
3. The intent for project undertaking: Like for any project, if the intent behind taking up the project is anything other than yielding good produce, the project tends to fail. In his quest to understand the failure of aromatic produce in India, Mr Jonwal, with his team, conducted a survey on 28 units in Maharashtra and nearby states, and realized that the reason for failure was lack of knowledge and aberration of intent. Anything apart from gaining good yield and contributing to the aromatic industry, for example, having an eye for subsidies is bound to fail.
4. Improper marketing: Mr Jonwal throws light on the fact that the cultivation is dependent on villages and farmers having knowledge and expertise on marketing the product. This is a rarity. Hence, effective marketing of the crops is as essential as following the rules to gain optimum produce.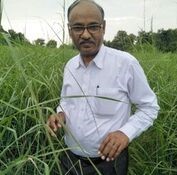 Due to these reasons many aromatic grass projects are winding up. With all these factors in the play, it is crucial that the farmers/entrepreneurs are supported with excellent consultation. This will help in timely intervention as and when an issue arises.
Per Mr. Jonwal, the national and international markets express high demand for aromatic oils with the buzz for organic products in today's world. If the farmer is internet savvy then selling is not tough as there are many buyers at Mumbai, Bangalore, Delhi and Chennai for these aromatic grasses and oils. Unfortunately, this may not be the case most of the time.
When asked about the services that Pacific Agro provides, Mr Jonwal explains that, as consultants they conduct land surveys, produce project feasibility reports, advise on the best variety of grass that can be used – this is soil dependent, advise on the importance and proper usage of distillation systems, legal buy-back agreement and marketing advise.
Mr Jonwal, in our interview couldn't stress enough on the importance of having your own distillation unit right from the beginning of your project. He believes in declining projects where farmers/entrepreneurs decide to share distillation units for their sites. From experience, Mr. Jonwal says that this is not a sustaining plan as timely harvest and distillation is very crucial for this project and it has a direct effect on the quantity of produce. The grass has to be distilled after precisely one day of harvest, he says. It should neither be done immediately nor should the distillation wait for after 2-3 days. One day gives sufficient time for the grass to wilt and release moisture. Moisture can have an adverse effect on the oil yield. But, if the distillation waits for more than one day, the oil also tends to evaporate, which of course, accounts for poor yield.
When asked if his firm offers experts on the field at all times, an honest Mr Jonwal declines that kind of support simply because it isn't necessary. However, he did admit that timely intervention is made possible with exchange of videos and pictures of the various farms they monitor. Pacific Agro, today is involved in aromatic farming in over 10 states that range from Dehra Dun to Madurai.
When queried if rains were necessary, Mr Jonwal advises against farming this crop in heavy monsoon-prone areas because monsoons can put away harvest periods which adversely affects yield and hence, profit. Having said that, continuous irrigation is a must have for aromatic crops. But does this mean that this crop demands water like a sugar cane crop? No, it demands on 1/10 of the water that a sugar cane crop would demand. The type of irrigation to be employed can be advised only upon site inspection depending on the climatic conditions, moisture-retention of the soil etc.
Finally coming to the economics of it all, we queried on the investment/acre that one should be ready with to undertake such a project. This would depend on the size of your plot taking into consideration the one-time investment charges like cost of machinery, cost of the grains for the grass, labor cost, fuel charges etc.; not eliminating the fact that many of these, like labor cost and fuel/fertilizer charges are recurring expenses. But on an average, for a 20-acre plot, the farmer/entrepreneur should have funds amounting to about INR 10 lakhs (subject to various factors).
From our enriching conversation with the Mr. Ashok Kumar Jonwal, we realise that having experts at hand can lead you to the success of agro projects. With experience and enriching knowledge, they build foresight to advise you on the nuances of farming, marketing and the economics of it all.
Ashok Kumar Jonwal
Pacific Herbs Agro Farms Pvt. Ltd.
9, Sant Saikripa Society, Narendra Nagar, Nagpur- 440 015, Maharashtra, India.
Mobile: ✆ 94228 81280, ✆ 70837 57145.
Email: agrigum@gmail.com , herbal_globe@rediffmail.com
Web: http://www.aromediherbs.com/