Gobichettipalayam, Tamil Nadu based manufacturers and suppliers of power tillers and power weeders – solution to labour problems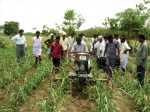 Anusham Farm Machinery & Power Equipments established in 1995 in Gobichettipalayam in Erode district in Tamil Nadu. It became a private limited company in 2003. Mr. Jawakar Subramanian is the Director and founder of the company. The annual turnover is Rs. 2 crore (approx).
The company manufactures power tillers and power weeders. It has got specialization in intercultural operation like weeding, earthing etc., in light weight, and low cost. The versatile usage of the Power weeders is to save the labour cost and to tide over the labour problem.
Presently the company's area of operation is in Tamil Nadu and Karnataka. They have got plans to expand to Odisha, Bihar and North Eastern States. Farmers having less than 10 acres can do all types of intercultural work and they can save 70 percent of labour cost and the intercultural operation will increase the yield up to 30 percent.
Mr. Jawakar Subramanian is an M.A., (B.L). He is from a farming community. With the practical experience gained and to find a solution for the labour shortage in the farming sector, Mr. Jawakar conceived the idea to develop a versatile usage of power weeder/ mini tiller with affordable price tag. With this in his mind Mr. Jawakar invented Lakshmi Power weeders in 2000. The result of practical 'on-the-field' experience, combined with untiring hard work of a young entrepreneur is what Anusham Farm Machinery and Power Equipments is all about today. Mr. Jawakar says "From time to time we are upgrading the technologies which depend upon the requirement of farmers' need. We are glad that we could find an alternative source to face the acute shortage of farm labour.''
"We have developed marketing network in entire Tamil Nadu for the past 10 years. We have sold nearly 1,000 units in Tamil Nadu and North Eastern States. We have included in the Government subsidy programme in Tamil Nadu in Power Weeder segment,'' adds Mr. Jawakar. In coming years company plans to launch paddy multi row weeders. R&D activities of the same are in progress, informs Mr. Jawakar.
Our Correspondent
For any requirement of power tillers, power weeders contact- Anusham Farm Machinery & Power Equipments (P) Ltd, Adm. Office: 232. Sathy Road (Opp.Court),
Gobichettipalayam – 638 452. Erode Dist. Tamil Nadu. Phone: 04285224251 / 094431 43993. Email: jas.anusham@gmail.com
Source : Agriculture & Industry Survey