IT professional turns into dairy consultant
Amrutha Dairy Farm is located on the outskirts of Bangalore, Karnataka. It was started in 2010 as commercial dairy farm engaged in producing and supplying milk. Later the focus of operations shifted to dairy consulting and rearing calves.
"I had always loved the nature. I wanted to do something that is more practical and touches people more than the virtual life as it used to be in corporate where I was working. While looking for some avenues I found dairy farming interesting," he says was the drive behind venturing into dairy business. "We can manage and operate a dairy farm in small area to start with and later on it can be expanded to any limit. It was apt for me in all ways."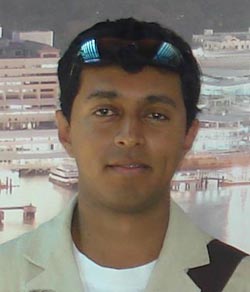 Mid 2009, Mr. Santhosh quit IT world and became an entrepreneur. He took full term training at National Dairy Research Institute (NDRI) to learn the intricacies of running a commercial dairy farm. Training gave him the confidence to rear the cows and manage the farm independently.
Farm specializes in rearing and breeding calves. "We buy 3 months old calves, raise them for one and half year and then sell to commercial dairy farms in South India. We have a batch of 60-120 calves that are sold to new farms after 1.5 years," he informs. Young calves are bought from Karnataka, Andhra Pradesh and Tamil Nadu. Speaking about the precautions and care taken specifically during transit, "We are extremely careful about the health and look-after of 3 months old calves in the transit. We prefer nearest possible locations for sourcing these calves no matter even if we have to spend few thousand rupees extra!" he says. The base and sides of the transportation vehicle are completely cushioned with cloth and corrugated boxes to ensure absolute no hurt to the calves. Two farm personnel travel in the vehicle.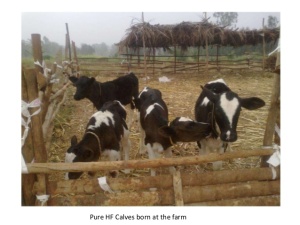 Mr. Santhosh also conducts training sessions on dairy farming. So far he has the credit of 75 plus workshops held in more than 12 states of the country. "Besides, as we gained experience we began helping other budding dairy entrepreneurs through our training workshops," he shares. Training workshops were conducted across the country. "So far we have completed 75 plus workshops."
Networking with participants opened the doors for dairy consultancy. "They asked us to set up the dairy farm for them. In this way consultancy business commenced. We work pan India. We undertake projects for proprietor based farms from 30 to 100 cows," he adds. "In addition we are providing local support to companies from UK and Holland to set up their dairy processing unit in Bangalore. Very soon it shall be operational and their products will be launched in the market."
He recommends balanced diet for the cattle that comprises of concentrates, mineral supplements, dry and green fodder. When asked concentrates and supplements are given to improve the milk yield that adulterates the milk quality, he explains, "Concentrates and supplements are different from hormones! Cattle should get complete nutrition that is not possible only through fodder. Therefore to fulfill those deficiencies concentrates and supplements are given. Further these are approved by Karnataka Milk Federation. Hormones given to induce more milk are certainly unhealthy that makes the cattle's health miserable. It also reduces life span of the animal drastically. Besides beer waste must also be avoided as it is contaminated and leads to sever diseases." Health of the animals is prime focus at Amrutha Dairy Farm. "We don't play around with animals' health for our advantage!"
Behaviour and characteristics of cow breeds differ from one another. Hence it needs to be raised accordingly. By and large these days' dairy farmers have jersey or holstein friesians cows. "Farmers raise these hybrid breeds like desi cows. It is wrong! What happens is, they take them out for grazing in the morning and return back in the evening. In this practice, jersey and holstein friesians breed cows lose more energy than what they gain. Instead it must be fed balanced diet in-house," he elucidates.
Speaking of breed suitable for commercial dairy farm, Mr. Santhosh says, "Undoubtedly Indian breeds are the best breeds. Desi cow milk is sold at Rs. 60 plus per liter. Other benefits are desi cow urine is sold at Rs. 100 plus per liter and cow dung has medicinal properties that can be encashed by processing it into manure. This breed can be selected for commercial projects too provided the right resources and knowledge is available. However, with less resources and more automation HF or jersey cow is recommended. Economically desi as well as hybrid dairy farms are at par."
Milking depends on lactation period. One lactation cycle is of 9 months. "It is inappropriate to quote milking per day because during nine months lactation in the beginning milk yield is more while it reduces slowly till the last month. It could be 25 liters per day for first three months and reduce to 4-5 liter per day in the 9 months. Secondly it depends on the environmental conditions too. In South India, Hybrid varieties yield 4500 liters per lactation where as in states like Punjab the milk yield is 5000-6000 liters per lactation," he asserts. Hybrid breeds costs Rs. 55,000-65,000/cow and desi breeds are sold at Rs. 35,000-50,000/cow.
The training sessions conducted by Mr. Santhosh provides a complete know-how of commercial dairy farming practices. "I have derived the program curriculum based on my experience and learning. It is summed in five sections namely animals' life cycle, animal nutrition, challenges in dairy business, infrastructure requirement and value addition. It is a quick preview," he shares. "My training session helps people to take the right decision whether to stay with the idea of dairy farming or stay away from it as they are briefed on every aspect of the business."
Prospects of dairy farming in India are bright. "New age entrepreneurs are doing good work. They are working independent of cooperative model. Time has come existing dairy farmers need to be confident of their products and sell it directly instead of selling to dairy cooperatives. Further youth are showing lot of interest in being dairy entrepreneurs. I suggest them they must initially work for some established organization to learn the business operations and get the required exposure. It shall be followed by the ground work and training from recognized institute like NDRI. Next, set up small business in parallel to the job. Once they are confident and have all the resources they can quit job and become full time entrepreneur. Surely the preliminary excitement must be controlled. It is important to learn and invest then success is guaranteed," he signs off.
Contact details-
Amrutha Dairy Farms
Halenahalli, Madhure Hobli, Doddabalapur TQ, Bangalore(Rural), Karnataka.
Mobile No. : +91 98451 90600
E.Mail : santhoshdsingh@gmail.com
Web: http://amruthadairyfarms.in/