Quits opportunity to visit UK instead starts agri tourism center to remain connected to roots. Expands in food processing
Amrutes Nisarga Sahavas (ANS) was established in the year 2005 by Mr. Ashish Amrute. "I always wanted to do something in tourism and having a background of my parents in agriculture, I decided to venture into agri tourism," he describes in brief the motivation that led him to finally establish the company. The total area of ANS is over 9 acres. "We can accommodate about 20-22 people comfortably," he shares. It is located at Gavhe village, Ratnagiri district, Maharashtra.
The initial investment was about 3 lakhs. "I didn't avail any bank loan but I borrowed from my father. In reality it is really difficult to get the loan for agri tourism business from bank," he informs.
"Our unique feature is we have different types of accommodation facilities to choose from like tree-house, log-house, bamboo rooms and warali cottages with the exterior rustic look and all modern amenities inside," shares Mr. Amrute, "Here guests get to see how farmer actually lives."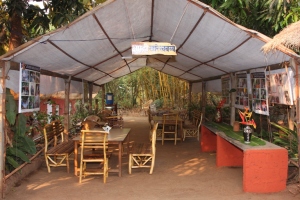 The exciting features include amazing location on the hill with lots of greenery, birds, view of the village and jungle, home cooked organic local Maharashtrian food and unique activities like bullock cart ride etc. The guests also get the chance to learn some agriculture activities like identification of fruits, spices, medicinal plants, planting of plants in bags, grafting of plants, harvesting of fruits and food processing etc.
Other activities at the tourist center include plucking fruits and fresh farm vegetables, folk dances and adventurous activities like Burma bridge, net climbing, archery, rifle shooting etc.
The center charges INR 3500/- to INR 4500/- for a couple per night which includes all the meals and some activities. "Around 25% is the occupancy rate annually," Mr. Amrute shares, "We get the bookings on weekends." However during the festive seasons like summer vacations Diwali, Christmas and yearend the booking are done in advance.
"My first guest was Mr. Suryavanshi from Pune," Mr. Amrute shares happily. Most of the guests are from Mumbai and Pune. Initially publicity was through word of mouth and at present through Tripadvisor.com is playing key role in sales booking of cottages. "We are getting guests from out of Maharashtra and out of country as well through Tripadvisor," he adds.
While attending foreign guests Mr. Amrute says, "Our aim is that they should feel they are staying at their relatives place and they should feel secure. They should feel like coming back again during their next visit to India and experience Indian agricultural practices."
"We grow some vegetables, fruits and spices in our farm to be used for the tourists," he shares. We grow all these organically by using cow dung, compost manures. We believe and practice only organic farming."
Apart from tourism the company is also involved in plant nursery production and distribution. The plants available include fruit plants, spices, medicinal plants, aromatic plants, indoor plants, ornamental plants, commercial flowering plants etc.
Food processing is an expansion to this agri tourism center run under the name Amrutes' Ashish Food Products. Enthusiastic about the same Mr. Amrute says, "Mango, cashew, kokum, karonda and jackfruit are the fruits available all over Konkan in abundance. Hence we decided to produce processed food products include pulp, syrups, squashes and candies. We also make pickles and papads. We ensure these products are produced from good quality fruits in clean atmosphere and under hygienic conditions. Besides, we are even processing ginger, lime and amla into different value added produced." Products are branded as 'Ashish'. Herbal products like uttan (body powder) and keshkalpa (hair powder) are also made at the farm and kept in the bathrooms for the guests. The company has about 15 employees to oversee the operations.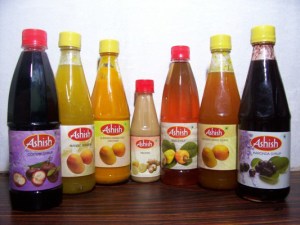 "Due to monkey problem we are unable to grow more vegetables and fruits and so my future plan is to grow more vegetables & fruits using protected net," Mr. Amrute shares. Also the company plans to start mushroom and herb cultivation and apiculture.
Mr. Ashish Amrute studied hotel management and before turning an entrepreneur he did training in Taj hotel Mumbai. "I had an opportunity to go to UK for further studies, but didn't go. I came back to my roots in 2003 and after 2 years started Amrutes' Nisarga Sahavas," he concludes.
Contact details-
Amrutes Nisarga Sahavas
Amrute Nursery, Village – Gavhe, Taluka- Dapoli, Dist – Ratnagiri, Maharashra, India
Mob: 9422052095/9422280757, Ph: 02358-282315
Email: sales@nisargasahavas.com
Web: http://www.nisargasahavas.com/