Engaged in goat breeding. Uses raised flooring in sheds to collect dry dung
"I imported goats from Australia to develop and enhance the growth of native Indian breeds precisely the body weight. The breed is called as Australian Boer. It grows faster than any Indian goat breed enabling to get faster returns," says Mr. T Dileep Kumar Shetty, Chairman and Founder, Amma Bhagawan Goat Farm. In order to foster the growth of animals stringent hygienic guidelines are being practiced at the farm for which pen has plastic plus wooded flooring that collects the goat dung and urine separately. Goat milk is sold on requirement basis.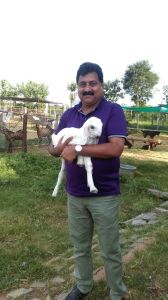 The farm spreads across 20 acres. It is located in outskirts of Mysuru, Karnataka. There are 700 goats and 30 cows at the farm. Jamunapuri, Barbari, Karoli, Parbath Sari, Beetal, Malbari, Sirohi, Boer, Osmanabadi and Thothapuri are the goat breeds raised at the farm. Speaking about the drive to set up the farm Mr. Shetty says, "I am from a farmers' family and involved in many other businesses such as hotel industry, finance institutions, trading and construction fields too but my dream was to have a livestock farm with the latest technology requiring minimum labourers." He wanted to set an example that farming is also a profession that leads good returns. Hence he develops good goat breeds and encourages youths to involve in farming activities and support Indian economy. In addition, "Agricultural and livestock farming is vital for human beings," he adds.
Mr. Shetty came to know about Australian Boer through the consultant appointed at the farm. Australia was selected for importing the goat and not any other country because, "Australia alone produces 50% of mutton to meet world's meat requirement. It implies that the goats from the country grow well and its genetic characteristics are supportive to different climatic conditions. Australian Boer has very high growth rate compared to goats from other countries," he shares.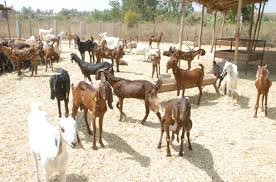 It was a simplified and trouble free process to import goats from Australia, "We completed the formalities to get the goat to our farm premises as per livestock import export rules of India and Australia. It was not much a problem," he says.
At the moment farm has more than 20 pure Australian Boer goats. With cross-breeding new sturdy goat variants are being developed. Mr. Shetty informs, "We are doing cross breeding Australian Boer with Indian Parbathsarry and Malabary breeds using artificial insemination method."
The pen has plastic slated flooring and wooden elevated platform to keep the farm clean and dry. Through this new flooring it is easy to collect dry dung. Goat urine is drained directly into the urine pit which is later utilized as fertilizer for growing green fodder. "We have spent more than Rs. 850/sq ft for slated platform and Rs. 300/sq ft for wooden elevated platforms," he shares. Cleanliness in the farm helps in improving the production rate too believes Mr. Shetty. Raw feed is fed to the goats supplied by the vendors from nearby districts. While green fodder is grown in the farm itself. "Later we plan to prepare a nutrition formula based on the ages of goats and batches."
Goat milk is rich in medicinal properties. It is supplied based on demand to the needy people and farm visitors. Milking is done manually, "We wash and dry the adder then milk the goat. It is first collected in washed and dried vessels, later filled in the bottles," shares Mr. Shetty. "At present we are not selling goat milk in open market as we are mainly concentrating on breeding goats. Our 2016-2017 project is to produce quality goat milk for kids and medicinal usage." Demand of goat milk is increasing as it is used for preparing ayurvedic medicines.
Labour issues and power failure to produce quality fodder for animals are the main problems in goat farming business. Mr. Shetty says, "We need regular power supply, free vaccines, subsidy on machineries and a full-fledged laboratory to rule out the diseases in livestock." However to solve the problems he takes help of technology. "I have got good exposure to adopt new technology in my farm. I attend many livestock expos, seminars to keep myself updated on technology in goat farming," he says. In all there are 25 people working in the farm including management staff, permanent and temporary labourers, veterinary assistant and visiting live stock consultant.
Sharing future plans he concludes, "We are expanding our farm with a new sheep unit and cow farm. Also shall be providing training for progressive farmers."
Contact details-
Amma Bhagawan Goat Farm
Survey No. 1063, Harohalli Post, Varuna Hobli, Bannur Road Cross, Mysuru, Karnataka 570010
Mob: 098451 19199
Email: enquiry@abgoatfarm.com , penielfarming@gmail.com , dileep_kalki@yahoo.com