Manufacturers and suppliers of solar dryers, meets twin purpose drying and storing
Solar dryers are popular machine that uses renewable energy, solar energy to dry the food items. Dryers are used by food processors like noodle makers, vermicelli makers, dry masala producers etc, but it is largely used by farmers. They use it to produce dehydrated items of their respective farm crop such as coconut, areca nut and fruits. "In addition farmers find dryers to be very useful for storing their farm produce during rains in the solar dryer. They can stock it easily," says Mr. EV Karthikeyan, Project Head, Alfa Green. Agricultural commodities dry in open space in 3-4 days while solar dryer facilitates the process and time taken for drying is maximum 12 hours.
Alfa Green located at Coimbatore, Tamil Nadu manufactures and supplies solar dryer, poly house, green house structures and set-up for terrace gardening. "Terrace gardening set-up and solar dryers is our specialization," says Mr. Karthikeyan.
While working for a fabrication unit after completing mechanical engineering in 1993, "I learnt about fabrication of solar run machine. It was my first introduction to solar power being used for running the machine. I started working more on it and got my first fabrication order from Tamil Nadu Agricultural University," reminiscences Mr. Karthikeyan on the foundation behind the company Alfa Green. "University was doing research on solar products. We used to do fabrication work for them as third party. Later I started my own factory."
Solar dryer manufacturing is technology from Israel. "Tamil Nadu Agricultural University imported the same. Initial few projects were unsuccessful but later we got the success in pilot project," he adds. Solar dryer is not customized instead is made in one fixed pattern for all three variants. Tunnel solar dryer is discussed below.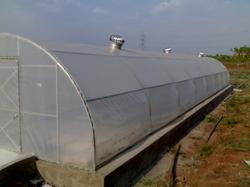 60ft (l)*12ft (b)*6ft (h) is the standard dimension of the machine that can hold 1.5-2 ton agricultural commodities for drying at a time. It is tunnel like structure that traps the solar energy inside and does not allows it to escape. "Later the solar energy is converted into heat energy and it gets heated up. Due to heat the moisture content in the commodities placed inside the dryer rises and passes through the three vents in the roof and gets released in the atmosphere," explains Mr. Karthikeyan the working of solar dryer. In this way the products gets dried-up.
The dryer is used throughout the year but the drying process varies as per the seasonal variations. "In summers it takes only five-six hours for dehydrating the products while during winters it takes double the time," he informs. The structure does not need any electricity ever. When used as store room, "Farmers need to close the vent and door then they can easily stock their produce inside the solar dryer," he informs.
It is a maintenance free structure except the upper surface needs to be washed with warm water periodically to keep it dust free. The roof is made up of UV polythene 200 micros sheets imported from Israel. Rest all the raw materials are sourced from Tamil Nadu.
Each dryer takes one week manufacturing time and is assembled at the client site just in 2 days. It can be dismantled and re-installed at new location anytime. It is installed on raised platform of one foot, "It is done to prevent rain water and reptiles getting inside the structure. The civil work needs to be done by the buyer," he shares.
Selling cost of a single unit is Rs. 1.20 plus tax. It is subject to subsidy however the amount varies from state to state. "In Kerela it is 60%, Tamil Nadu too offers 60% subsidy but it takes more time for processing it. We take the full payment from the buyer later he has to apply for the subsidy," clarifies Mr. Karthikeyan.
Approximately 2-3 units are sold by the company every month. "We do not spend much effort and resources on marketing as once people see our existing projects we get the orders. Presently we have good number of projects with us hence we are concentrating on manufacturing," he shares.
Speaking on future plans Mr. Karthikeyan concludes, "We are developing a solar panel for drying that will reduce the drying time significantly. The cost will be 10 times more than the present solar dryers. We have the inquiries from the buyers hence the expansion."
Contact details-
Alfa Green
Old No. 5, New No. 9, Muthukumarasamy Layout, Robertson Road, RS Puram, Coimbatore – 641002, Tamil Nadu, India
Phone – 09953362887, 9443468527, 9842219447
Email – alfagreen2013@gmail.com
Web – http://www.alfagreen.in/