Embraces integrated and organic farming. Pursuing degree in agriculture to produce value added products. Holds vision to expand 10 acres into 60 acres farm in five years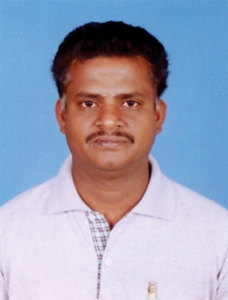 Akshaya Agrofarm was started in 2010. It is an integrated farm located at in Avanipur, Thindivanam, Tamil Nadu. Its office is situated at Madipakkam, Chennai. The total area of the farm is 10 acres. Mr. and Mrs. M. Prabakar Raja are the founders.
Holding an ambition of being a successful farmer and wishing to give his children organic, poison-free, and indigenous varieties of food, Mr. Prabakar set up the 10 acre farm. The farm grows rice in 1 acre, ragi in 2 acres, millets on a rotational basis, fodder crop in 1.5 acres, and vegetables on a rotational basis in 0.5 acres. It also has 6 country-breed cows, 4 goats, 25 hens, 10 turkeys, some guinea fowl, and 4 pet dogs. Among trees, the farm has 70 coconut trees, sapota, pomegranate, 80 banana plants, and 200 teak plants.
It further houses 25 lemon plants and medicinal plants of around 25 varieties. The farm practices multi-crop method in the periphery area with some trees. There are trees planted within every 25 feet. In the space in between the trees, vegetables are grown. The cows in the farm are only used for preparing panchakaviya. Its urine acts as pesticide and micro-organism used as booster.
Mr. Prabakar practices Drum Seeder method. Only two people are sufficient in Drum Seeder method for sowing. As reported by TNAU, the farm crossed 20 bags of 70 kgs of yield for 1 acre through organic practice.
Listing out the advantages of integrated farming Mr. Prabakar shares, "I have my own seed bank where the monocot plants supported by dicot. Farm is fully engaged throughout the year, and with the same water all plants grow together. If one product fails, at least the other will support the farm monetarily. Main crop input cost is taken out by inter-crop produce, and the main crop comes out without additional investment. Weed is controlled easily and pest can be monitored easily."
Akshaya Agrofarm conducts 100 percent natural organic farming. Mr. Prabakar explains some of the organic input used in the farm. "The FYM is sprinkled with panchakavya and jeewamrutham. The enriched FYM is spread over the field after second ploughing. After every 15 days we apply jeevamrutham mixed in the water to the field periodically. The jeevamrutham is prepared in the farm with 10 kgs of cow dung, 5 liters of cow urine, 2 kg jaggery, and 2 kgs of gram powder and one handful of healthy soil mixed in 200 liters of well water. We keep this solution in shade for 2 days and after that it is ready to use. After 7 days it is more effective. For plant growth we use panchakaviya as foliar sorayok. Ten days old buttermilk is used as fungi protector. We use neem leaves soaked in cow urine as pest repellent."
The produce from the farm is first given free of cost to Mr. Prabakars' friends to create demand. It is then sold to local shops. Groundnuts are used to extract oil. The farm also has regular clients that prefer the original taste and aroma of the organic produce from the farm. Despite receiving marginal profits, the founders find pleasure in selling high quality produce without the involvement of mediators.
Mr. Prabakar hopes to increase the area of the farm to 60 acres in the next five years. Currently involved in construction business, he plans to become a full time farmer soon. "Meanwhile I will gather a group of like-minded people to start direct marketing. In 3.5 acres, by July a high density mango orchard will be developed," he adds. He also plans to produce the value-added products using his own farm produce.
Mr. Prabakar holds a diploma in Chemical & Civil engineering. He is currently pursuing his second year in Bachelor of Farmer Technology in TNAU.
Our Correspondent
Contact details: Akshaya Agrofarm, S/59, Bazar Road, Sadasivanagar
Madipakkam, Chennai-600091  Mob: 09444963202
Email: akshayaagrofarm@gmail.com
Source : Agriculture & Industry Survey