Grows gerbera to pursue father's and self passion for farming. Prefers to sell through dealers due to fluctuating rates
"I am a non-graduate but my passion was agriculture. My father was very much interested in doing farming besides his job. So I made up my mind to take up farming and started my gerbera farm on 8th June 2013. It is located at Palghar district, Maharashtra," says Mr. Ajay C Madane on drive behind getting into farming business.
He opted out-rightly for gerbera as it is a safe crop compared to other flower varieties, "It is my first experience with huge amount of loans so I preferred a less risky crop. Also I kept the initial investment less by choosing naturally ventilated poly house because cost of this structure is less compared to fully automated," he shares. The total farm area is 20 acres but poly house is developed in one and half acre.
With the investment of Rs. 45 lakhs (including the sapling cost) poly house was established. Mr. Madane did manage to get subsidy but it came through after lot of hard work. Sharing his experience he says, "For subsidy I only ran here and there and managed to get in six months for poly house structure and for planting material it took another six months. I got Rs. 19.50 lakh as subsidy under Maharashtra govt. scheme NHM and not through NHB because I found it was quite difficult to get subsidy from NHB. In Maharashtra subsidy is given only after completion of work." The rest of the investment amount was arranged through self-pocket and agriculture loan that was equally thorny to attain.
Mr. Madane went through difficult time to pursue farming passion all by himself without taking any help of agriculture consultant as he strongly opines self experience and one's own research is the best consultancy source, "I feel consultants are not really helping farmers and we end up in paying money to them."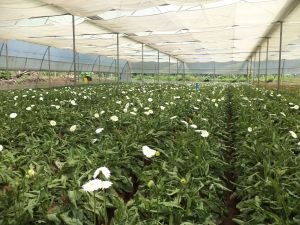 When asked how he started gerbera cultivation considering he neither had a farming background nor any experience he shares, "Before starting I visited some poly houses and gathered lot of information about suppliers and buyers. After filtering the information, I approached K.F.Biotech, Pune and with their guidance I planted saplings purchased from them at Rs. 30/sapling. Their staff regularly visited our site and provided required guidance."
He has come a long way in couple of months and now warmly shares his know-how, "Kokan region of Maharashtra has soil and climate suitable for gerbera cultivation. Maximum 35-38 degrees temperature is ideal in summers. If temperature goes up then we open curtains of all four sides of poly house for ventilation. Some time we even do showering to control temperature. The maintenance cost annually is approximately Rs. 1.60-1.70 paisa/flower."
Every alternate day flowers are harvested at the farm. The flowers are sold in Dadar market in Mumbai to agents. Mr. Madane says price changes daily as it depends on demand and supply in market. "My average price throughout the year is Rs. 2.30 to 2.20," he shares, "In addition selling price also depends on your contract with buyer. If he agrees to pick from our farm then rates are different and if we deliver then rates are different. Direct sale is difficult all buyers don't buy throughout the year. They buy according to their needs, especially decorators, as marriages do not happen across the year." In off-season especially in rainy season prices drop as low as Rs. 0.50 paisa/flower.
To increase the number of poly house is the future plan of Mr. Madane, "I want to progress slowly. After one more year I plan for anthurium plantation," he adds.
He recommends others to start farming projects as government provides subsidy and wraps up with an advice, "It is better to start with less risky crop like gerbera and after getting experience try hands on other crops in poly house as cost is very high."
Contact details-
Ajay Madane Farm
B/2/104, Anandmayee Society, Sector No -XI, Shanti Nagar, Mira Road (East), Dist Thane-401107, Mumbai, India
Mob: 098197 62642
Email: ajaymadane@yahoo.com