Rajkot based exporters of grains and animal feed. Annual turnover Rs. 5.67 crore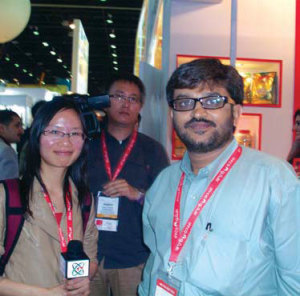 ADJ Agri International LLP was established in June 2011 in Rajkot, Gujarat state. Messrs Darshan V Lakhani (Lakhani Engineering – Purefarm Organics India), Jignesh R. Kotecha (J K Enterprises/ R K International) are the promoters of the company. Mr. Amit K. Bagthalia is the Managing Partner. The company's main products are Green Millet, Rice, Sorghum, Yellow Corn, Animal Feed. Agri's turnover is Rs. 5.67 crore as on date.
The company exports their products to Saudi Arabia, Gulf, Yemen, Tunisia and Algeria. The company procures materials as a semi finished goods from mandis and then process it as per buyer's specification and pack it for shipment. Quality certification is essential for export of goods. They are Commercial Invoice + Packing List , B L , Certificate Of Origin , Health Certificate , Non GMO Certificate , Quality And Weight Certificate From Geochem, Clean On Board Certificate. If the company wants to export to Tunisia and Egypt they need radiation certificate also.
The company faces many major challenges in marketing their products in international market. Buyers fail to understand, procurement of cargo as per last shipments with same quality expectations is difficult as products come from different farmers with varying quality. They always want the products at competitive rates. "It is difficult to make buyers understand about the season and crop related issues and prices. Many new exporters are quoting with very low price and regular exporters are suffering due to this,'' says Mr. Amit.
Mr. Amit Bagthalia is B.A. Graduate with Economics, M.B.A. – Sales and Marketing, Diploma in International Trade and Management, Diploma in Human Resource Management.
Mr. Amit says "the Government is promoting exports to earn dollars and other reserves for Indian economy.
I would like to share one incident — last year we had exported peanuts to Algiers and on some reason buyer port ban the cargo for 3 months. The ban was from buyer's port for all Indian peanut and chickpeas due to previous quality issues. We call back cargo and it took 382 days to solve the matter as Indian customs and port health authority deny after 3 months that cargo is not fit for human consumption. It is but obvious that peanut is sensitive product and it gets spoil in 3 months in container temperature and moisture conditions.
But customs and port health authority deny this fact and we file public interest litigation which took 8 months to get the judgment and our cargo got permission for re-export. But we paid heavy price for it as cargo value was Rs.68 lakhs and we bore another Rs. 21 lakhs to keep cargo in port and care of cargo and other charges.
Later the same cargo was re-exported as cattle feed'' "Competition should be healthy and good for the country not for the personal growth as far as foreign business prospects are concerned. When you import a cargo foreign exporters are very strict in payment but when it comes as a export from India we being an Indian and exporter do not remain strict. The blind faith of buyer is so big no problem giving them on CAD (cash after delivery) basis, adds Mr. Amit.
In the next five years, the company wants to promote their products in various continents across globe. First they want to recover their losses then they go to explore new areas where their products have business potentials.
Our Correspondent
For further information, contact Mr. Amit K. Bagthalia, Managing Partner, ADJ Agri International LLP, B/1, First Floor Panchnath Complex, Opp. St. Mary's School, Kalawad Road, Rajkot, Gujarat – 360005 Mobile: 09925001311/0281-3059697.
Email: adjagri@gmail.com
Source : Agriculture & Industry Survey