Grows micro-greens in soil-less medium. Targets 5-stars hotels and organic stores for sale
Mr. N. Vidhyadharan wore many hats in his professional career such as social worker, real estate consultant, travel agent and organic fertilizer producer. All of these gave him different experiences for the lifetime but not the commercial success. Finally he got a breakthrough in urban organic farming. He grows micro-greens at his farm, Adhithya Organics. The farm is located at Vengaivasal, a small village near Tambaram, Chennai. It is spread in 650 sq ft and the greenhouse holds another 650 sq ft area. He owns it along with his wife Ms. M. Jayarani.

In his words, "I tried to sell my organic liquid fertilizers through many fertilizer suppliers but failed to get the market. Then I thought of having my own cultivation but within a small plot in urban area conventional farming methods were not practical; when surfing internet for an alternative I found growing micro-greens was ideal."
Micro-greens are very tiny and harvested before becoming matured. These are grown organically. Coco peat and rice grain husk are used as the medium of growing instead of soil. In addition vermicompost and organic fertilizer (produced at the farm) are the other farming inputs used. "Fermented plant extracts is the organic liquid fertilizer that we extract from locally available plants such as basils, neem leaves, kuppai meni, banana leaves and some more locally available herbs and shrubs," shares Mr. Vidhyadharan and adds, "We don't use regular soil, GMO seeds or chemical based fertilizers."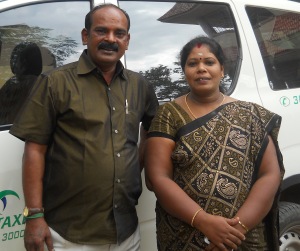 Micro-greens are not different from regular crops. The difference lies in sowing procedure. Seeds are sown thickly and the density is high. Mr. Vidhyadharan explains with an example, "Radish is sown at one feet distance to each seed in a conventional farm, but we use about three hundred radish seeds in 9 by 5 inches plastic tray (not even a square foot). This number of seeds in regular conventional farms will yield approximately 1000 radishes in 60 days".
He adds further, "We apply nutrient water to greens after fourth or fifth day to the roots, not to the leaves. It is possible as we use containers. We slightly lift the greens and pour nutrient water directly to roots." Sometimes even the containers are dipped into water filled trays so that through the holes under the containers the plants can absorb the nutrient water. "We also plan to cultivate some greens in hydroponic techniques where aerated water is supplied directly to roots. For the same we would use rock wool or coir wool as medium instead of soil," shares Mr. Vidhyadharan.
There are about 30 varieties of micro-greens grown at the farm, but currently only 18 varieties are sold. These tiny greens are highly nutritious and rich in flavor. These are widely used as key ingredients in salad and for garnishing the food items. At present micro-greens produced at Adhithya Organics are supplied to four 5-star hotels and soon if all goes well sales shall take place with ten more hotels as negotiations are in process. "We have approached the Executive Chefs in Star Hotels. After obtaining regular orders, we are planning to approach organic stores in Chennai, where about 65 stores are functioning in urban areas. Currently we supply about 50 boxes of micro-greens daily. We target for supplying 200 boxes a day. Hopefully it shall be achieved by the end of January," he informs.
Talking about the capital investment and profits, Mr. Vidhyadharan says, "So far I have approximately spent Rs. 35,000 or a little more. Currently I am getting Rs.18000 to 20,000 per month. If I achieve 200 boxes a day, I expect to earn about Rs.75000 per month."
Being 100 percent organic is the main challenge of growing micro-greens. "We should avoid the plastic containers, but it is expensive to replace it with clay based plate. However for safe packing and transporting the plastic containers are ideal. In some hotels we collect the containers back and we reuse after sterilizing," states Mr. Vidhyadharan.
He plans to register the farm and micro-greens with the agriculture departments as required for getting organic certification for exports. Plans also include installing new green house protected from bugs and flies. In addition Mr. N. Vidhyadharan wants to cultivate high quality vegetables using advanced science technologies like hydroponic, airoponic, and aquaponic techniques to overcome space, time, water and energy constraints.
Speaking of challenges he says that this being a new venture it is difficult to convince Chefs and organic stores. The domestic consumers are also not aware about micro-greens' use and taste.
Believing the trend will change slowly and also being the only urban farm in Chennai to supply the micro-greens to hotels, Mr. Vidhyadharan feels it will be a lucrative business in coming months no matter even if returns are in small figures at the moment.
Contact details-
Adhithya Organics
513, 4th Street, Seethalakshmi Nagar, Vengaivasal, Madambakkam Post, Chennai – 600126
Mob: 98845 20405
Email: adhithyaorganic@gmail.com