Leaves secured job for betterment of farmers in Bihar. Recommends aromatic plant cultivation and agro processing for better returns
"Agriculture in India will be money-spinning profession only with processing. Farmers can sell the produce in the market if they get the deserved price else in case of price drop they can process the same produce into value added products and earn better. Secondly they need to work in co-operation with one another through Farmer Producer Organization (FPO). They must plan their farm's crop production as per the market demand therefore considering harvesting and selling aspects in farming is extremely important. Lastly use of technology and multi-cropping with the preference to aromatic and medicinal plants is vital for high income," highlights Mr. Abhishek Kumar, progressive farmer cum advisor to FPOs.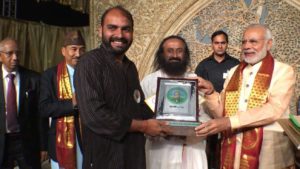 His 18 acre farm located at Barouli village, Aurangabad district, Bihar has fishery, floriculture and horticulture units. "We grow gerbera flowers in poly house (3/4th acre), rear pangasius, rohu and catla fish in 10 acre while rest of the farm is used for growing tube rose (called Rajanigandha in Hindi), aromatic plants and seasonal vegetables in open cultivation through organic farming practices," he adds. All the pesticides required for farming are strictly prepared on the farm using neem and cow urine as the key ingredients. Three Tharparkar cows are reared primarily for its dung and urine. He also does commercial farming along with other farmers such as growing marigold in 200 acres.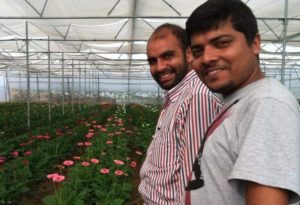 Mr. Abhishek Kumar holds MBA from DY Patil college, Pune. He worked in corporate world at Pune for few years but returned back to his roots in Bihar to help farmers earn better. "Having completed schooling from Netrahat School I have attained a strong foundation to do something substantial for the society. Secondly belonging to farming family I felt a strong connect with agriculture and farmers. Thereby after completing MBA, while in job I visited few floriculture farm at Talegoan highway, near Pune, Maharashtra. It drew my attention and I returned home in 2011 with an aim to help farmers have better livelihood through agriculture. I ventured into agriculture with poly house and food processing unit. Gerbera flower production began in 2013 in the farm along with other horticulture produces. In the meantime I started sharing my knowledge on farming intricacies at Rural Self-Employment Training Institute, Bihar. It provided me with a good connect with small and marginal farmers. I could understand their problems and tried to solve it in best possible way. In this process I found growing aromatic and medicinal plants is the ideal solution to cope with the climate change and agro processing will help farmers earn better through FPO," he informs.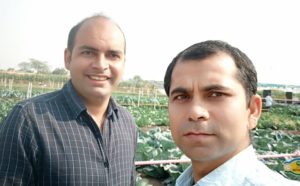 Presently he is mentoring 30-35 FPOs in Bihar and promoting 2 FPOs by providing marketing assistance. Fishery and aromatic and medicinal plants are the primary focus of these FPOs along with other crops that are grown in the state. The consultation offered to the farmers is free as the sole purpose is to enable farmers earn better. Mr. Abhishek Kumar is working with farmers in 15-20 districts of Bihar and some farmers in Maharashtra and Jharkhand too. Right now 50 thousand farmers are associated with him directly. He specializes in lemongrass, mentha, pamarossa, tulsi and khush.

Aromatic and medicinal plants cultivation is recommended because these herbs are adaptable to the climate change, less labour intensive and its' demand is increasing consistently in the market.
If the farmers are unable to sell their produce through FPO then they can collectively process the same into value-added products. Speaking on agro processing, he insists, "As the supply of agriculture produce increases and demand becomes constant there is sharp fall in the prices. Besides, it is tough for the farmer to stock the produce and wait for the price increase. In such a situation it is best to process the produce into value added products. I strongly feel agro processing is the only way out." The processing unit FPOs installs is small efficient unit that can be set up with Rs. 15-20 lakh investment.
Along with the production and processing assistance to FPOs, marketing linkages are also provided to increase the sales. "Commonly all farm commodities are sold locally but this year we are trying to connect our FPOs with FPO of other states for selling (exchanging) the agricultural produces. For example, Ahmednagar based FPO produces good quality of pomegranate but sell it only at Rs. 25-30/kg while in Bihar we buy pomegranate at Rs. 100-120/kg. On the contrary we sell maize at Rs. 12-12.50 and they buy it at Rs. 16-16.50. So we will be sending our produces to one another. Similarly we shall be sending chilli to them and they will send turmeric to us. It will be win-win situation for both FPOs," he elucidates.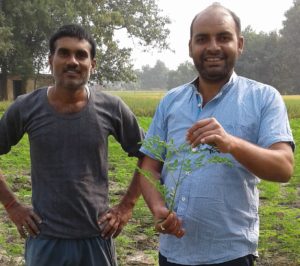 In addition, farmers are encouraged to switch into organic farming practices based on desi cows and move from traditional crops namely paddy and wheat mono cropping culture to other crops like tube rose flowers. "This flower variant suit the soil of Bihar thus gives good yield. It is a 3 years crop and sells at good price during wedding season therefore production plan has to be designed and executed as per the demand in the market," he shares and adds, "In order to boost reverse migration, we have developed farming model in which any farmer can easily earn Rs. 2.5 lakh/acre/annum."
Future plans are to increase lemon grass farming acreage to 1000 acre within 2 years. "All the FPOs I am mentoring should achieve the annual turnover of Rs. 25-50 crore and start producing 3-4 superior quality products such as tulsi oil, handmade oats etc. These products will be sold at appropriate price in a way that it is gainful to the farmers as well as beneficial to the buyers too. We are also working at strawberry farming as the fruit has good demand. First we shall sell the fruit in the market then if unsold we would process it into pulp or crush. Half the profit will go to FPO and remaining to the farmer," he reveals.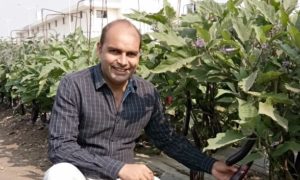 All FPOs Mr. Abhishek Kumar is mentoring have their own identity with farmers as board of directors and he serves as an advisor. "All my services are for free to these farmers. I do not want to earn enormous money only for myself but I want to create farming models and processes that can enable farmers to double and triple their income precisely small and marginal farmers. In our country farmers are hard working but they incur loss because of lack of knowledge on latest technologies, no-market linkages and wrong production plan. If they are given the right guidance in these aspects then surely they shall earn well and flourish," he signs off.
Contact details:
Mr. Abhishek Kumar
Farm Address: At PO Barauli Village, Bhaya – Obra, Aurangabad District, Bihar – 824124
Correspondence: Flat no 207, A Block, Ramdayal Enclave, R K Puram, Kailash Pati Mishra Marg, Saguna, Danapur, Patna.
Phone: 09798346031
Email: ab582003@gmail.com