Serial innovator designs and develops low-cost machines and equipments for agriculture
"I am a farmer first then the innovator! I am very much aware of difficulties faced by the farmers in growing food for the forever increasing population. I want to make their life easy and farming hassle free. My journey of invention started with tamarind seed removing machine when I decided to do value addition of my farm grown tamarind. I realized removing seeds manually is time and labour intensive process therefore should be done using a machine to save on time and money. Since then I have been working to develop different machines and equipments for agriculture with the sole aim to reduce dependency on labourers for manual jobs," says Mr. Abdul Khadar Nadakattin, farmer cum inventor from, Annigeri village, Dharwad district, Karnataka.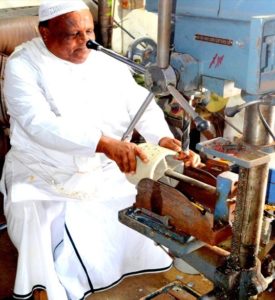 Mr. Khadar has credit of inventing 24 machines and equipments for agriculture. These are mounted on tractor. All the products are sold under the brand name Nadakattin. In order to reach more farmers and work in an organized way he established Vishwashanthi Agriculture Research and Industrial Development Centre in 1975 at his village Annigeri. He holds the position of Chairman. Amongst all his inventions seed cum fertilizer drill, iron wheel, sugarcane sowing driller, wheel tiller and 5in1 tiller have high demand.
Seed cum Fertilizer Drill is the most popular invention of Mr. Khadar. This machine is used for sowing seeds of different sizes ensuring proper spacing. It had a wooden roller with various sizes of depression to suit the size of the seed. The machine can also facilitate dispersal of fertilizers, mud and grass. It is very simple to use and operate. It doesn't require any skill to operate the machine. It is made up of stainless steel so farmers need not worry about rusting or any other kind of maintenance. "We give guarantee that it has life span of 100 years," he confirms.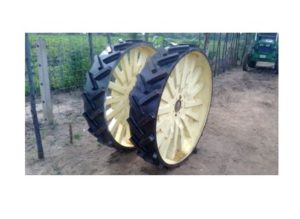 Iron Wheel for Tractors is used during tilling process. Usually the rubber button tyres of the tractor will become barren and tear shortly as well as consumption of diesel will be high due to rotation of the wheels at the same place in the field without gripping. "Therefore to improve the efficiency we should replace the rubber tyres of the tractor every year. However changing tractor's tyres will be expensive so I created iron wheels buttons that doesn't wear and tear at least for 20 years! With these iron wheels there is no need to change wheels every year and farmers can save money on diesel too," he adds.
Sugarcane Sowing Driller is a tractor mounted machine and can be drawn by any tractor of 35 hp. This can be lifted or lowered by the hydraulic system of the tractor. This is automatic sugarcane sowing driller equipment that sows the sugarcane easily. "It plants sugarcane in two rows. The furrows are opened at a spacing of 75 cm. Then after 37 cm long sugarcane seedlings is inserted in the furrows and closed. Later water and fertilizer/manure are fed in the soil. In this way the soil is set compactly around the seedling," he explains. This machine saves 20- 30% water, 40% fertilizer and high yield is obtained as the spacing is accurate.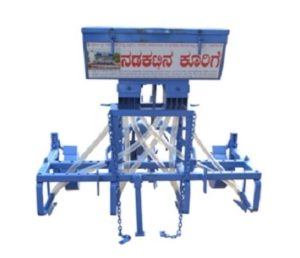 Wheel Tiller is improves the farm efficiency during ploughing. "Usually tractor stops as it gets stuck while plugging the tiller equipment in the field even if it is running at uniform speed. Then farmers have to release the tiller by lifting up with the help of hydraulic. This process is repeated for entire day that leads to wastage of time, manual power and diesel. To avoid this problem I deigned this wheel tiller. It has wheels on both lateral sides which help to maintain uniform speed of the tractor engine without stucking," he elaborates.
5 in 1 Tiller is multipurpose farm equipment that can be used for spraying medicines and fertilizers in the field, sowing the seeds, deep digging and uprooting the grass when land is wet. "We can use and handle this equipment even for 4 feet high crop. This machine works in 20 to 25 acre per day easily in field," shares Mr. Khadar. It can be even used if the gap between the rows is four feet and can cover 20-25 acres in 12 hours.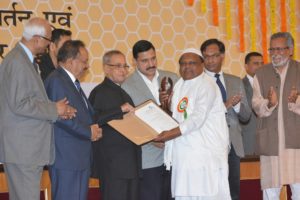 As Mr. Khadar works to make life of small and marginal farmer easy so these machines and equipments are sold at reasonable prices. "Besides farmers can also get subsidy on all our products," he asserts. After sale services is also provided. Machines and equipments are sold across Karnataka state as well as in neighboring states namely Andhra Pradesh, Tamil Nadu and Maharashtra.
Irrespective of inventing and manufacturing for more than five decades Mr. Khadar continues to invent machines for farmers. His next launch would be groundnut removing machine from the farmland directly. It is in process. He concludes, "In our country people are quitting farming and farmlands are becoming barren! The main reasons are non-availability of labourers and required equipments! If farmers are given access to the right technology at the right time then agriculture will flourish and so will the nation!"
Contact details:
Vishwashanthi Agricultural Research and Industrial Development Center
R.S.No. 836/1B, Hebsur Road, Horakeri Oni, Annigeri Village, Navalgund Taluk, Dharwad District -582201, Karnataka, India.
Phone: +91-9448786350, 8722471217
Email: nadakattin678@gmail.com, support@nadakattin.in