Specializes in breeding and marketing of livestock
"I incurred loss in farming so decided to do something totally different for livelihood but having an agricultural background I wanted to stay connected with my roots. Lucky I took training from NABARD and MYLARD (Tamil Nadu) on sheep and goat farming. After completing the training, I thought goat and sheep farming has saturated as many people are engaged in it thus once again the search started for doing something different and it ended on rabbit farming. Later one after the other I started livestock rearing of other farm animals namely goat and sheep, desi cows (gir, sahiwal, kankrej), poultry (kadaknath, country chicken) and duck (white duck, nati duck)," Mr.A.G Ramchandran shares his journey from horticulture to 100% commitment on animal husbandry. He is into livestock rearing from past 20 years. The total farm acreage is 120 acres.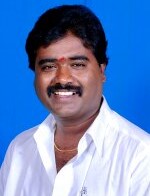 Along with Mr. R. Manoj Kumar, Mr. Ramchandran established Aravind Gau Seva India, a private limited company. It is located at Anasone Village, Krishnagiri district, Tamil Nadu. "Our main business model is to sell breeding stock to other farmers and B2B sales. We work with the farmers interested in commercial animal husbandry. We train them on animal rearing, marketing, manufacturing byproducts etc. We also provide them with the breeding stock to start their respective farms and offer them buy-back guarantee," asserts Mr. Ramchandran. At first he started livestock rearing in the year 1999 with rabbit farming and concluded with dairy farming. He speaks in details about rearing of all animals in his farm. Excerpts:
Rabbit Farming
We rear Dutch variety rabbits. This breed is now accustomed to South India temperature. We sell one unit comprising of 10×3 box having 10 rabbits (7 female and male) at Rs. 20 thousand. The breeding stock is 6 months old and is reared by the farmers for 5 years. Once in 45 days bunnies are born. If reared properly for 4 months, bunnies gain the average weight of 2.5-3kg If the farmers wants to sell it then we buy it at Rs. 300/kg as buy back provided the breeding stock was bought from us. We then resell it for meat purpose at Rs. 450/kg to B2B clients across South and North India. Rabbits are fed with SKM feed (Godrej) in the morning along with lucerne grass. Presently we have 700 breeding stock with us. Advantage of rabbit farming is that it can be done in small place with little money and revenues are generated in short span of time.
Sheep and Goat Farming
We diversified in sheep and goat farming as demand for mutton is high in our country. We prefer local breed as selling is much easier than other breeds precisely jamunapuri and sirohi. We have 200 sheep and goats as our breeding stock. The fodder is cultivated on our farm organically as we have unlimited quantity available of animal dung and urine. We feed animals with 4-5 types green grass like CO1, CO3, CO4, lucerne, sorghum, African tal, agasse grass etc. The herd is vaccinated by government veterinary doctors for free. We have 300-400 customers all over India. We sell 5-6 months old goats of 10-12kgs (both sheep and goat) to other farmers for rearing at Rs. 6-7000/animal. As demand of goat and sheep is high farmers are able to sell themselves hence buy-back offer is not required.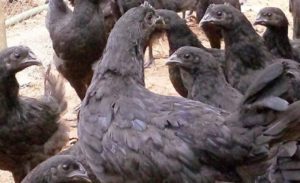 Poultry Farming
In my opinion broiler farming is not profitable hence we rear native varieties of poultry birds namely Kadaknath and country breeds. Kadaknath, the black coloured bird is a premium breed. Its' egg is sold at Rs. 45/piece as it has medicinal value while 40-45 days old chicks are sold at Rs.250/chick. After 4-5 months these chicks start laying eggs and farmers are able to earn money from selling eggs. After bird stops laying eggs it is sold for chicken. If farmers do not want to sell eggs then they are advised to rear the chicks (male and female) for 6 months and sell when it weights 2-3 kg body weight. It is sold at Rs. 400-500/kg in Bangalore while at places like Hyderabad or Goa the price is Rs.800-900/kg. Since last one year we are breeding Kadaknath and we have 160-170 customers from Karnataka, Tamil Nadu and Andhra Pradesh. It is fed with millet powder. We maintain 2000-2400 breeding stock of Kadaknath while country breeds breeding stock is 1000 each.
Dairy Farming
Last animal to come to our farm was cows. We started with HF and Jersey cows specifically to cater to North India market as they need milk in huge quantity for making different value added products. They mostly have desi cows that have less milk yield so for them we started dealing in these exotic dairy breeds. Recently we sold 200-300 cows in North India, it was one big project. However we are focused on breeding only desi cows in our farm namely Gir, Sahiwal, Tharparkar and Kankrej. We have 50 cows of each of 4 breeds. We do not sell milk because of logistics hence value add into ghee and curd sold to restaurants and bakery in bulk quantity. Cows are given organically grown green and dry fodder grown in our own farms. Desi cows are certainly absolutely maintenance free. We also sell desi cows to farmers.
Duck Farming
We started duck farming 7 years back. These days' consumers have taken up the liking for duck eggs and chicken over poultry as it has no cholesterol and can be consumed in excess. It is even suitable for kids, elder person, diabetic patients. As the market modified we diversified. Tamil Nadu, Goa and Pondicherry have good market for duck meat. White duck is liked more than nati (local) duck. White duck gains weight of 3-4 kgs in 6 months. We sell 25-30 days old chicks. We sell 500 or 1000 birds in one order to B2B customers. There are 150-200 customers in our network. The egg is sold at Rs. 45/egg. To farmers the breeding stock is sold at Rs. 120/duckling. Usually 75 female and 25 male is a good ratio for duck breeding. We buy-back at Rs. 180-300 depending on market price.
Agri Inputs
We decompose all the animal excreta into manure to grow fodder in our farm. We also sell it to other farmers. Desi cow manure at Rs. 10, 000/tractor load, poultry manure at Rs. 3500-4000/load, sheep, goat and rabbit manure at Rs. 7-8000/load. These manures are in demand because organic farming acreage is increasing rapidly. Poultry manure has less demand because birds are fed with chemical food.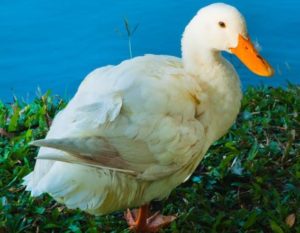 Buy Back
We buy-back all the animals and sell it for meat. We go for buyback with the farmers only if they located at the distance of 300-400 km from our farm. Once a farmer connects with us through training then it becomes a long-term association and we do not want anyone to incur loss in livestock farming so if they are not able to sell if buy from them with no questions asked.
Future Plans
We shall continue our present operations and want to concentrate on breeding desi cows through natural process.
It is unfair to tag agriculture as unprofitable. I too incurred the loss but instead of leaving it totally I diverted to other vertical. Agriculture is all about producing food in some form or the other and has many sides of it. Farmers must do farming with conviction then surely there will be some path to success and prosperity.
Contact Details:
Aravind Gau Seva India Pvt Ltd
Mr. A. G. Ramchandran
Aravind Nagar, Jakkeri PO and Panchayat, Anasone Village, Denkanikottai Taluk, Krishnagiri District – 635 113, Tamil Nadu
Phone: 08940377041