First generation farmers opt for multi-cropping and direct sales for farm sustainability
Groceries, fruits and vegetables tops any shopping list of a common man. It will be sold by the farmer and bought by the consumer hence there is no need of any third person in this supply chain! "We know this fact hence instead of selling our farm produce in the wholesale market we decided to sell it directly to the end consumers. Indeed, it requires immense patience to win the trust of the customer and great convincing power to make them pay a little extra for the chemical free food but we could do it all," says Mr. Vivek Mishra and Mr. Deepesh Chauhan, founders, 7 Crop Foundation. They hail from Uttar Pradesh. Mr. Mishra takes care of production while Mr. Chauhan is responsible for marketing and supply.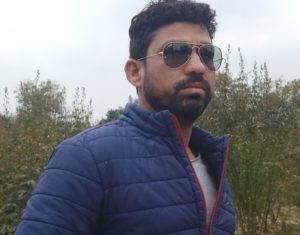 In their words, "Farmers are exploited massively in the wholesale market. It is extremely disappointing to see the trading system followed in these markets and be a part of it! Therefore, we have jointly decided to invest sincere efforts in selling our farm produce to end consumers and sell in the market only when the produce remains unsold." With hard work and perseverance, they have crafted customer network from their known people as friends, family and acquaintances. "We take them to our farm and explain the benefits of eating healthy food. Subsequently they make the purchase for the trail and after tasting the produce of our farm they become our loyal customer. It is a very slow process of creating the network for direct sales but we are sure it shall be steady in the long run. So far direct customers are 50 and the number is increasing every day. Luckily till date we are able to sell the entire farm produce to this customer network." Additionally, they start reaching to the customers for collecting the orders prior to harvesting so that the produce reaches the customer door steps in least possible time so that the nutritive value and freshness is retained at the highest level.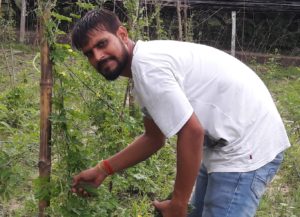 Common passion for farming led to the friendship cum business partnership of Mr. Deepesh Chauhan and Mr. Vivek Mishra. Both of them left their respective professional world of advertising and banking and turned farmers. In the beginning, shocked by their decision to leave lucrative professions for agriculture duo didn't receive much backing from family and society yet they took the risk and ventured into farming with 7 Crop Foundation. With patience, learning and hard work today they have attained the respect as successful farmers in just 1.5 years.
7 Crop Foundation is a 10-acre farm, 2-acre owned by them while remaining 8-acre is on lease. Both the farms are located near Lucknow, Uttar Pradesh. Multiple crops are cultivated in the farm such as tomato, marigold, pigeon pea, paddy, ginger etc.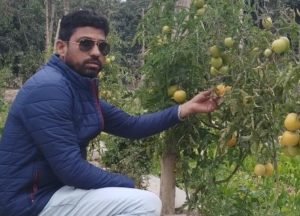 As it has been proved multi-cropping is in favour of farm financial sustenance, the first generation farmers opted for growing a mix of vegetables, legumes and flowers. So far they have cultivated and harvested pigeon pea, tomato, marigold, spinach, coriander, green peas etc. Presently ginger, green leafy vegetables, bitter gourd, pigeon pea, papaya and paddy are cultivated in the farm. Speaking of advantages of multi-cropping, Mr. Chauhan elaborates, "We get more varieties and limited quantity of produces hence it becomes more convenient to sell through direct sales. We do grading and packaging at the farm. We prepare small packs as we know direct customers require smaller quantities."Price is fixed as per the market rates plus the premium price of Rs.2/kg. The crops are selected for cultivation in the farm based on demand and supply ratio. "We opted for coriander because during monsoon season supply is less and demand is more hence it is sold at good price," he explains.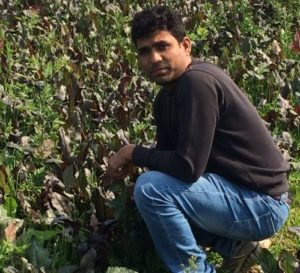 When asked about the agri inputs used in the farm, Mr. Mishra says, "We regularly spray the liquid mix of neem oil and vermiwash to keep the pests and insects away from the farm. We use vermicompost and farm yard manure to nourish the soil and plants. Very soon we shall bring a Sahiwal breed desi cow to further simplify the process of making manure on the farm using its dung and bio-pesticides with its urine. Commercial organic farming is boon for the soil, crop, consumer and environment but only challenge faced is that to identify the concrete solution to resolve the issues of pests and diseases is time-intensive process as it requires series of permutation and combinations of different ingredients."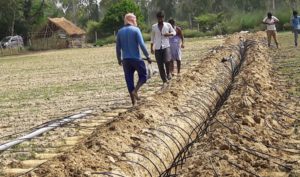 In future, "We want to set up the stable network of direct customers so that entire produce gets sold off in advance before harvesting. Simultaneously we shall help other farmers in the vicinity as well to sell their produce at the right price. Last but most important, apart from pursuing our passion in farming we also want the society to be free of poison hidden in the food," Mr. Mishra reveals the plans.
Taking up farming as first generation is a daunting task but Mr. Chauhan and Mr. Mishra doesn't feel so, "Problems come in every business so it is okay. We are extremely satisfied being farmers as we are living a quality life close to the family and nature, far from the stress of city life. We dream that our next generation too becomes farmers!"
Contact details:
7 Crop Foundation
IIM Road, Village Kamalapur Kodari Bouramau, Post BKT, Lucknow, Uttar Pradesh – 226021
Phone: +91 8604 420420, 9838 440102
Email: 7cropfoundation@gmail.com