Producers and suppliers of bio fertilizers and bio fungicides
"The biological agri inputs start working immediately after spraying and the results are observed in 48hours. And the good results continue forever. On the contrary chemical products also start working immediately after application but its capacity and efficacy is declined day by day, due to sunlight, humidity, moisture etc," explains Mr. V. Venkateshwarlu, Founder, Pushpanjali Agri Input Technologies. Company produces bio fertilizer and bio fungicide from the native soil.  He started the company in October 1999 at Kurnool, Andhra Pradesh to help farmers earn better.  He elaborates, "We produce and sell huge quantities of New Power Plus and Bio Green active. These are fungicide based on bacteria. They are excellent growth promoters and yield enhancers also.  We have four fungicides and six bacterial bio fertilizers in our product portfolio."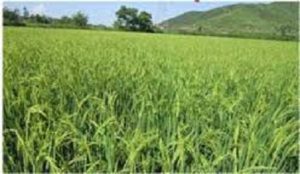 Speaking about the product specialty he says, "Recently launched Bio Duf for cotton seed treatment against diseases gives 3-5times yield. The cost incurred in its usage is Rs. 200/acre and it surely helps farmer to earn Rs. 15-40 thousand additional income."  Another product introduced is bio sand, used after transplanting of paddy. "It will give maximum results, high tillering (new shoots sprouts) in short time. It is recommended to be used up to 60days. It has to be applied to the soil within a week after transplanting. Reason being it has to be applied with sand (250ml mixed with handy sand, 4-10kgs) for easy broadcasting.  7days after application, farmers can observe the good root growth. After 3 weeks, tillers are more when compared to untreated ones. The diseases also will be controlled."  Bio sand has 5 benefits – phosphate solubilizer, tiller agent, protects from diseases, increases panicle length and grain numbers, weight and quality. It gives minimum Rs. 8-16lakhs additional income to the farmers.
All the products are developed from native soil.  When asked 'what is native soil' he elucidates with example, "Pseudomonas might work in Delhi but not in Andhra Pradesh because it cannot acclimatize. As I sell my products in Andhra Pradesh, I have to collect the bacteria from the farmland in the state. We collect 250gram of soil but utilize only 1gram soil."
"In the farmland there are plants attacked with some disease as well as healthy plants. The roots of rhizosphere of healthy plant (root zone) contain healthy bacteria and fungus while in the sick plants the disease causing organism dominates the beneficial or healthy organism. In the rhizosphere, there would be battle with beneficial and disease causing organism. The beneficial microbe inspite of being in less number try to fight against the harmful microbes, which is virulent strain. We will isolate this strain and multiply it. It then attains the power to combat with harmful microbes," adds Mr. Venkateshwaralu.  It takes 7-21days to develop fungicides as it depends on the temperature while bio fertilizers are developed in about 3-4days.
The production process of beneficial microbes begins with collecting soil from different fields at multiple locations or districts across Andhra Pradesh. Next the microbes are identified and isolated. These are fungi and bacteria. "We have isolated 6 bacteria and 4 fungus that are developed into products. It is a continuous process," he states.
The isolated microbes are multiplied using medium, then after the microbes are processed in bio reactor. The process includes pasteurization, autoclaving and inoculation. After multiplication of the broth it is developed as a liquid formulation and powder formulation. "Based on bacteria and fungus we label the products as per its brand. Each brand has different concentration and species. Production is regulated on required quantity," he shares. All the products are tested on the field before selling in the market. "I have 15-16 thousand farmers in my network to test our product samples."  Fungicides have shelf life of 3 years while bio fertilizer has 2 years. The products are produced as per the orders.
Directions of use are printed on the packs in regional language Telugu. "In addition my complete contact details are also mentioned for any assistance. I am the customer care number so that farmers are given the right information at the right time," asserts Mr. Venkateshwaralu.
Sharing the future plans he says, "I want to tap atleast 10% of the farmers in different districts of Andhra Pradesh.  My aim is to educate the farmers about the products that give much better results than chemical based products."
In and around 2nd world war, the use of chemical pesticides was started. Prior to it farming was done based on cow based farming inputs and the soil had the beneficial bacteria that helped crops to grow well and the harmful bacteria were almost negligible. "However, in order to meet the ends of the increasing population, chemicals came to aid farming. Now after 40years we are once again coming back to natural and organic farming. I am committed for life to develop these beneficial microbes and help the farmers to earn better," he signs off.
Contact Details:
Pushpanjali Agri Input Technologies
Mr. V. Venkateshwarlu
81/289-1-1, Ramakrishnanagar, Beside Gooty Flyover, Kurnool – 598 002, Andhra Pradesh
Phone: 09440290152