Manufacturers and suppliers of rainwater harvesting filter and underground water recharging systems

The problem of water in farming is on constant rise across the country be it drought or flood! Can this issue be addressed? Can it be solved? "Yes! It can be. We have the technology to use the rain water efficiently that surely would cost quite less when compared to the money spent rebuilding the infrastructure ruined by floods or loss of farm production due to water shortage," claims Mr. Vijayraj and Mr. Michael, founders of Farmland Rainwater Harvesting System. It is a Bangalore, Karnataka based company manufacturing rainwater harvesting filters and underground water recharging systems.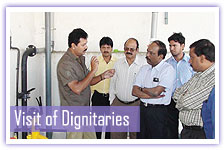 Mr. Vijayaraj and Mr. Michael asserts to have invented first of its kind rain water filter. "Rainwater harvesting technology is undoubtedly a wonderful technology but we observed seldom people used it! On enquiring we found, it is tedious to clean the filter after every rain because it gets blocked with dust and other waste. Therefore we both decided to develop a self cleaning filter so that the technology can be used to best of its ability," Mr. Vijayaraj describes the drive behind the invention. It took five year of research to get the final product, rainwater harvesting filter that cleans automatically. "Our filter works on centrifugal and cohesive force. When the rainwater enters the filter all dirt is thrown out in the environment and clean water is collected on the other end." This system is in the market for commercial sales since past 18 years. It is sold throughout the country and exported to many countries.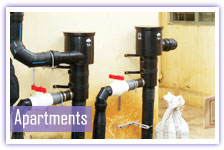 To deal with the water crisis in agriculture company offers other technology called as Farmland 'V' Wire. It recharges the underground water in the open fields. "We do a scientific study of the field. Identify the permeable zone where water is available. Dig the borewell to that level and install a V-Wire screen that helps water percolate in the weathered zone till the bottom without any blockage," explains Mr. Michael. V-Wire screen is made up of stainless steel, grade SS-304. It is a trapezoidal wire wound screen having V-shape inwardly widening slots apt for non clogging so that sediments have only point contact. It has evenly distributed continuous slot opening of 0.75 MM, so that it has more open area for minimum turbulence and loss of energy. The diameter of V-wire screen is 180mm, length 0.5 meter. So far company has installed underground water recharging systems on 14,900 farmlands in different states of the country.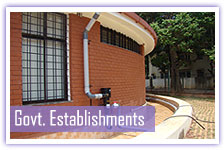 V-Wire screen and rainwater harvesting filters both are manufactured at company's plant located at Chikmagalur, Karnataka. Products reach clients through a strong network of 200+ dealers. "We give a complete technical training to the people before appointing them as dealers," avers Mr. Vijayaraj.
Filters cost Rs. 15 thousand for a house built on 1200 sq ft while for 2-3 acres of farmland the underground water recharging system would cost Rs. 1.5-3 lakhs. "Cost varies because it is dependent on many factors like depth of permeable zone and borewell construction etc," he adds. It takes 15 days time for the installation.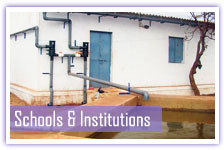 When asked underground water recharging system is expensive for many farmers as subsidy is also not available, Mr. Michael highlights, "Yes it is! The vat itself is 14.4%. Inspite of giving presentation at different government forum our request to reduce vat is not be considered! Irony is alcohol in India is sold at 5.5% vat but this useful technology is sold at 14.4% vat! Government should take actions to make the technology reach the masses."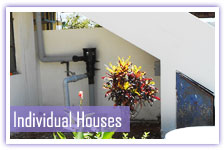 Duo concludes, "Rainwater harvesting filters and underground recharging system are cost effective solutions in terms of using the water efficiently as well as it saves lot of public money that is spent on transporting water from one place to other. Most important these solutions will give enough water to the farmers that they are not forced to commit suicide. It is all in the hands of government whether to act intelligently to invest in the right technology or spend crore of rupees after the damage is done with drought or flood. They have to decide!"
Contact details:
Farmland Rainwater Harvesting System
#648, 11th cross, 7th block, Jayanagar, Bangalore – 560082
Mobile: 094480 76595 / 094481 30524 / 094494 43232
E-mail: farmland_rhs@yahoo.co.in
Web: http://www.rainyfilters.com/about-rainy-filters.html