Considers pig rearing lucrative than other livestock farming. Located at Kodagu, Karnataka
"We started pig farming 8 year back with just one pig and now the number has increased to 50-60 pigs. We started getting encouraging monetary returns from the business hence expanded to a breeding farm and pig meat outlet," says Ms. Suchitra Surendra, Owner. Her family also maintains a coffee estate in Kodagu, Karnataka. "Pig farming needs space as we have our estate and fairly big house it was manageable for us. In Kodagu, there is good demand for pig meat therefore it turned out to be a right business decision. Besides in our region goat and sheep farming is not preferred because it eats coffee leaves. Dairy farming was equally tough as milking and selling fresh milk is a problem in Kodagu."
Duroc, Yorkshire and large White Pigs are the breeds reared at the farm. All three are considered as the best breeds in pig farming. Every breed is special in its own way. Breeding of white pigs is difficult but its' meat has more fat content. It will grow fast. "We like Duroc and Yorkshire as these are apt for breeding purpose. The meat of these breeds will not contain more fat yet it is largely preferred for marriages function," she shares.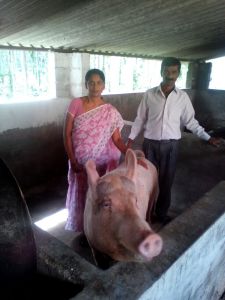 According to Ms. Suchitra pig rearing is not difficult with respect to disease breakout if proper vaccination schedule is maintained. Pigs will not get attacked by diseases instantly especially in Kodagu as it is less polluted and climate mostly is cool. "Pigs might get infected from crow and outside food etc. Till now I have not faced much problem," she asserts. "We keep the pigs and surrounding clean by washing the area twice with water. It is the most crucial factor in pig farming." Pigs are given tablet for round worms while crocin for fever. If there is any news about foot and mouth disease, then the vaccine is given immediately.
Buying pig feed from market makes pig farming business money intensive. To keep the production cost in control Ms. Suchitra opts to procure food waste from marriage halls / hotels / restaurants / resorts. Before feeding the food waste is segregated meticulously then it is mixed with lemon and salt to avoid infections. "This is a cost effective method. In addition to the food waste, broken rice, porridge and rice husk are also fed to the pigs. Purchasing feed from market implies expense of Rs.1000/day/pig," she highlights.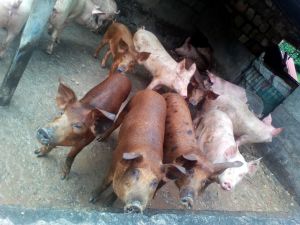 Breeding is more profitable than selling meat! People buy 2-20 piglets in one order. Piglets sold are usually one month old. "We breed 3-4 times from the same mother. The piglets are separated by 1 month till then we allow the piglets to feed milk from mother for 30days compulsory. When piglets start eating well by itself that means it is ready for sale," she informs. Breeding stock is changed after four deliveries. Farm has gained good reputation for the piglet sale through word of mouth publicity, "People come to buy piglets from us on their own. We do not advertise anywhere!" Piglets are sold at Rs. 3500-4,000/piglet weighing 10-15kgs. "KVK, Hebbal, Bangalore also gives enquiry for 20-30 piglets. If we have stock then we call them and they direct us to the buyers. They have always supported us," she affirms.
Pig meat was gainful earlier but not anymore due to increase in competition. "We used to sell meat at Rs.135/kg, buyers used to clean and take the delivery themselves. But not anymore! The price has been reduced to Rs.115/kg. In addition, earlier for marriages we used to sell pig at Rs. 160/kg with cleaning and dressing but we have discontinued it because cleaning the pigs incurs Rs.1000 labour cost plus add-on perks. It is not profitable now so we are focusing on breeding," elaborates Ms. Suchitra.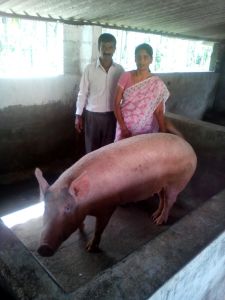 Challenges faced are competition from pig meat suppliers from Hunsoor and Mysore market, "Consequently the price of our pig meat has to be slashed down," she shares. "Secondly when the mother pig delivers in preterm, the piglets usually do not survive. Once we faced mortality of 200 piglets. It was a sheer loss to us!"
In future, plans are to expand the stock to 100 pigs. She gives the credit of success in pig farming to her family, "I could achieve so much because my husband and son help me a lot!" and concludes, "We tried our hands on cattle rearing and fish farming as well but we feel pig farming is the most lucrative business of all."
Contact details-
Ms. Suchitra Surendra
W/o Surendra, Ammathi Vontiyangadi, Kannagala Village, Kodagu, Karnataka
Mobile: 09901070302