Dairy technology solution provider reforms milk supply chain
Stellapps optimizes milk production and related supply chain aspects through automation tools integrated with cloud, mobility and data analytics. Technology driven solutions are offered for dairy farms, cooperatives, and private dairies. Five corporate professionals quit their job and turned entrepreneurs to restructure the entire milk supply chain enabling farmers to earn better and preserve the nutritive value of milk. Company was set up in 2011 at Bangalore, Karnataka. We spoke with Mr. Ranjith Mukundan, Co-Founder and CEO to know more in detail about the products and its impact on dairy sector. Excerpts:
We five co-founders used to work for Wipro Technologies. Having worked for clients in US and Europe, we aspired to utilize our technology know-how and international exposure in India. We wanted to implement Internet of Things (IoT) technology, called more popularly as wireless machine to machine back in 2011 to facilitate operations in some specific field such as health care, transportation etc. After analyzing all possible verticals we found that agriculture required this technology to the core!
It was observed in agri sector very less technology implementation was taking place. On receiving the opportunity to become technology partner with Akshayakalpa, the organic milk supplier we started focusing on dairy sector. We found milk was the largest crop in agriculture and it was deeply fragmented. The IoT technology was the only solution to the many problems in dairy like cow health, milk adulteration and farm operations etc.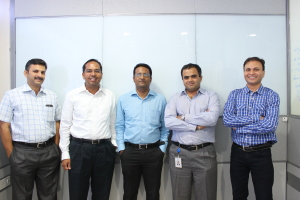 The IoT technology implies installing sensors across the dairy farms, milk procurement centers and bulk milk chillers, collect the data from the improvised IoT controller (hardware device), data moved to the cloud server followed by detailed data analysis and finally precise information plus alerts. Products and services of Stellapps Technology are result oriented because we maintain our own electronics, hard ware and software. We invested four years in research and development.
SmartMoo™ Smart Farms™
Animal history, preventive health care, breeding, milk productivity, peak-yield management, fodder and veterinary care are attained through Smart Farms. We primarily focus on the milk supply chain. It starts with milk production, procurement and cold chain. In this we provide automatic milking systems having sensors. The sensors collect detailed data such as cow milk conductivity, temperature and yield etc. The collected data is sent to the cloud where the installed software analyzes the data and send details to the veterinary doctor. He checks the details and the farmer is informed about the necessary actions. In this way we give real time alerts to all the stake holders.
Smart Farms is available in two variants, first for the farmers with 15 + cows where full-fledged automation is provided. The second variation solution is for the farmers having 2 or 3 cattle who are offered herd management system (HMS). In this solution farmer manually send data through sms to our field team like veterinary team and rest the same process is followed. In addition each cow is tagged with coded tags, these are scanned and data is collected to input in our software application.
SmartMoo™ smart AMCU (Smart Automated Milk Collection Unit)
This solution is for milk procurement. Milk sample is tested to check the fat and SNF content. SNF is solid nonfat. Based on the fat and SNF percentage price per liter is calculated. AMCU has an android tablet that connects all other systems such as milk analyzer, the weighing scale and all other peripherals used at milk procurement center. Each farmer has an ID card. When the farmer walks in he enters the ID card with ID number. His milk sample is collected and fed into the milk analyzer to check on fat and SNF content. The details are automatically displayed on the android tablet. Milk is weighed and payments are calculated instantly. It is all visible to other farmers in the queue. It encourages farmers to take better care of their cattle and earn more. It is a complete transparent process.
SmartMoo™ Farmer Wallet (AgRupay)
We are soon going to launch Farmer Wallet. It is like paytm wallet. In this the minute the farmer delivers the milk, immediately he will get the money in his farmer's wallet (AgRupay). He can use the wallet to buy feed seeds, fertilizers or any other agriculture merchandise. He would also get 10% to 15% cash back because he is using an e-payment.
SmartMoo™ ConTrak – Bulk Milk Cooler (BMC )
As soon as the milk is procured it is taken to the chilling center. It is chilled to avoid getting spoiled and stored at 4degree centigrade. Milk is chilled in the bulk milk cooler (BMC ). Farmers commonly either over chill or under chill the milk. It could be due to lack of knowledge and power problem. Therefore through the software milk is checked for exact chilling temperature and the farmer is updated accordingly. Similarly he is intimated about the precise time when milk should be transferred from the milk cooler to milk tanker. In this way we streamline the cold chain so that it is beneficial for the farmers as well as end consumer as he get the milk intact with all nutrients.
Benefits
With these solutions in the milk supply chain the farmers are getting better value for their milk. They are being paid what they actually deserve! Most importantly he is motivated to feed the cattle right and handle milk properly because he know for his extra efforts he can earn extra. Another imperative advantage of using these technology driven systems is that the youth is getting attracted to the agriculture. They consider it to be a high-end profession and also interesting.
Pricing
Our automation equipment cost about Rs. 30-80 thousand. A full automation system costs Rs. 80 thousand. A 20 animal farm needs 3 stations that would cost approximately Rs. 2.4 lakhs all exclusive. A 10 animal farm can have bear bone systems for Rs. 45 thousand. And for a small farm with 2-3 animals we give software only solution that involves putting a cow tag that costs Rs. 8/tag and entire software is given free with vet and paravet.
In milk procurement, the main system, android app and all the automation mentioned the core module is Rs. 25 thousand. It is useful for collection center collecting 200-300litres/day. In the cold chain, we sell two modules one for the monitoring the cold chain at one time fee of Rs. 75 thousand or on rental basis Rs. 3,800/month.
Future Plans
Presently we are only focused on dairy but we want to expand our operations to other agri commodities too. Next on the list are fisheries and other perishable products. There is an entire team called as precision agri where we can optimize the agri supply chain using precision agri technique for which IoT the internet of things technology center improvise the cloud data and big data analytics. We find ourselves in very interesting position where we can actually take IoT platform to other agri produces to enable precision farming in India and other emerging markets. We are sure to do good job in these agri-divisions too.
(as told to Shweta Dhanuka)
Contact details:
Stellapps
3/1, 2nd cross, Lakshmi Road, Shanti Nagar, Bangalore, Karnataka-560027 India
Phone: +91 80 22230084 | Mob: +91 87931 02632
Toll Free: 1-800-3000-8488
Email: info@stellapps.com, sales@stellapps.com
Web: http://www.stellapps.com/