Makes agriculture go digital and facilitates operations at the click of a button
Smart phones, tablets and intelligent mobile devices are fast replacing manual, paper based methods in today's global supply chains. Digitization of supply chain means collecting and recording all end-to-end data of the company instantly and digitally, which also makes this data retrievable at any point of time. While on one hand it has helped do away with the tediousness and manpower requirement for paper-based methods, another significant fallout is that it has succeeded in breaking information 'silos' across organizations; consequently breaking down collaboration barriers between organizations. When information is available in real-time and can be shared freely, it creates a visible, transparent and 'agile' supply chain. Such a system can adapt better to a host of unknown variables in the industry – whether shortages or overages.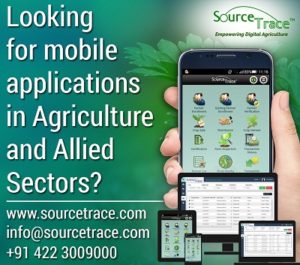 Digitization of supply chains means that companies will have greater data gathering, reporting and analytics capabilities. When companies are able to review large amounts of integrated, in-the-moment data along with other crucial players in the supply network, it can prevent bottlenecks or disruptions at a number of stages in the planning and production process. The movement towards opening up of new and emerging markets, particularly in areas like Mexico and Asia, make it increasingly necessary to incorporate an all-digital platform as they strive to remain competitive in an increasingly crowded market place. Digitization allows a basis for sharing goals and values instantaneously and continuously across organizations. Such communication leads to collaborations, which in turn fuels innovation. It's apparent after taking a closer look at the digitization of supply chain strategies and operations, that truly long-lasting value and relationships can be built upon the shoulders of technological solutions. In short, digitization of the supply chain has the potential to dramatically lower costs, increase product availability, and even create new markets unknown or unavailable prior to the availability of key technologies.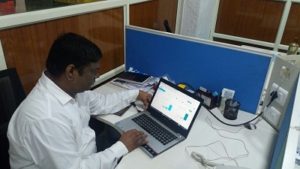 We would like to share the experience of working with go4fresh, the supply chain partner of Krishi Pragati Foundation (KPF), a non-profit organization specializing in fresh agri- produce and is helping bridge the gap between farmer and consumer. KPF's objective is to maximize the producer's share in the consumer price through establishing direct market linkages for farmers without any intermediaries. KPF engages with farmer producer organizations and have grown from a B2C to a B2B enterprise. They routinely receive bulk orders for fresh fruits and vegetables from modern E-tailers /retailers, processors, canteens, restaurants and for exports. KPF's Project Head Banshi Katkar explains, "Sometimes we had sudden needs [for information] as and when a customer places an order. We would need the yield estimate and availability. The order would be right in front of us, but we were not in a position to tell the customer if we are in a position to deliver it or not."Eventually, they would have to get back to the customer 'later', as it required a few calls to be made to the field staff. All of this would take 4-5 hours. Of course, customers don't hang around, and KPF would at times end up not serving the order and eventually losing the business. So their first issue was that they had no status availability of the produce at hand.
The second issue was that they had no single point farmer information, as their 5000 farmers were in scattered locations. Now a day's customers being health conscious would enquire about the source of the produce so with the help of source trace we can generate QR codes and print on the packed vegetables packets. All of these issues were addressed with KPF opting for SourceTrace's software. With this software being installed in 2016, KPF began capturing field data on a first hand basis. Their field staff could simply operate a smartphone to log in and enter all data. This provides ready information on yield at any time.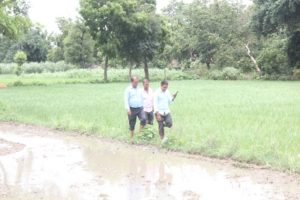 Secondly, KPF created a farmer's data base with all information about their farmer base, and this information is now available with their accounts department too. All data of any training programmes conducted for the farmers are also captured and tracked using the software. Coming to the issue of source of the crop or traceability that customer's demand, KPF, in collaboration with
SourceTrace, have generated a 'QR code', which appears as a sticker on the packages. A customer interested in tracing the source of the produce can simply scan the code and avail information of its source. KPF also uses the software for ICS (Internal Control Systems). As the first organization in India to use this software in the fruits and vegetables business in India, Mr. Katkar adds that "the major benefit of the software is traceability, estimates of production for planning the marketing of produce. We have been trained by Source Trace staff. Whenever the requirement arises, they give us the training, where as our job is to upload the data."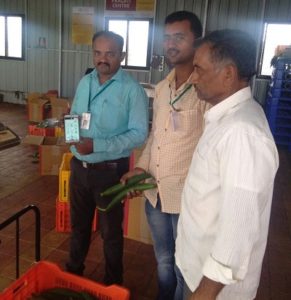 Currently, KPF's accounts department has records of all products. They are still in the process of making 100 per cent use of the 3 software. For example, procurement data is all being captured, whereas postpackaging data is yet to be added into its data framework. This too, will soon be taken up. There is always trust earned from reliability – to build and keep supplier relations, businesses need to pay their suppliers on time, resulting in strong, trusting relationships. Data retention and security is another benefit. All invoice timing, approval status and past payments can be stored for future reference. This eliminates wasted time and money searching for proof of payment. If properly analyzed, these data can also provide unparalleled insights into strengths and weaknesses of the company and its supplier relationships. Environmental sustainability is another add-on. Not only is there financial benefit in spending less on paper, but by moving more corporate systems online, including supply chain management, the company's carbon foot print can be reduced.
This concept of considering the effect that business decisions have on the environment and choosing options that use renewable, sustainable resources is known as circular economy and is gaining popularity in the business world. If a company is looking to save time, spend less money, improve supplier relationships, heighten security, lessen its impact on the environment or all these things, supply chain digitization is the first step in that direction. Companies that will make the move to digital sooner rather than later are the ones that will achieve success.
SourceTrace Systems develops mobile-based software solutions for all the sectors of agriculture. Call them to make business operations simpler and lead the industry!
Contact details:
SourceTrace Systems India Pvt Ltd.
Phone: +91 422 3009000
Email: info@sourcetrace.com
Web: http://www.sourcetrace.com/