Revives indigenous fish varieties Pengba and Ngatonto. Also revolutionizes fish farming in Manipur by helping 4000 plus farmers
"Our fish is our Pride! Way back in 1980 it hurt me very much to see our native varieties Pengba and Ngatonto on the verge of getting extinct. When my father Mr. S. Tomba Singh started the fish farm in 1981 I joined him while studying in school. The farm was set up in 3 hectares to rear the commonly found fish varieties like rohu, catla and mrigal. I persuaded him to rear Pengba and as he got convinced we procured Pengba from Loktak Lake in 1984-85. With sincere efforts we started breeding and today we have successfully revived our Manipur food treasure 'Pengba' along with another rare fish species Ngatonto and Ngakra (Magur). It is vital to have our roots intact," proudly shares Mr. Soibam Surchandra Singh, Proprietor, Thomba & Sons.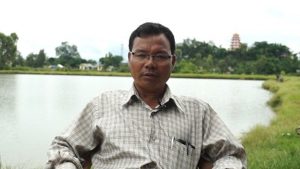 Today the farm acreage has increased to 11 hectares.  Along with the native fish varieties other commonly found fish are also reared at the farm namely Rahu, Catala, Mrigal, Grass Carp, Silver Carp and Common Carp. There are 23 farm ponds, separate ponds for each fish variety and a specially developed hatchery for fry and fingerling production. The farm is located at Hiyangthang, Imphal West-II, Manipur. Fish are sold across Manipur as well as in other neighboring states namely Tripura, Nagaland, Assam and Mizoram. "We also supply fry and fingerling to other fish farmers. Many young boys used to waste their time or were depressed for not getting a job so with a promise on support for production and marketing I encouraged them to turn into fish farmers. Also I supported existing fish farmers to rear native Manipur fish. I supply almost 4000 farmers with best quality fry and fingerling of Pengba, Ngatonto, Ngakra (Magur) and other fish for rearing. As the demand for Manipur fish varieties is high it is sold at good price thereby the youth is enthusiastic to be in this business," he asserts.
Pengba is sold in wholesale at Rs. 700-800/kg while in retail it is sold at Rs. 1000/kg. Ngatonto is sold at Rs. 600-800 in wholesale and Rs. 900-1000/kg in retail. On the contrary, the retail selling price of all other fish varieties is under Rs. 600/kg.  "In my farm in 0.5 acre pond size I am able to harvest 200 kg Pengba fish once in 2 years," he informs. Annually he harvests 35 thousand kg Pengba fish in his farm.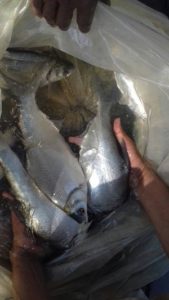 Pengba is the power pack of medicinal properties along with the delicious taste. It takes 2 years for harvest. When asked about the long rearing period, Mr. Soibam clarifies, "One can eat Pengba even after one year however the taste would vary. This is special fresh water fish that was originally found in free flowing rivers but now we are rearing it in ponds for commercial sales thus it takes more time to grow and develop close to its' natural state. Minimum two years are required for this fish. If the farmer can wait additional 6-7 months ( nearing 3 years) then the taste and medicinal properties are surmountable. The longer we rear fish, its' size become bigger, which increases the income accordingly. Thus I suggest fish farmers to rear other fish along with native varieties as well as go for integrated fish farming that includes rearing other livestock as well such as cows, poultry and pig. It ensures the continuous flow of cash for them."
Speaking on challenges in pisciculture he says, "It is only the diseases that can turn the entire business upside down! Therefore water needs to be changed regularly."  Water in the pond should be ideally changed once in a month to keep the fish safe from the diseases as well as boost its growth. "No chemicals should be added in the water to artificially increase the size and weight of the fish else the taste and medicinal properties of rare fish varieties is lost completely."
Sharing future plans Mr. Soibam concludes, "I could successfully safeguard three rare species of Manipur fish varieties. I want to continue protection of other endangered fish species as well.  There are 15-20 native fish species in Manipur. Like Pengba, next I shall be working on breeding and propagating  three more fish varieties. Meitei Ngamu, it is the fish for our food and cultural value. It fulfills the protein nutrition of Manipuris, served as vegetable curry. It is offered to ailing patients for good health and long life. Another fish I want to develop is Ngakha, a small fish only found in Manipur. It is sundried and is often used in the preparation of Hentak, a fermented fish paste of medicinal value. Lastly, Khabag that is a medium- sized fish, weighing upto 1-2 kg.  Hopefully I shall be able to repeat the success is preventing these varieties from extinction and uphold our food culture!"
Mr. Soibam Surchandra Singh expanded his farm operation by continuously upgrading his expertise in implementing new techniques in fish farming. He holds Post Graduate Diploma in  Fishery Science (P.G.D.FSc.) from Central Institute of Fishery Education (CIFE), Versova, Mumbai.
Contact details:
Thomba & Sons
Mr. Soibam Surchandra Singh
Hiyangthang Mayai Leikai, P.O.& P.S. Wangoi, Imphal west, Manipur -795009
Tel:7085787932, 9856082269
Email: stombanson@gmail.com