Sanatorium exclusively for cows at Nagaur, Rajasthan
Sick cows are treated with the sole aim to serve. Hospital incurs operational expense of Rs. 4.5 lakh per day! It is funded by donations. The unique cow hospital, Shri Krishna Gopal Gouseva Samithi was started by Swamiji Kushagiriji Maharaj in the year 2008. He got the enlightenment while in deep meditation to set up the center to treat sick cows. Believed to have received the direction from the Almighty, Swamiji shut down his lucrative business, invested his personal saving and laid the foundation of the cow hospital with one cow. He never knew his small initiative will turn to be country's largest cow hospital. He speaks with us about the cow treatments, management and future plans. Excerpts:
Nagaur hosts Asia's largest livestock fair of the country. Cows and calves that are hale and hearty are traded well but those who are sick are left behind without any care to die. Street dogs and other animals harass these living souls. So my cow hospital is dedicated to serve them and take all possible efforts to keep them alive by giving food, shelter and treatment.

Presently we have 1200 cows with us. Every single cow is undergoing some treatment. Not a single cow gives milk as each one is terribly sick! We run 21 ambulances that bring sick cows to hospital from 300 km radius. We receive the calls from the people who have seen cows in appalling conditions. Soon after receiving the call, ambulance leaves for the mentioned location to get the cow. Every day we receive 60-65 sick cows at the center. Out of these 10-15 cows are not able to survive for more than two days! Rest of them are diagnosed for the problem and given the required treatment by the in-house medical team. We also call out-stationed veterinarians on case basis.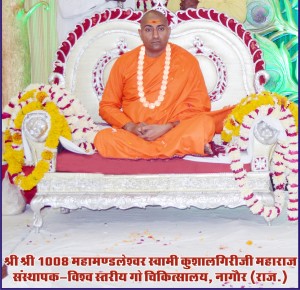 All operations are done at well-equipped operation theatre. Recently a cow was operated to remove plastic from the stomach. It took two hours to take out 77 kg of plastic! Deformities and fatal diseases like cancer are also treated. Our center is open to all sick cows always. Sometime people who can't afford the treatment of their cow, they leave their sick cow at the hospital and in turn we give them two cows that have recovered fully after the treatment.

We adhere to strict schedule of feeding, medication and other miscellaneous activities related to the care of the cows. We feed them a balanced diet including groundnut husk, green grass, wheat porridge, barley fodder and sorghum fodder etc. The food is given based on the weather and cow requirements. We try best to get premium quality feed for the cows. In addition, drinking water given to the cows is purified taking the necessary measures.

We maintain separate sheds for the cows based on their disease just like human hospital wards. Cleanliness all around the place is maintained meticulously. Cows are tied occasionally else commonly left free. We have strength of 400 people engaged in the service of Goumata (cow as Goddess).
Rs. 1.25 crore is the monthly expense to run the center. I took care of the initial investments precisely the land procurement and infrastructure set up. Later the expenses are being taken care by the donations offered by the people who genuinely want to serve Goumata. We receive all the help from the public, seldom from Government.
We have recently expanded our operations in Jodhpur, Rajasthan with similar cow hospital. There currently 400 cows are undergoing treatment. We shall continue to invest our resources (time and money) for the welfare of cows and bulls. We came through this long because of the dedicated team and blessings of goumata. We seek blessings to continue our endeavor …..
Contact details-
Shri Krishna Gopal Gouseva Samithi
Goulok Mahatirth, N H 65, Jodhpur Road, Nagaur, Rajasthan
Phone: 09214926790 (Ambulance), 09269344065
Email: godhamsevatirth@gmail.com
Web: http://godhamsevatirth.com/