Takes responsibility to process city waste into manure for fields
"Our job is to convert waste into resource. We at Saahas Zero Waste are collection experts. We work with everyone who are waste generators and then convert throw away to resource" briefs Ms. Wilma Rodrigues, Founder and CEO, on company activities. Saahas was established as an NGO in Bangalore in 2001 and later in 2013 it commenced operations as Saahas Zero Waste, a social enterprise. "We realized that we have to make this necessary change! Saahas.org is a not-for-profit organization and Saahas Zero Waste is a Social Enterprise. The two entities exist as a hybrid model," she explains. The NGO is mainly funded through CSR.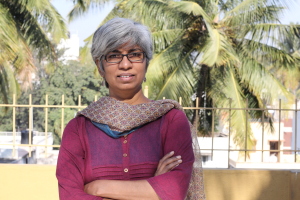 In 2000, Government policies of waste management came into play. It had lot of guidelines about how to manage waste properly. "Ms. Wilma felt waste was an increasing issue and she wanted to address and spread awareness on responsible waste management. That is why she started the concern," says Mr. Arun Murugesh, Lead Marketing and Communication.
The company employs two models – zero waste program and extended producer responsibility program. In the first model, the company manages the waste on site. They segregate waste where wet waste is converted to compost and dry wastes are further sorted before sending them to recycling companies. "We set up a unit within the campus in case of the apartment containing 200 flats. We deploy our staff," Mr. Murugesh explains. "All the waste will come to one particular point at our unit and it will be further processed."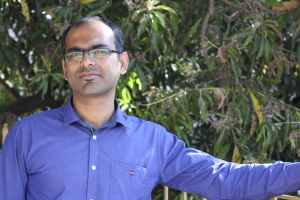 In the second model, we work with companies to manage their packaging waste more effectively. The waste is then collected by Saahas and then sold to recycling companies. "For example, we have collaborated with Tetra Pak where we help them with reverse logistics of Post Consumer Tetra Pak Cartons. This Tetra Pak waste gets completely recycled to make chipboard, roofing sheets, books, toilet papers etc. We are also tied with the large bottling company in India which produces PET water bottles. We collect waste PET and send to recycling company to make products like caps, T-shirts, etc," he informs.
"Currently, we are managing 20 tons of waste per day through all our activities," Ms. Wilma shares. The company has about 30-40 clients in Bangalore. It also provides services in Chennai and Hyderabad. "Our vision is to convert 90% of waste generated into resource and 10% is actual waste (sanitary wastes etc) which gets scientifically managed," she elaborates.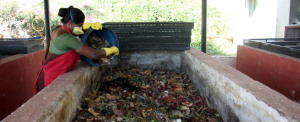 Waste is collected almost every day or alternate days depending on size of the client location. "We charge them ranging from Rs. 150-300/house/month. We promote segregated waste. We provide them awareness and encourage them to segregate the waste," Mr. Murugesh informs.10% of the waste is categorized as 'rejects'.
The company has its own unit for composting wet waste. "We have our process called tank system and activator. A powder with culture of microorganisms is added to the waste that activates the process of composting in natural way," says Ms. Wilma. The waste is fed into the first tank, then after several days it goes to a second tank and finally to a third tank. The whole process is referred as curing the compost. It takes about 30-45 days to complete one process. We have recently opened a new unit at Whitefield, Bangalore there the process is mechanized. Everything is automated without any manual labor. 2 tons of waste can be processed per day," she asserts.
The recycled output, that is compost is sold at Rs. 8-10/kg and vermicompost at Rs. 40-50/kg. The products are available in retail organic store and also on Amazon. The product is also sold in bulk at reduced rates to farmers in rural areas.
The main problem faced by the industry is inconsistency in the raw material. "Operating cost is extremely high, people's awareness about the city compost and market for compost is poor," Mr. Murugesh enumerates the various challenges faced.
Saahas has 170 employees which includes field staffs, supervisors, admin, and higher management. Sharing future plans Ms. Wilma concludes, "In next five years we want to manage 25% of Bangalore waste and convert it into resource."
Contact details:
Saahas Zero Waste (Urban Compost)
No. 21, Ground Floor, MCHS Colony, 5 C Cross, 16 main, BTM Layout 2nd Stage, Bangalore – 560076
Mobile: 080 4168 9889
Email: info@saahaszerowaste.com
Web: http://saahas.org/ , http://saahaszerowaste.com/home