Grows new disease resistant turmeric variety using natural farming inputs
"High curcumin and oleoresin content, root-knot nematode resistant, supreme quality and very good yield are the unique features of new turmeric variety released by IISR Calicut. It is formally called as IISR-Pragati –  ACC-48. It is 8 month crop leading to promising returns," says Mr. Raviraj Gondi, weekend farmer and IT professional on weekdays.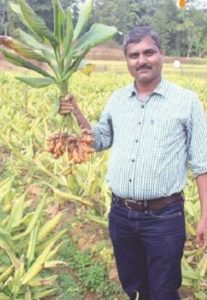 Mr. Raviraj resides in Bangalore but his farm is near Hosathota village, Sirsi taluk, Karnataka.  Working in IT field for nearly two decades he wanted to have some change hence being from agricultural family he resumed the family profession on weekends for past three years.  He grows arecanut, coconut, banana black pepper, and turmeric in four acre farm. Amongst all the crops turmeric is the most challenging crop as, "Our farmland region receives high rainfall and has acidic soil. Both these conditions are not suitable for turmeric cultivation yet I took the risk and proceeded with the plantation because I believed in IISR Pragathi variety," he adds.  Farming is done in natural way, without using chemical based agri inputs.
Speaking on selecting turmeric over other spices he says, "When I searched on different spices suitable for farming I precisely studied on the market price and crop duration. I found that except ginger and turmeric all other spices take long time to yield. Further prices of most of the spices were fluctuating and less in harvesting season but turmeric price was a bit stable, ranging between Rs. 8-11, 000/quintal of dry turmeric. Then I came to know about Pragathi turmeric. As it is less susceptible to root knot disease, naturally resistant to other diseases and has 5.5% curcumin content, it caught my attention."
The total cost of turmeric production incurred was approximately Rs. 1.6-1.8lakhs/acre including manure, seeds, land preparation. Seeds were bought at Rs. 80/kg. Turmeric is sown between 14th May – June 1st week and harvested in the 1st week of February. The seed rhizomes were treated with pseudomonas and trichoderma in order to safe guard the seeds with disease or pest attack. 3 quintals seed rhizomes were sown in one acre and yield obtained was 16tons/acre. "I never use any chemical in my farm. I used 4 quintal neem cake and 4 qunital castor cake along with jeevaamrutha and panchagavya. My crop was not attacked by any disease or pest," he asserts.
Turmeric is intercropped with chili and marigold. "According to ZBNF (Zero Budget Natural Farming), it is good to grow marigold with turmeric because the roots of the former crop secrete some juice that gives resistance to all kind of root diseases. Marigold will not be grown as commercial crop but a cooperative crop along with turmeric," informs Mr. Raviraj.
Post harvest entire turmeric produce was sold to other farmers as seed at Rs. 75/kg. Farmer in Himachal Pradesh and Orissa were elated to grow this new variety.  Mr. Raviraj recommends mulching and using jeevaamrutha plus vermicompost to improve soil fertility. "In my farm mulching was done with dry leaves. After harvesting turmeric I grew leguminous plants namely cow peas, green grams, Bengal grams, urad dal, sun hemp etc. I had sown these seeds together to rejuvenate the soil. I have not harvested any yield but used it as fodder from my cows. It would take 1-2years but soil quality surely improves with these measures," he adds.  Next season he plans to harvest turmeric a week earlier to sow leguminous plants for home consumption.
Crop protection is also done using natural ingredients. "Neem oil was sprayed on coconut trees as preventive measure. For turmeric this year, I am planning for agniaasthra spray proposed by Dr. Subash Palekar," he asserts.
Sharing future plans he says, "I want to make value added products from my farm produce and start curcumin extraction from turmeric. We have 4-5 curcumin extracting companies in Karnataka. I am negotiating with them to extract it and get good profits. If farm produce is directly sold to the factory it will help farmers too. I also want to design one harvesting machine for turmeric. Lastly I want to make an active group of 10 techie farmers."
Mr. Raviraj finds agriculture as exciting and fulfilling. He assures it is profitable if done sincerely. "Being weekend farmer I got good returns in farming! With only two cows I generate everyday income by selling 10 liter milk to the cooperative at Rs. 21-22/liter. Last two years, the banana yield was distributed among relatives and friends as plants were less so the yield. This year I have planted more banana plants and planning to sell the produce in nearby market, Kadamba. Pepper obtained was 5kgs sold at good price. Arecanut was sold directly to TSS, a society/main market for arecanut in Sirsi. 8quintals was the arecanut yield and I earned around Rs. 25000/quintal. Coconut is sold to organic society. Next year onwards I want to sell all products through direct marketing.  Do farming with commitment and the soil will never let you down!" he signs off.
Contact Details:
Mr. Raviraj Gondi
No. 371/1, 5th A Cross, Subbanna Garden, Vijayanagar, Bangalore – 560040
Phone: 9845641450
Email: raviraj.gondi@gmail.com