Preserves desi seed varieties and develops disease resistant seeds
Farmers' often compliant extreme weather conditions as the culprit for their loss. Not anymore! Mr. Prakash Singh Raghuvanshi has developed nutritious and high yielding seeds varieties that perform very well in extreme climatic conditions. He has wide collection of vegetable, wheat, paddy, pigeon pea (tur dal) and mustard seeds. He hails from Tandia village, Varanasi, Uttar Pradesh. Unfortunately, he has lost more than 60% of his vision yet doesn't want to give up on his efforts to protect indigenous seeds and develop new seed varieties.
Since childhood Mr. Raghuvanshi has been engaged in agricultural activities. He understands all the elements of farming to the core irrespective of having acute problems with his vision. "The seeds I develop can withstand unpredictable climatic conditions and have the capability to produce numerous seeds," he asserts. The first breakthrough he received was with wheat seeds that he named as Kudrat and Karishma. His sheer observation helped him identify different characteristics of the wheat plants in his farm that he retained for experiment. He took some time to craft these new varieties but in due course was successful.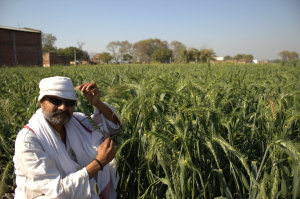 To spread awareness he distributed seed packs weighing 100 gms amongst farmers for free. "I did this not to gain publicity for myself but my aim was to fill the seed tank of the farmers as these varieties gives bountiful yield," he affirms. He has supplied free seeds to approximately 20 lakh (2 million) farmers across Maharashtra, Punjab, Haryana, Himachal Pradesh, Uttarakhand, Gujarat, Chhattishgarh, Madhya Pradesh, Bihar and West Bengal. In Maharashtra state farmers have confirmed that their farm production has increased by atleast three times from Kudrat and Karishma seeds. Next he started working on different vegetable and pulses seeds. His 3.5 acre farm turned on-field laboratory is seed bank ATM for the farmers all over the country.
Protection of Plant Varieties and Farmers; Rights Authority Department of Agriculture and Co-operation, New Delhi had certified Mr. Raghuvanshi as novel seed producer for cereals and vegetables. Besides the organization has testified the rice and wheat varieties developed by him namely Kudrat and Karishma to be performing well in extreme climatic conditions.
Mr. Raghuvanshi has several awards and appreciations to his credit. He has been appreciated largely for his efforts towards protecting indigenous seed varieties by way of participating in several beej rallies (seed rallies) and distributing his seeds for free amongst the farmers across the nation.
He expresses extreme concern on MNC seed suppliers crippling Indian agriculture with their hybrid seeds, "Sowing hybrid seed in our soil is a threat to our nation. It is one big step towards the slavery of foreign companies. It is complete destructive cycle. The hybrid seeds lead to new diseases in the crop which are then controlled by using hazardous chemicals pesticides. The farming production cost is multiplying and nutrients in the food are reducing at a very faster pace. Ultimately it is fatal to the living organisms at large."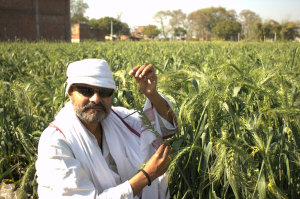 Mr. Raghuvanshi has safeguarded 300 native seed varieties. "I am very glad many farmers have come forward to protect the seed treasure. However unfortunately recently during my visit in the remote areas of different states I observed abundant farmland near the rivers and lakes are left barren. Either these lands belong to some businessman or the owners are untraceable. If these open fields are made available to farmers on lease or rent basis then we can grow these desi seeds and produce more seeds for farmers," he puts across his ideas with a hope to receive some positive assistance!
He intends to put up a seed museum and resource center that shall provide easy access to farmers for best quality seeds. "I want to keep increasing seed production from seed in the natural way. Nature has all the power to do so and in no way we can compete with this power sitting in AC laboratory. Be natural be safe!" wraps up Mr. Raghuvanshi.
Contact details:
Kudrat Seeds
Village Tandia, P.O., Jakikhani, Varanasi, Uttar Pradesh- 2213058
Mobile: 09839253974, 09956941993
Email: kudaratseeds@gmail.com