Haritam Horti Agri-Clinic
Develops microbial fermentation technology to manage poultry litter and slaughter waste
Planet Earth is facing acute problems due to lack of system in waste management. In agriculture the waste can be converted into nutrition rich manure, "The technology to manage waste is simple, easily available and affordable yet it is not implemented due to unawareness and negligence. Litter from animal husbandry and farm waste can be converted into useful fertilizer for the farmlands that shall save us from the harmful chemical residue found in the food," says Mr. Rayapureddi Suresh Kumar.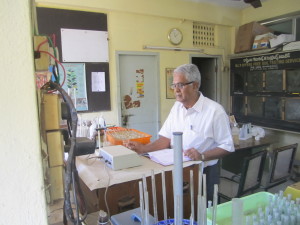 After serving in different Government and private organizations, in 2004 he had established HarithamHorti and Agri Clinic (HHAC) at Vijayawada, Andhra Pradesh to cater to the farming community in Krishna District and surrounding areas. Mr. Suresh Kumar is always engaged to craft cost effective methods to increase crop yield. The multiple technologies he offers at HHAC are soil testing, integrated fertilizer management, integrated test management, bio-fertilizer and bio pesticides promotion. He shares details on his latest microbial fermentation technology to convert poultry litter to rich compost. Excerpts:
Microbial Fermentation Technology helps in converting the poultry litter to rich compost within 30 days. The poultry compost has high levels of NPK and Phosphates when compared to other composts. It also supplies the necessary micro nutrients to the plant. Besides all, the technology helps in controlling air pollution by reducing the emission of harmful gases namely ammonia, methane, carbon dioxide and nitrous oxide from the litter.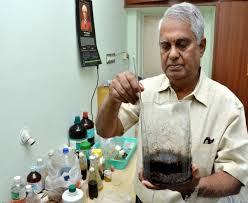 The compost is prepared with bacterial cultures that help the farmers to produce the compost at the field level. We recommend 1 kg of culture to be used for 1 metric ton litter. The cost incurred in producing 1 metric ton compost is Rs 1800/- and the compost can be sold at Rs. 100/kg. Hence it shall surely increase revenue of poultry farmers.
Farmers are receiving good results on the field through constant use of poultry compost. For example one paddy farmer used this poultry compost continuously for two years then for the third season he didn't use the NPK chemical fertilizer! The yield obtained was at par with the previous season, quality was better and the crop had low pest incidence.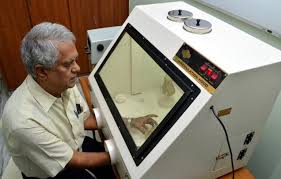 NABARD has funded the technology of microbial fermentation of poultry litter to rich compost under Rural Inventory Fund (RIF) and has helped in starting the production of composting microbial culture in 2011. As a result we have many poultry farmers in Krishna District who have started the compost production at a rate of 50 tons per day. We are in discussion with poultry farmers in Raipur to prepare compost from litter obtained from 80 lakhs birds.
Subsequently I researched on extracting keratin protein from slaughter houses waste. It takes a long time to decompose this waste in natural way and is extremely hazardous to the environment. Precisely the chicken feathers have around 92% of Keratin Protein. I have developed a technology to solubilize the protein and use the formulation of agriculture usage.
Keratin protein is a good metabolizer. The foliar spray of Keratin protein on crops makes the plant leaves shiny and dark green in colour. Leaves are observed to become thicker and shiner, lamina size increases, auxiliary buds augments the side branches and pest incidence decreases. Plants get the protection from sunburn and there is an overall increase in the yield.
I want to share these technologies with the small cooperative or youth communities on a profit sharing basis. It neither requires much investment nor is time intensive. My intension is to train the people and make them self-independent. Lastly save the environment by managing waste appropriately!
(As told to Shweta Dhanuka)
Contact details:
Haritam Horti Agri-Clinic
Flat # 2, 5th Floor, Maruthi Towers, Opp: D.V. Manor, Tikkil Road, Vijayawada – 520010, Andhra Pradesh
Mobile: 09848257135
Email: rsureshkumar@gmail.com