Kota, Rajasthan based dairy farm selling cow dung cakes on Amazon
"Cow dung cakes are required in many religious ceremonies.  People residing in metro and tier I cities find it tough to purchase good quality cakes for puja rituals. Demand existed but supply was nil! On the other hand in our biogas plant at our dairy farm ample quantity of slurry is produced. Even after using it as manure substantial amount of slurry is left behind. So we dried the slurry in the solar cookers, gave it a good design and packed it a way that it doesn't breaks. Then we proposed the idea to Amazon convincing them the demand of cakes exists and it will sell for sure. It took us around 3weeks for the implementation and now we are selling cow dung cakes on Amazon for past four months," shares Mr. Amanpreet Singh, director, PEI Organic Foods.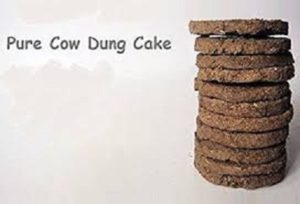 PEI Organic Foods is the family run dairy farm established 15 years ago in Kota, Rajasthan. It is managed and run by three directors, Mr. Gagandeep Singh, Mr. Amanpreet Singh and Mr. Uttamjyot Singh. The milk produced is sold under the brand name 'GAU'. It has been derived from the three directors' initials as well as 'GAU' means cow.  Frieswal breed is reared in the farm. It was initially sourced from National Dairy Research Institute, Meerut. "Along with Frieswal breed soon we shall be including other breeds namely Sahiwal and Gir. We want to have mixed breeds in the farm in coming years," adds Mr. Amanpreet.  The total herd size is 140 cattle.
Cows are fed with fodder grown in-house in 45 acre without using any chemicals. The agri-inputs used for growing the fodder are prepared within the farm precisely the slurry and vermicompost.  "As the cows are fed with healthy and nutritious fodder the excreta produced is also in the purest form. The same is fed in our bio gas unit to generate power and cooking fuel. Consequently the slurry is also uncontaminated that makes best quality cow dung cakes, rich in medicinal properties," he claims.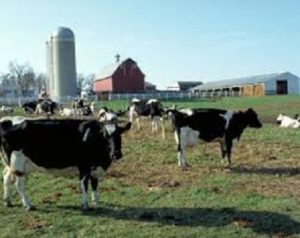 As the cakes are in pure form and packed well, the response received to this unique idea to sell online is overwhelming and there are constant orders for cow dung cakes. "I knew the product has value. It was all about taking the initiative to sell it online, the latest way of selling in cities. We went ahead with our gut and it clicked! Within couple of weeks we started getting decent orders," he says.
The cakes are sold at Rs. 120/pack of 10. "We sell around 10-15 consignments every week. Each consignment consists around 30-40cakes," he informs.
PEI Organic Foods' farm is equipped with all latest technological systems like solar lights, solar pumps, 40 KW biogas plant. "We wanted to produce the power from the cow excreta hence we planned the infrastructure accordingly.  We have an automized tank to collect the urine and dung of cows separately. The initial focus was to get good methane gas as better the gas better is the power generation. Our biogas unit is regulated by a generator in which methane in the urine produces the power while dung produces cooking fuel," he explains. The system is run on three parts namely biogas, vermicompost and slurry plant. "We are saving 70% electricity by power produced in the farm. Secondly we have an underground pipeline for cooking fuel used for running 6 stoves in day light. We do not use LPG cylinders. We produce 10 tonne vermicompost everyday. Lastly the slurry is used as manure and dried to make cow dung cakes."  When cow eats healthy, in routine it produces best quality milk.
Feed given to the cows varies from season to season. "In summer we give watermelon, beetroots, oats and cotton seed. In winter we give maize, jaggery, corn and sugarcane (chopped). In monsoon we give more protein and less fibre plus fat. Cows are also allowed to graze in open. We leave them in the fields where lemon grass, makhan grass (high nutrition grass) are cultivated. Open grazing helps in generating extra good hormones in the cows," elaborates Mr. Amanpreet.  Watermelon and beetroot are grown on crop rotation during summer when the temperature is as high as 50degrees centigrade.
On average milk produced is 1600 liter/day while in winter production increases by 300-400 liter/day.  It is sold directly to the end-consumer at Rs. 60/liter. "We have 1400 subscription," he states. The milk is delivered at customers' door step within two hours from milking by delivery bikes having insulation boxes.  "We do not pasteurize milk. We practice gibertop packaging."
After supplying milk to the customer, the left behind milk is processed into value added products such as ghee, buttermilk, sweet lassi. "We even give substantial amount of milk to the calves," he informs. Ghee is made by belona process. It is sold at Rs. 530/550g. "Paneer will be launched next week. 250 gram paneer cube is sold at Rs. 100. Buttermilk is sold at Rs.10/250ml while lassi at Rs. 30/250ml. These are sold at retail outlets in the farm premises and city. We are exporting our value added products to Europe, USA and selling online in domestic market. We also do customize packing as per the orders," shares Mr. Amanpreet.
He concludes, "Out of box thinking always boosts up the business operations and gives the recognition. There might be failures too yet every idea must be considered and implemented. Following this, we are selling cow dung cakes online and it is so satisfying!!"
Contact details:
PEI Organic Foods
F-50, Chambal Industrial Area, Kota – 324003, Rajasthan
Phone: +91 95090 06644
Email: info@gaudairy.com
Web: http://www.gaudairy.com/