Specializes in aloe vera and fresh-dates cultivation
"We choose to grow aloe vera and dates in our farm because these crops are apt for our soil and climate. I strongly feel, we farmers must grow the crops for which the planting material can be sourced locally, the soil and atmospheric conditions of the farm are suitable. If done so then crops grow as independently as possible and requires less human involvement," shares Mr. Vijay Shah, founder, NuTech Farm. It is located at Rayan village, Kutch district, Gujarat.


NuTech Farm spreads in 42 acre area. It was once a regular farm where chemical based farming inputs were used extensively but since 1996 Mr. Shah has been practicing organic farming. The transition period was full of challenges but Mr. Shah and his wife Mrs. Kusum Shah considered it as learning curve and continued updating their natural farming practices. Today the farm is flourishing with date trees and aloe vera as the main crops. In addition aamla, castor, fodder crops, few grains and different medicinal plants are also grown. The produce is sold up to Mumbai and at times till New Delhi. Dairy is also an intrinsic part of the farm. "We have desi cows raised for its dung and urine," he adds.
Farm is self-dependent for all its farming requirements. "We feed our soil with best of natural nutrients and protect it from odds through innate practices sourced from the environment. There is abundance of ingredients for every agri input in the nature itself!" claims Mr. Shah.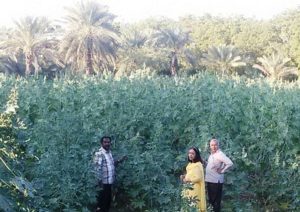 In order to enhance the nitrogen in the soil, across the farm sesbania rostrata plants are cultivated. All through the summer these plants provide partial shade from the hot sun while during monsoon these plants are mulched and tilled back in soil for proffering the natural nitrogen for the crop cultivation. Next to prepare the soil for aloe vera plantation, "We extensively use cow dung and urine. To this we add shredded woody chips of different trees bushes and plants. All these are mixed in the soil. Next we mix of bone meal and phosphatic culture to fulfill the requirement of phosphorous. To let loose natural supply of potassium in the soil we use seaweed along with green algae mixed in sour butter milk. Then after we prepare soil with raised beds for transplanting aloe vera," he adds.
By and large aloe vera is a sturdy crop that doesn't get attacked by the pests or diseases. Yet as preventive measure for soft rot in aloe vera Mr. Shah uses desi cow urine solution with caltropis. Also the cattle are allowed to graze on rotation basis to have control on weeds.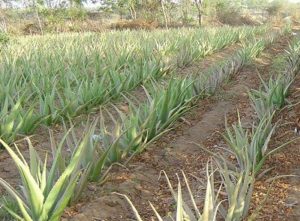 Basic processing of aloe vera is done at farm itself while rest of the value addition is done at "Nu Ayur Care" to produce health-care and cosmetics products. The company is established by Shah family at Vasai, near Mumbai. It is managed by Mr. Shah's younger brother Mr. Manesh Shah. He has formulated and developed different beverages keeping the medicinal properties of aloe vera intact.
Date trees are cultivated in 10 acre in the farm. Initially the saplings were planted by Mr. Shah's father. These are heirloom varieties of Kutch. The tree starts yielding fruit after 3 years from the plantation. "The pollination needs to be done manually. It is a labour intensive work that requires good skills. If pollination is done close to perfection and tree is well taken care then one tree can produce 100-150 kg fruits per season," he highlights. Tree needs good amount of water. "We water our date trees entire year accept four months during monsoon."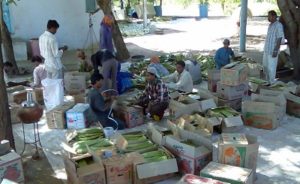 In date trees, it is the simple boiling water having vitexnegundo and neem that proficiently controls red palm weevils. Mr. Shah insists, "We have to identify the good pest and bad pest in our crops. For example termites are boon for date trees which are normally killed by spraying pesticides. Termites feed only on dead matter and not on green or lively part of the trees. It provides good aeration to the tree roots by breaking down the dead matter."
June-July is the harvesting period. Speaking of value addition for fresh dates like aloe vera, Mr. Shah says, "Though fresh date cultivation in Kutch has grown very fast yet demand of certified organic, sweet , crisp and long shelf-life dates is quite high, so there is no need for value addition."
Mr. Shah completed his graduation from Mumbai in 1977 in printing technology and then after started the printing business. However he left it all and returned back to his roots at Rayan village, Kutch district, Gujarat to become a full time farmer. His wife Kusum also joined him in the farming endeavor wholeheartedly. Today she stands as the pillar of strength and longevity for Mr. Shah and entire NuTech Farm. Husband-wife duo is self taught organic farmers.
"We do not work to innovate but while identifying the solutions to any problem in agriculture we seek help from Mother Nature and thus each time we are able to spot some unique answer. Besides agriculture is all about growing food for cherishing life for every living organism hence it never mentions or requires killing any life! Everyone has a role to play in farming and as a farmer we need to find it out. We have been doing the same in our farm. It is the process that is going on consistently since 1996 when we stopped using chemicals. Work in alliance with the nature with 100% belief and rest all will be taken care off!!" they conclude.
Shah couple in their sixties, now looking forward to nurture a small learning center at farm, where people on lookout for peaceful serene life can come and learn: how to farm "with-in" and around!
Contact details:
NuTech Farm
Near Rayan village, Mandvi Taluka, Kutch District – 370 465, Gujarat.
Phone: 02834-288911
E-mail: vijaykusum@nugroup.in, nutechfarm@gmail.com
Web: http://www.nuayurcare.com/index.html