Sprays self made farming inputs to improve quality and quantity of farm produce. Recommends market survey and planning before cultivation
"I use only natural farming inputs. The trees and crop in my farm have natural protection from diseases and pest attack. 40 lemon trees, creeper jasmine and varied intercrops such as groundnuts and vegetables etc are grown at the farm," says Mr. NKP Muthu. The farm is located at Nagathasampatti village, Dharmapuri district, Tamil Nadu.
"Raising livestock within the farm is crucial for farmer's independence. It makes the farmer self independent," he opines. He has five goats and five cows at the farm. To increase the farm produce production Mr. Muthu uses self made organic fertilizers. Mix of goat manure, neem leaves and gramflour (besan) dusts is filled in the lower part of the plant.
Pesticides are made in three ways. In the first method, neem oil, egg white and Kadhir gold soap are mixed together in 4 liter water. It is then sprayed on the plant/tree leaves.
Another pesticide used is based on fish waste. Jaggery, fish waste water, and sour buttermilk are the key ingredients of this solution. 5 kg fish waste is mixed in 5 liters of sour buttermilk. The liquid is allowed to
ferment for 10-15 days in a plastic barrel. It is stirred periodically. Once the liquid is fermented, it is then filtered and sprayed through a sprayer.
In the last method, neem, pongam, nochi and eureka leaves are collected, crushed and mixed in 10 liters of cow's urine and sour buttermilk and allowed to ferment for 10- 20 days and then sprayed over the crops as bio pesticide. "These three bio-pesticides are prepared without much expenditure and are every effective in preventing the pests. Besides it makes the plants resistant to all odds as well," claims Mr. Muthu.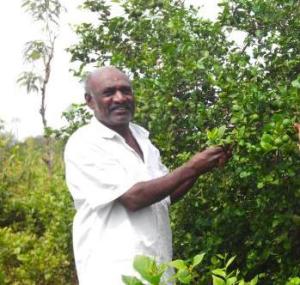 He has a small land holding but has planned crop cultivation in a way that he gets regular income just like other professional. Lemon trees and creeper jasmine are the main crops cultivated at the farm while variation in intercropping is done based on market demand and supply ratio. He also has an in-house nursery to develop lemon trees. "My lemon trees give good yield so saplings developed at my nursery have good demand," he asserts.
In a year one lemon tree yields around 5000 lemons. Each fruit is sold at the local market for Rs.1.50-2.00 and I get a regular income of Rs.1,500-2,000 per day from lemon sales. Profits earned from intercrops are additional. "There are not much expenses incurred on lemon tree as I use self-made fertilizer and pesticides. We are not buying anything from the shop. We are self-sufficient," he affirms. Mr. Muthu has harvested intercrops namely groundnuts and vegetables and now plans for Guava, beans, tomato and snake gourd as intercrops.
Only challenge faced is water shortage. "Demand of farm produce is increasing yet I cannot expand my farm because of water shortage," he shares.
Sharing the future plans he says, "The quality of my farm produced lemon is good. The seed is small, it is juicy and the outer cover is spotless. Therefore some people have approached me asking for exporting the lemons. If all goes well, I would export the lemon."
Farming methodology of Mr. Muthu has given him distinctive identity in the farming community. Many farmers from Tripur, Coimbatore, Trichy, Mysore, Bangalore and other places are visiting the farm to learn the technique of producing farming inputs at their respective farms. He provides knowledge transfer free of cost. "I am a farmer myself hence don't want any money for the information exchange from the fellow farmers. However, some of them purchase the lemon tree sapling from my nursery," he adds.
Mr. Muthu concludes, "Independence is vital for growth and prosperity be it sourcing farming inputs or selling farm produce!"
Contact details:
Mr. N.K.P.Muthu
Nagathasampatti Village, Pennagaram Taluk, Dharmapuri district, Tamil Nadu
Mobile: 09344469645