Grows white sandalwood trees along with fruit trees in his integrated farm
Sandalwood is the super premium wood since ancient times. It is one of the amazing treasures parents can leave back for their children as its value appreciates day after day. Father of Mr. Milind Prabhat Chaudhari could very well realize the increasing market value of the wood thereby planted white sandalwood saplings in his farm located at Jalgaon, Maharashtra. Mr. Milind Chaudhari interacts with Agriculture and Industry Survey magazine and shares the details on his farm cultivation, white sandalwood plantation intricacies, threat of theft, fruit orchard and livestock rearing. Excerpts:
My farm spreads in 60 acres. We have 5000 white sandalwood trees in 20 acres, 2500 pomegranate trees in 7 acres, 70 Kesar mango trees in 2 acres and rest of the land is engaged in growing seasonal crops of vegetables, cotton and cereals. We also have dairy and goat farming. Our farm is more like a natural forest with trees and animals all around.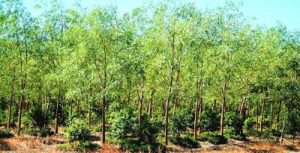 After completing MTech (food science) from Maharashtra I worked as lecturer for 2 years and then I worked in Jain Irrigation System in their onion dehydration plant. The purpose of doing job was to gain the experience and now I am a full time agriculturist. It was my father's idea to grow sandalwood saplings instead of other forest trees because he observed sandalwood always was the most expensive forest wood in the market!
15years back we came to know that white sandalwood had good market when compared to the red sandalwood. So we decided to grow white sandalwood. No one knew much about it in Maharashtra. However, we found saplings were available in Mysore and Bangalore. After collecting lot of information from the books about how to grow white sandalwood we visited Mysore and Bangalore to purchase the saplings. Those days we spent Rs. 100/sapling. Initially we got 1,000 saplings and later we developed the saplings ourselves and transplanted in 20acres.
We have two different kind of soil in the farm therefore sandalwood saplings were planted in two different spacing arrangements. Some saplings were planted at the distance of 15X15 feet while rest in 20×20 feet. The distance is less in soil having high water holding capacity and more in soil having poor water holding capacity. We feed the trees with organic manure and vermiculture every rainy season. Besides little care is needed in summer as the trees need more water in May-June, temperature goes upto 45-50 degree. We regularly water it at the interval of 8-10days. In winter season, we water the trees once in 15-20days. Flood irrigation is done in the farm as rodents spoil the drip lines.
Trees are 15 years old. Not a single tree has been sold till date but unfortunately we lost more than 50 trees to theft! We have booked FIR in police station but we were told nothing can be done to catch the thieves instead we have to manage the security of the trees all by ourselves. So we employed 3 security guards with licensed gun and got Alsatian dogs. Sandalwood trees are having good market price but extremely challenging to protect it from theft!
Right now we do not have nursery of sandalwood saplings but we are planning to start one because farmers are getting cheated. We want to help them with good supply of genuine white sandalwood saplings.
Presently the income is generated in the farm from selling pomegranate, watermelon, maize and cotton. Last three years we got good profits from pomegranate Rs. 25 lakh. We exported pomegranate to Bangladesh. This year the rates are very low still we are earning because the quality of our fruits is very good.
We also have good number of livestock in the farm namely horses, buffaloes, cows and goats. We rear desi gir cows for its milk. The milk is sold at Rs. 70/liter. The herd size is 20 cows. The dung obtained is used for making vermiculture for all the trees in the farm and other crops. We also have sirohi breed of goats. We do not sell goat milk as people do not relish it as cow's milk. We do not have market for goat milk in Maharashtra. We sell male goats during Muslim festivals and female goats for breeding to the local farmers. There are 170 goats in the farm. The price of male goat goes up to Rs. 25-50 thousand during Id and female goat is sold at Rs. 10 thousand.
Our immediate plan is to start a layer poultry farm. We want to produce omega-3 rich eggs free from antibiotic and hormones. To do that we want develop special feed for poultry birds so that it lays omega-3 rich eggs. Another plan is to make cow dung cake by adding neem powder, sandalwood and seven other wood dusts. These cakes will be exclusively for religious ceremonies.
Agriculture is profitable if it is integrated as everything is linked to one another. Right now we are continuously spending money on sandalwood but income is generated from other verticals. Livestock excreta completed the requirement agri inputs. So it is balanced and I am confident we would consistently progress towards prosperity. Our Motherland will always nurture us!!
Contact Details:
Mr. Milind Prabhat Chaudhari
274, PM Chambers, Near BJ Market, Jillapet, Jalgaon, Maharashtra
Phone: 09422275118
Email: ninadchaudhari@gmail.com
(As told to Mamatha S R)