Engaged in contract chicken farming for add-on income and manure
"I choose farming profession soon after graduation as I am quite fascinated about growing healthy and nutritious food. Horticulture is our ancestral business but I wanted to diversify in the venture that demands less time and gives secured earnings. Thus contract chicken farming was the ideal choice as I only have to rear the chicks and there are no worries on selling. It gave me an additional income as well as I got chemical free manure for my fields," Mr. Kamal Giri describes the drive to start the poultry farm. He hails from Kotabagh village, Nanital district, Uttarakhand.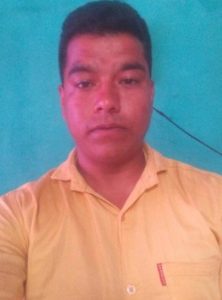 Mr. Giri developed the poultry shed with the investment of Rs. 7 lakh. It is a semi-automatic farm with a drink system. The area occupied is 200 * 24 feet (L * B). Its capacity is 4000 birds. There is 45-50 days cycle of broiler chicken. "I have a tie-up with mid-scale chicken processing company who supplies chicks and feed. Rest I have the responsibility of day-to-day operations and rearing few hours of chick into adult birds," he shares.
Entire shed is sterilized well the day the chicks arrive. A thick layer of 3 inch paddy straw is spread on floor for the birds to feel comfortable. "When the chicks arrive they are either a day old or less than 24 hours. Some of them have their eyes closed. Thus maintaining the right temperature is crucial for their survival. To do so we have the yellow lights to keep the chicks warm," adds Mr. Giri. Also the birds are given jaggery mixed water for first 3-4 days to give them internal warmth and strength to live on. These measures are quite effective is reducing the mortality to negligible.
Feed is given twice a day. "We are being provided with three stage feed that we need to give as per the prescribed schedule. The water has been tested and is good for the birds. From the overhead tank the water flows directly in the drinkers," he informs.
Speaking of vaccination he says, "We give two vaccines in 45 days. Now the vaccine given in the eyes has been discontinued as many times some chicks used to be left behind and mortality occurred always. In my farm 7th and 14th day vaccine is mixed in milk and given to the chicks," says Mr. Giri. He has appointed one personal vet in addition to the vet sent from the company. "The vet checks the dung of the bird and tells about its health condition and prescribes the medicines accordingly. To be double sure that birds are growing well I have appointed a vet from my side too."
Maintaining good hygiene conditions also helps in little or no mortality. Thrice in 45 days in the gap of 15 days mix of lime powder and alum is sprayed to keep the odour away. The paddy straw is turned upside down too.
Post 45 days the birds are weighed and sent back to the chicken processing company. "We are paid as per weight of the birds. On an average one bird weight 2.2-2.5 kg. Price varies between Rs. 80-100/kg. It is decided as per the market rate. Unfortunately we chicken farmers have to accept the rates offered by the company. We cannot ask for the raise as there is no room for negotiations. The money is calculated at the time of dispatch and within two days the money is transferred in the bank account through online transfer," highlights Mr. Giri.
"I am into poultry farming precisely for the chemical free manure I get once in 45 days for my 5 hectare farm," he asserts. The paddy straw is further decomposed using trichoderma and applied to the farmland where wheat, paddy, soyabean and other seasonal crops are cultivated. "By using this manure the crops attains strength to fight disease and pest attack. Also the yield and quality is excellent."
Poultry farming demands a strict monitoring and first two weeks are crucial. "I have appointed trained couple to manage the farm for all routine activities rest I keep a close watch on the growth and development of the chicks. If any farmer is able to take responsibility and do his duties on time then poultry farming is a gainful business," concludes Mr. Giri.
Contact details:
Mr. Kamal Giri
S/O Mr. Chandan Giri, Vile Bhandari Simal, Gintigawo, Post Kotabagh, Nanital District, Uttarakhand – 263 159
Phone: 09528765594
Email: goswamikamal@gmail.com