Rose, bela and heena flowers money-spinning commodities! Recommends alternate year pruning in rose to increase production
Floriculture is rewarding! Mr. Gopal Krishan Saini, farmer from Kannauj district, Uttar Pradesh gives a detailed walkthrough on his farm that is having rich cultivation of rose, bela (special variety of jasmine known for its exclusive fragrance) and heena flowers. He shares deep insight into production of all these three flower variants grown on his farm and its market potential. Excerpts:
In our region, rose, bela and heena flowers are grown widely. All are sold at good price. We have to focus on increasing the production. We also have marigold and some more flowers grown in the area. Selling is not tough for us because our province specializes in producing flower itar (essence) so the demand is high. Processing is done in the traditional way in copper containers. Modern machinery is still not used for the reason that the aroma of the itar produced in natural process is incredible!
To facilitate sales, floriculture farmers have formed a committee that fixes the flowers' selling price directly with the companies engaged in distilling and manufacturing flower essence. Thereby we farmers have to deliver flowers every day at the company collection center and payments are made as per the pre-fixed price. In summers pink rose is sold at Rs. 90/kg while post summers Rs. 60.kg. Heena flowers are sold at Rs. 60/kg in summers and Rs. 40/kg then after. Bela is sold at Rs. 100/kg in April-July while Rs. 80/kg.
Rose grown in my farm is known as Chinniya rose. It is pink in colour. It has four main uses – rose water, taste enhancer gulkand, edible itar and dried leaves powder used in face packs. It is harvested 8-10 months in a year. The production comes to zero in extreme temperatures precisely 2 degrees and less in winters or 45 degree plus in summers. On an average after rainy season I procure 50 kg flowers from one acre while during March-April 200kg flowers per acre are harvested. It varies every month but in total rose gives good production all the year round. I have grown rose in 3 acres area. 5 feet distance is maintained between row-row and plant-plant.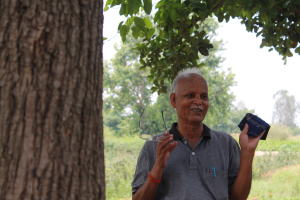 By and large it is a practice of pruning the rose plants every year in December month to improve the production. Once I thought every year pruning is not bringing any change in the quality or quantity of the rose production hence let me try by skipping pruning for one year. I did the experiment and received the bumper production. Farmers can conduct alternate year pruning on trial for red rose as well but not for all other coloured flowers.
This technique is not applicable for other rose varieties precisely the colourful flowers. Every year pruning is must for these varieties because the size matters as flower is sold per piece whereas for Chinniya variety even if the size of rose is small it does not affects the earnings as it is sold per kg.
To increase rose production cleanliness in the farm and ample of water is must. Every 8th day rose requires water. Lack of water would lessen the production and hamper plant's health. If good care is taken for the plant it has the potential to give optimum production for atleast 20 years.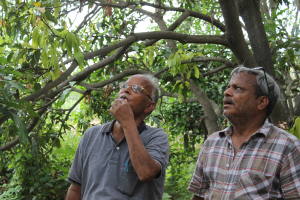 Bela flowers have an amazing fragrance. The essential oil made from this flower is high in demand thereby farmers get good returns from bela flower farming. Once planted the plant flourishes for an impressive 100 years. The flower grows to approximately 1 inch size. One plant yields 100-200 gm flowers/day for 10 days. Next flowering takes place after the 30 days. The distance maintained between row-row is 8 feet and same distance is applicable for plant-plant.
Heena flowers are also most sought after in the essential oil industry. Its' essence is used in tobacco. The tree grows about 10 feet high. The leaves of the tree fetch good price as well but we do not harvest leaves because then flower production will be reduced drastically! Every fourth day the flowers are harvested for 15 days. Then again after a gap of 30 days flowering begins. Like bela plant, heena tree too gives production for 100 years. Plant-plant and row-row distance maintained is 12 feet.
I recommend flower farming to young progressive farmers not only for profits but also it enhances the environment and proffers good health. It is lucrative venture if done with mind and soul!
(As told to Shweta Dhanuka)
Contact details:
Mr. Gopal Krishan Saini
Mohalla Choucharan, Makarandnagar, Near Rajshri Talkies, District Kannauj, Uttar Pradesh
Mobile: 09936986805