Shares his experience with ginger farming
"Ginger farming brought me immense prosperity. I was in huge debt and faced price exploitation by the traders yet this 10 months crop has turned my fortune for good! I started growing ginger from 2012 along with sugarcane and tomato," says Mr. Dilip Shripati Kadam, farmer from Rahimatpur village, Satara district, Maharashtra. The farm spreads in 45 acre. Ginger is grown in 11 acre, sugarcane in 30 acre and tomato in 4 acre. In India, ginger varieties are known after its growing region. "I grow Aurangabad Mahim ginger variety."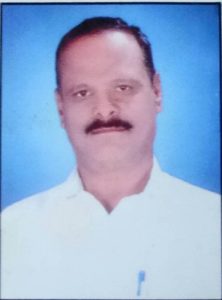 Ginger seed rhizomes are sown anytime between 1st May – 15th June. "Prior to sowing in the fields we ensure to keep the rhizomes in the shade, safe from the direct sunlight for about a month. It is done so because the water/moisture present in the rhizomes must get dried up naturally and then it is sown. We believe it sprouts well then after," Mr. Kadam shares the tip on boosting the yield. In addition, the farmland soil is fed with native cow dung and urine compost before rhizomes are sown. "Without cow dung in the fields ginger will not grow well. We rear local desi cows so we get good quality cow dung and urine in-house. We rear cow only for its excreta as the milk yield is very less that is consumed for personal use."
Beds of 4.5 feet are made keeping spacing of 18 cm. In between the two beds the 20 mm drip is laid. The seed rhizomes are planted below the bed on both sides. "The seed is pushed 3 inches inside the soil. It is all done manually in my farm. The seed sprouts and is visible on the top soil in 20 days. Climatic conditions of our village are perfect for growing ginger that is warm and humid," he informs.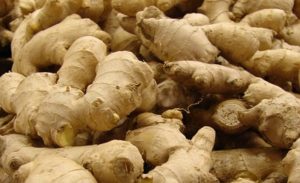 Ginger grows well in rainfed and irrigated conditions. In order to have proficient use of water in the farmland Mr. Kadam has installed drip irrigation. "I spent Rs. 18-19 lakh for drip system. It was expensive but worth the investment as in our village we face water scarcity. Hence every drop of water is precious. I got 50% subsidy from Maharashtra state government on drip irrigation installation," he says. Agri inputs used in the farm are mix of chemical and cow based inputs.
"To enhance the production, after 1.5 months of sowing we switch the secondary soil as top soil. It has to be done gently with utmost care ensuring the roots are not disturbed," asserts Mr. Kadam. On an average in one acre 15-20 tonne ginger yield is obtained.
"Post 10 months we harvest entire ginger produce and sell 80% to traders after holding back 20% as planting material for next season. I exchange/sell my ginger seed rhizomes with other farmers in Rajasthan and Gujarat. Most of them got good yield from my ginger seed," he adds. After harvesting ginger from the farmland, the same land is not to be used for ginger cultivation for next two years. "I keep swapping all three crops."
When asked about intercropping, Mr. Kadam clarifies, "Usually I don't do intercropping. If any farmer wants to cultivate another crop simultaneously then green chili can be grown on the beds. However, we swap the crops within the farmlands that is ginger is grown in sugarcane farmland in the next season and another season in tomato growing area."
Ginger and tomato are sold to the traders. "We are not doing the contract farming with any companies but sell our produce to the traders inspite of price exploitation. The reason being we produce bulk quantities and if we do not sell to them then entire crop will be spoiled," he highlights. Sugarcane is the sold to the sugar making factories. It is sold at Rs. 3 thousand/tonne. Annual production is 3000 tonne. Hybrid tomatoes grown are 60 days crops. Mr. Kadam wants to continue his present operations.
He concludes, "Farming is profitable but water scarcity is the only worry for farmers. We need the guidance on water management then there is no stopping for the country to flourish."
Contact details:
Mr. Dilip Shripati Kadam
At Rahimatpur, Taluka Koregaon, District Satara – 415511, Maharashtra
Phone: 098605 07012